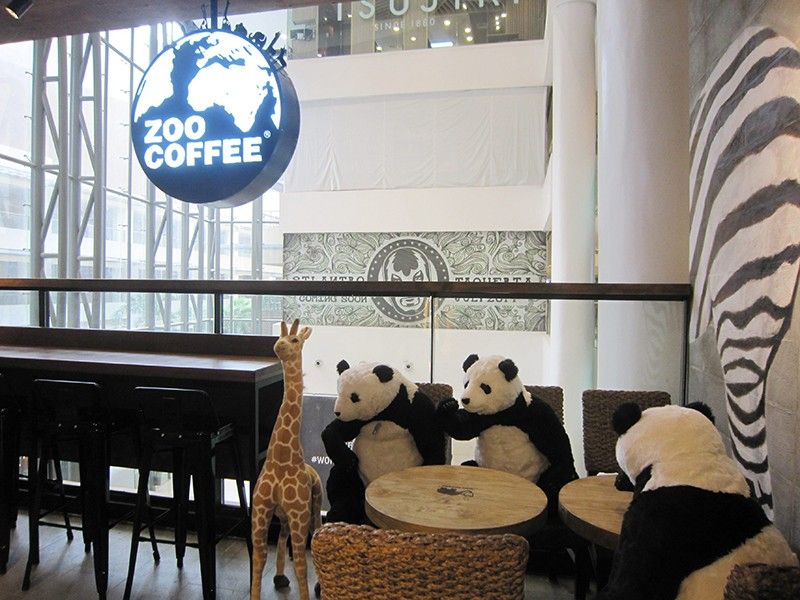 Look who came for coffee at Zoo Coffee!
How would you like to have coffee with a panda bear?
MANILA, Philippines — A stuffed toy panda bear, that is. No one is ever too old to love stuffed toys. They simply have a way of making people feel happy.
"That's exactly how we want people to feel when they come to our store," operations manager Katrina Balonan said at the opening of Zoo Coffee's third and biggest branch at Ayala Malls Vertis North. "It's the kind of branding we want to have in our store. We want people to have a really great experience."It was during a family vacation in South Korea when Katrina had her own great experience at a Zoo Coffee store in Seoul. It was different from all the other coffee shops that they saw — and there were many with different concepts — in the Korean capital that has come to be known for its own vibrant coffee culture. Her family immediately knew that they just had to bring Zoo Coffee to the Philippines for more Filipinos to enjoy.
Zoo Coffee first opened at Alphaland Makati Place in 2016, and a second branch at Megamall in 2017. The animal-themed Korean café was received with much enthusiasm. "It was the good response that we got from our first stores that encouraged us to open our third store here in Quezon City," Katrina shares. It is their biggest, at 150 square meters, with a seating capacity of about 60-70 people.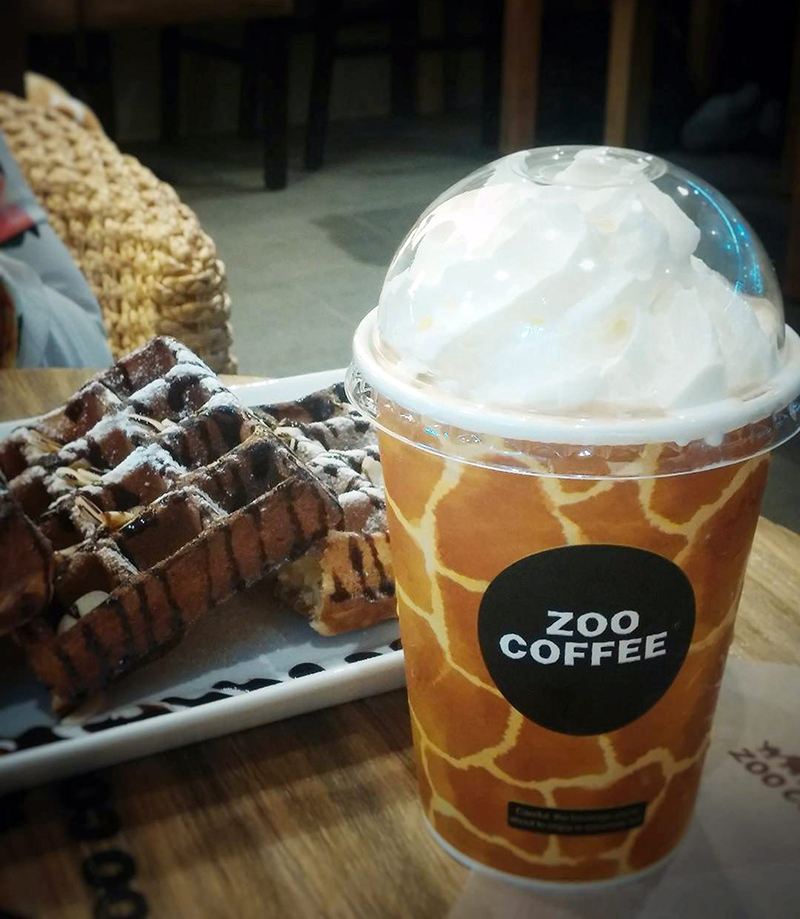 Belgian waffle and espresso frappe
Its crowd drawer, naturally, is its ambience. "What you find inside our store is exactly what you can find in the over 100 Zoo Coffee stores in Korea," says Katrina. To make sure that they stayed faithful to the unique concept, they sent their store plans and layout to their principal in Korea, who did the original design. "They also came here to have a look at the store for themselves before we opened," Katrina relates.
At Zoo Coffee in Vertis North, you are greeted by life-size giraffes silhouetted in a laser-cut light box. In one corner, you find a small group of panda bears huddled around a coffee table, while in another corner, a giant gorilla sits as if he owns the place. A tiger can be seen lounging inside the coffee shop. From a faux tree at the center, you spy a snake wound among the branches. And over the food display counter hangs a playful monkey. They are all lovable stuffed animals, of course.
Zoo Coffee offers an interesting menu that includes a selection of waffles, honey bread, hotdog, pasta meals, and sandwiches, which are made fresh upon ordering. They also have healthy yogurt smoothies, fruit-ades and frappes, as well as a must-try "I'm Korean" menu that features their signature red ginseng honey tea and red ginseng honey latte.
"We offer the kind of food that other coffee shops don't usually have," Katrina says. Their bestsellers are the waffles and bingsu, which is the Korean version of our halo-halo except that the ice they use is finer.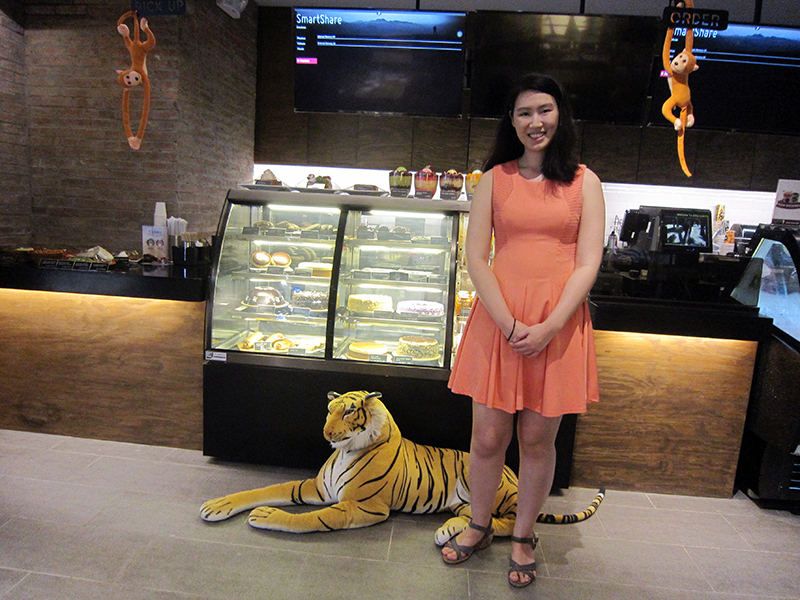 Katrina Balonan, operations manager of her family-owned Zoo Coffee
"Since a lot of our customers are always excited to order our waffles, we decided to create two new flavors: Churro waffle and Oreo waffle," Katrina shares. "Our waffles are crunchy on the outside while soft and creamy on the inside.
"I also want people to know that they can expect to get quality coffee at Zoo Coffee," continues Katrina, who has been a coffee drinker since high school. "It's one of my favorite beverages," she says. She can finish three lattes in a day. At Zoo Coffee, they offer cool frappes as well as non-coffee frappes. They have something for everyone, for both the young and young at heart.
"We want to give our customers a place where they can escape from the stress of everyday life in the urban jungle," Katrina says, "to catch up with friends or simply unwind and relax in the cozy and homey environment of Zoo Coffee."