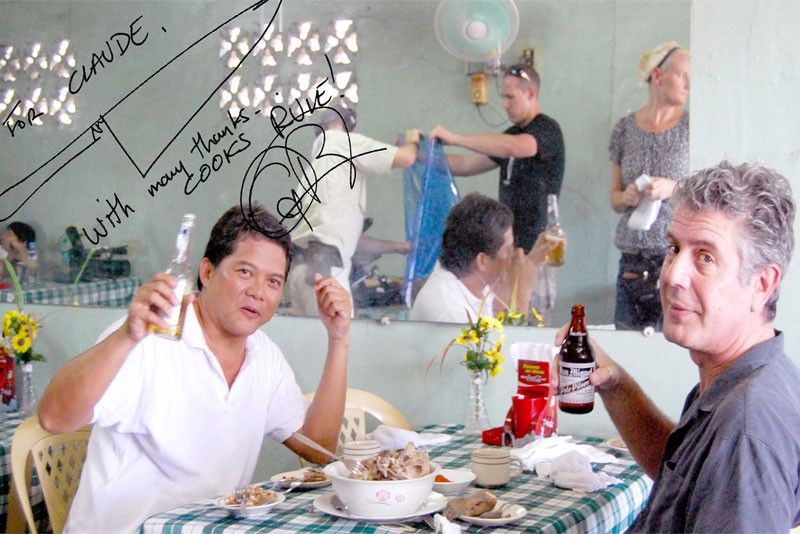 Cheering to the good times: Author Claude Tayag and Anthony Bourdain at the goat shack in Angeles City, October 2008.
Photos by Claude Tayag
Bourdain's last famous badass words
Paeans have kept pouring in since the shocking news about Anthony Bourdain, America's most famous and well-loved celebrity chef, bestselling author and award-winning TV host.
Bourdain was known as the "bad boy" of the culinary world, considered by many as a brash, loudmouthed, cuss-spewing New Yorker, brutally honest but always telling the truth.
"I found myself the poster boy for bad behavior in the kitchen," he said in one interview.
Summing up his career in his own words: "I travel around the world, eat a lot of sh*t, and basically do whatever the f*ck I want."
And people the world over couldn't get enough of him, gorging on his books and TV shows.
Oddly, as the news of the larger-than-life person's death broke out, I personally was deluged with text messages condoling with his demise, asking about the whys and the manner of his death. "How the hell should I know? We have the same news source from TV and the Internet," was my curt refrain.
Bourdain catapulted the popularity of the Pampango sisig to the world. "It's got everything I love about food — sizzling pork bits, with all that good, rubbery, fatty, crispy. And it goes wonderfully well with beer."
But in hindsight, I guess, people's perception of my "closeness" with Bourdain started from the time I appeared in No Reservations in 2009. And that association stuck. After all, how many of us mortals can claim to have cooked for and dined (in three separate meals, at that) with a living legend? I had my 15 minutes of fame, times three.
And fortunately for us Filipinos, he loved our cuisine, especially Pampanga's sisig. "It's got everything I love about food — sizzling pork bits, with all that good, rubbery, fatty, crispy. And it goes wonderfully well with beer," he wrote in his blog.
"Sisig is the breakaway dish that catapulted Filipino cuisine to mainstream America, and it's a must-have at the proposed Food Market in New York," he declared in an interview I had with him for ABS-CBN last year in Manila. He was then a guest speaker at the World Street Food Summit, organized by Singaporean KF Seetoh. Both are known to champion street food. During that same encounter, Bourdain told me: "Do you know that the Philippine episode of No Reservations is the highest rated among my shows?"
During his talk, he explained his affinity with Filipinos and our cuisine. "My daughter, like so many American children, has been raised by Filipinas, and her brother from another mother is a Filipino kid. She probably speaks more Tagalog than me. She eats regularly at Jollibee in New Jersey. She's acquainted with sinigang and lechon. A 10-year-old kid who likes balut is a rare thing to find. She adores it."
Going back to the episode where he interviewed me, he said, "Authentic is a word that has lost its meaning. What is authentic now?"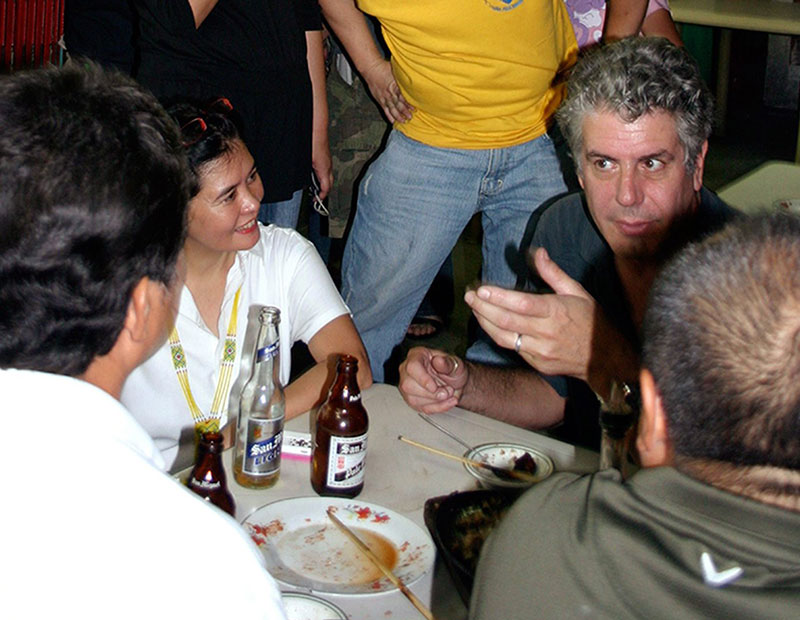 Holding court: Bourdain in his element as the master storyteller at the sisig joint.
Yet that's exactly how I would describe him in person — an authentic man to the core. Unpretentious, undemanding, accommodating, obliging to photo ops and book signing, none of that foulmouthed persona he's known to be.
When my wife Mary Ann asked him if he was really that nice in person, he replied: "Well, I'm actually a guest in your home. It will be a different story if it were the other way around."
When I brought him to the goat shack in Angeles City, he relished all the four ways the kambing was prepared: kaldereta (tomato-based stew), kilawin (boiled goat skin flavored with vinegar and ginger), goat's head sinigang (sour soup), which he gorged on, eyes, brain and all; and papaitan (soup/stew made up of the animal's innards, including its bile).
When asked to describe it, he swallowed with a dry mouth upon hearing the word "bile." Aha, I thought, the fearless, swaggering kid in him scampered away. After hesitatingly putting a spoonful into his mouth, he declared: "Man, this is good. It's not like the bile stew I've had in another Asian country where it was so repulsive. I almost puked. But this one is actually good."
And even when all the lights and cameras were turned off, he took the cup to his mouth and drank the last drop of the bitter soup. How "authentic" can one get?
In an interview during the same visit by Therese Jamora-Garceau of Philippine STAR Lifestyle, he was asked what he wouldn't eat. Would he ever try dog, for instance?
"I honestly believe that given the choice between offending my host and violating my deeply held principles on what or does not constitute a pet, I'm going to say pass the puppy head. I would eat it," he said.
More excerpts from Jamora-Garceau's interview: The worst thing he's ever eaten?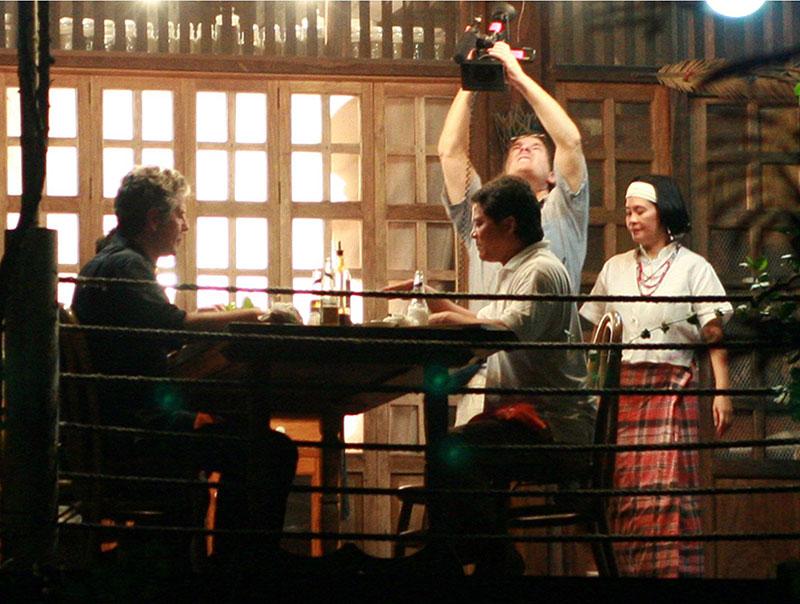 Scene of the crime – dinner at Bale Dutung, October 2008
"Fermented shark in Iceland. They rot it, putrefy it, pickle it in lactic acid. It makes durian smell like perfume, and I like durian."
What would his last meal on earth be like?
"If I was really, really hungry, I would say roasted bone marrow. But maybe some really good, high-test sushi — one piece of uni (sea urchin), nice warm crumbly rice with one piece of seaweed — you know, a $300 piece of sushi! Some really good stuff! I wouldn't mind dying with a piece of that hanging out of my mouth."
By his own admission, he was not a chef who could ever hope to become a critically acclaimed, Michelin star-rated chef. "I'm just a cook, eking a living for 30 years in the kitchen. I'm not a chef who can create new and original dishes."
And he added: "The new celebrity chef culture is a remarkable and admittedly annoying phenomenon."
Just as the news of Bourdain's suicide broke out, Helen Rossner wrote for The New Yorker: "In a 2016 episode of Parts Unknown, set in Buenos Aires, Bourdain held an on-camera therapy session. "I will find myself in an airport, for instance, and I'll order an airport hamburger," he says, lying on a leather couch. "It's an insignificant thing, it's a small thing, it's a hamburger, but it's not a good one. Suddenly, I look at the hamburger and I find myself in a spiral of depression that can last for days."
Alas, it seemed nobody heard this silent cry for help. The world just lost one of the most influential food writers of modern times. And we Filipinos have a lot to thank him for. May you find peace and quiet on your next adventure.
* * *
If you are (or if someone you know is) thinking about suicide or self-harm, please remember that help is a phone call away. In the Philippines, please call suicide prevention hotline numbers at the Natasha Goulbourn Foundation: 804-4673 (HOPE), or 0917-558-4673 (HOPE). You may also call the Manila Lifeline Centre at 02-896-9191, or 0917-854-9191. In the U.S., please call 1-800-273-8255 (TALK). #suicideprevention #suicidepreventionhotline