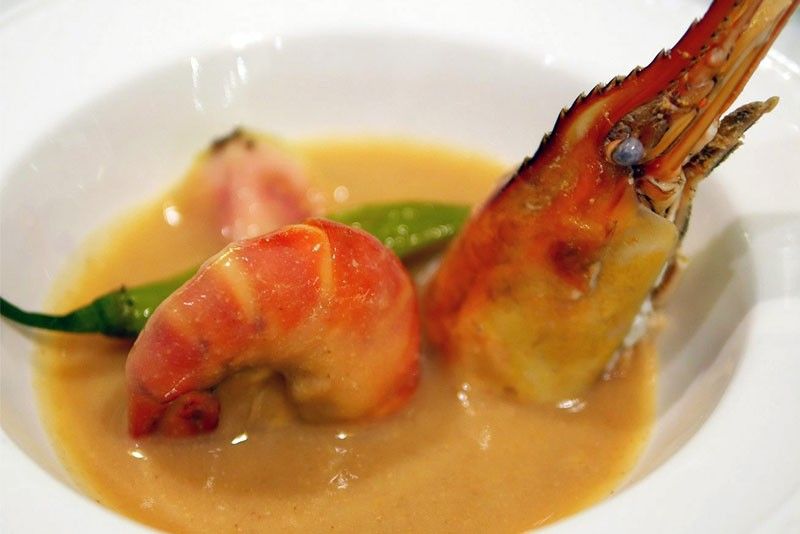 Bulanglang Kapampangan: Ulang (freshwater prawns) from the Pampanga River swimming on chilled guava gazpacho
Photos by Claude Tayag
Past, present, perfect dinner at Leon Gallery
What happens when you mix extraordinary art, antiques, food and Manila's top 75 collectors for all things antiquarian? A big blast, that's what!
A six-course formal dinner billed "A Kapampangan Feast Past Perfect" is an unusual event these days. Well, if you don't count the pay-through-your-nose 12-course degustation. But, unusual is the usual for the folks at León Gallery who wanted to put together an elegant dinner in honor of Ma. Cristina "Kit" Ongpin Roxas.

Claude's tale of two sisigs: Chilled sisig terrine and sizzling hot sisig with bone marrow
The invitation described her as "the grande doyenne of Philippine antiques" and that is an understatement for someone whose career has spanned some of the most exciting decades of Filipino culture. Jaime Ponce de Leon, León Gallery's director, correctly described the Ongpins as our equivalent of the Wildensteins (some of the most successful and influential art dealers of the 20th century) and gave homage to her discerning eye for all things beautiful.
Because the dinner would be served on the historic Arnedo table of La Sulipeña, Pampanga, the meal had to be prepared by a Kapampangan. That's how I got into the picture, so to speak. Jaime tasked me to curate the dinner, being familiar with my cooking, having dined several times in my home/restaurant Bale Dutung in the past.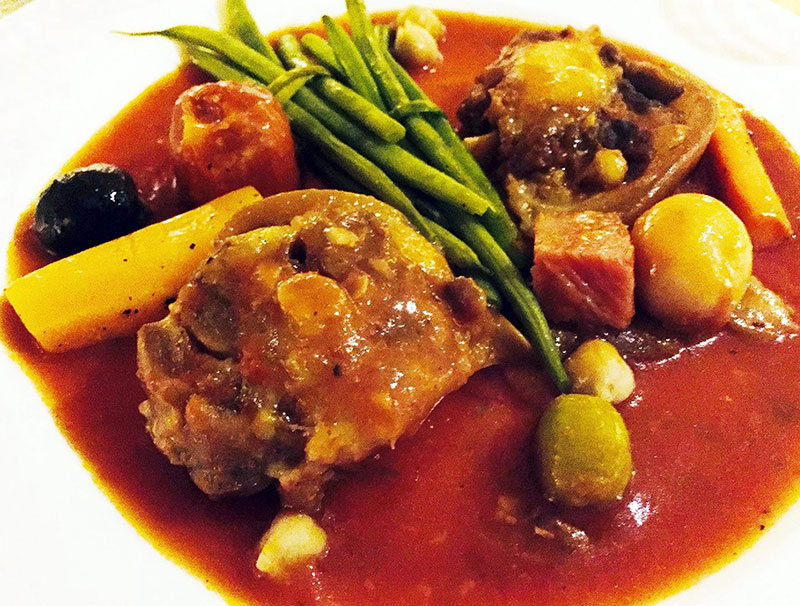 Menudo Sulipeña is an oxtail stew with chorizo and liver stew. The recipe was culled from Gene Gonzalez's cookbook Cocina Sulipeña, describing it thus: "Though it carries the humble name menudo, it was decadent enough to grace a banquet, reflecting the extravagance of that time.ham, not your commonplace menudo of pork and
After much thought and consultation with him, we came up with a six-course menu. It wasn't an attempt to recreate those fabulous Arnedo banquets, because that would entail at least three days of non-stop eating, to say the least. Rather, our aim was to capture the luxury, elegance and most of all the exuberance of Kapampangan hospitality.
La Sulipeña, the legendary mansion of the Sioco-Arnedos of Sulipan, Pampanga, sits at the fluvial trifecta of three rivers: the Rio Grande de Pampanga, the Calumpit, as well as the Baliwag rivers. It had its own pier. Thus, visiting dignitaries, the archbishops and governors-general of two empires (Spanish and American), princes (of Russia, England, Cambodia and Japan), as well as heroes such as Jose Rizal and General Antonio Luna, would have to travel on boats from Manila. Because the journey was a bit arduous, they would stay two or even three nights, there to be feted with non-stop feasts, 24/7. The table used in those banquets is one of the highlights of the upcoming León Gallery Spectacular Mid-Year Auction this Saturday, June 9.
Dressed to the max: The opulence of La Sulipeña's era was recreated on the Arnedo table by Tats Manahan, with antique silver candelabras and cutlery.
Surrounding the table was a superb spectacle of the finest Filipino art. Hanging on the walls were several Amorsolos, Manansalas, Bencabs, as well as other masters such as Macario Vitalis, Zalameda, Ronald Ventura, and John Santos, from such impeccable provenance as the families of Ynchausti, Melian-Zobel, and Pedrosa, to name a few.
Also under a spotlight was a fantastic wooden bas-relief by no less than Jose P. Rizal, created while he was in exile in Dapitan.
A string quartet played Filipino classics, a nice counterpoint to the other national treasures at the upcoming auction, including letters from Gregoria de Jesus, Teodora Alonso Rizal and M.H. del Pilar.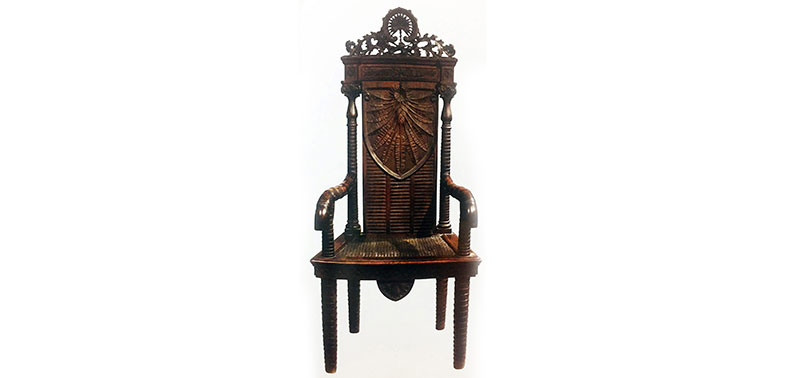 This armchair by Isabelo Tampinco will also be up for auction this Saturday. It was part of a furniture set made in 1909 for the revolutionary leader and doctor Maximo Viola from San Miguel, Bulacan. Dr. Viola was Rizal's best friend while in Europe and financed the publication of the first 2,000 copies of Noli Me Tangere in 1887.
Conspiring with me on this gastronomic feast was La Tasca, which provided the catering expertise needed to put together a dinner for Manila's discerning cognoscenti. Art directing the tables was Liliane "Tats" Manahan, who selected the table settings and flowers, antique silver candelabras and religious ivories from Jaime's collection, and even hand-writing the place cards herself.
As the guests arrived, bowls of pititian (Kapampangan bite-size chicharon) served with pickled cherry tomatoes and bangus paté were passed around. Free-flowing champagne set the convivial mood for the evening. To somehow lower the searing outside temperature, decisively served as a first course was a chilled soup of Bulanglang na ulang, a guava gazpacho with freshwater prawns from the Pampanga River.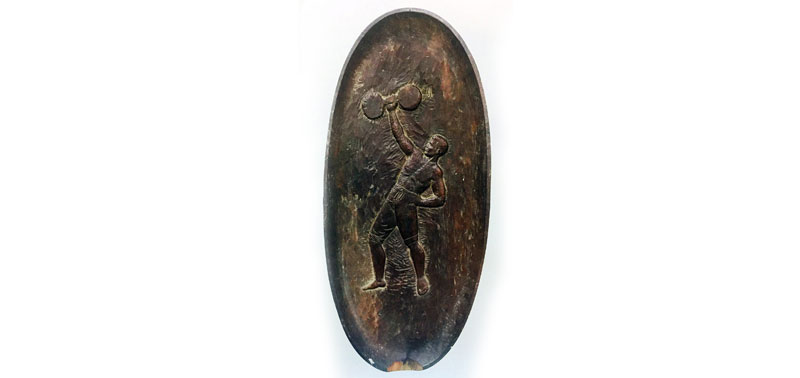 X"The Filipino," a wooden bas-relief, is also up for grabs, carved by no less than Dr. Jose Rizal during his exile in Dapitan. It came from the family of Narcisa Rizal, the fourth sibling in the hero's family of 11.
The second course was a tale of two sisigs: Marimla (or a chilled terrine) and Mapali (hot and served on bone marrow.) The third courses were a mini Bringhe, which is perhaps the only savory rice cake in the country, laced with that Kapampangan crown jewel taba ng talangka (crab fat,) topped with a crispy crablet. This came with another quintessential Pampango dish of crisp fried tilapia fillets, balo-balo (fermented rice with shrimps) and fresh mustard leaves. A glass of salabat sorbetes or ginger-lemongrass sorbet came next as a prelude to the main course.
Finally, the Menudo Sulipeña, which is not the commonplace menudo, but an astonishing oxtail stew, so tender and buttery melt-in-the-mouth that it had become practically reduced to a tender, gelatinous delight. Rosé, white and red wines were all carefully selected to bring out the dishes' flavors.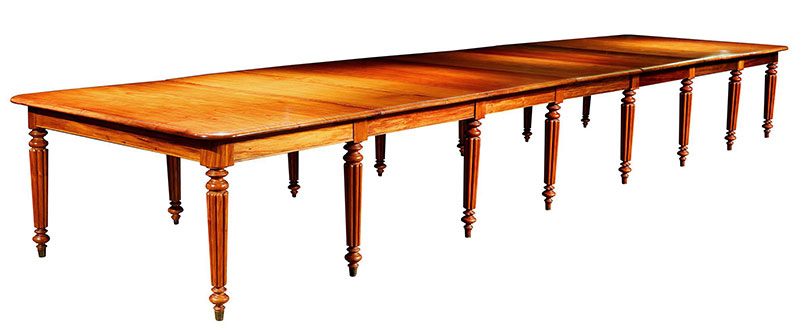 The fabled Arnedo dining table, measuring more than 18 feet long: This seven-segment narra table was made in the 1880s. Among the countless guests who have partaken of meals on this table are various Spanish governor generals. American generals, foreign royalty (grand duke Alexei Romanov, our national hero Dr. Jose P. Rizal, brothers Juan and Gen. Antonio Luna, Maximo Viola, Gen. Emilio Aguinaldo, Manuel L. Quezon — practically the who's who in the social registrar of Philippine society from the 1880s to the 1920s. It will auctioned off this Saturday, June 9, at the Leon Gallery in Makati City.
To cap the evening's feast were Canonigo (otherwise known as "Ile flottante" in Paris,) Heny Sison's decadent tocino del cielo (each bite-size serving contains one egg yolk), a strawberry overload shortcake, and turrones de casuy from Sta. Rita, Pampanga.
Not to be outdone, Jaime requested "provisions" for some of the guests who stayed on until midnight. A post-dinner snack of ensaimada with hot chocolate de batirol, pan de sal with baked ham and kesong puti was prepared by La Tasca. The world simply cannot end.