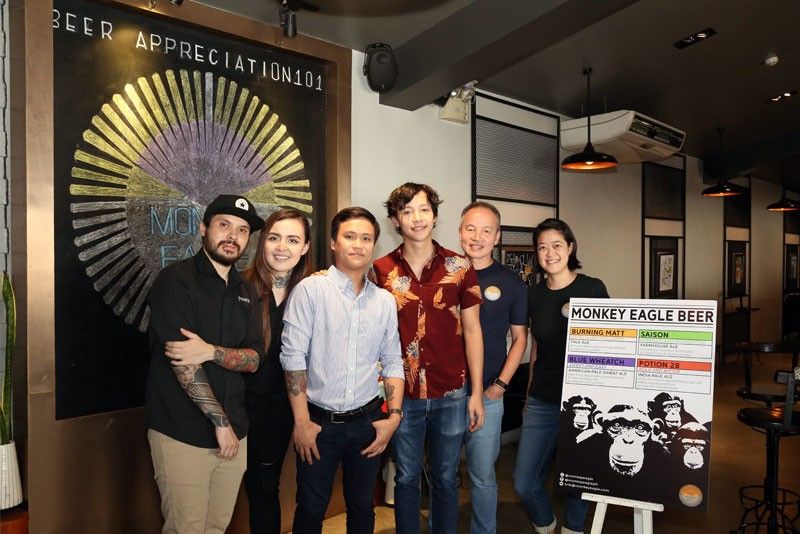 Privatus x Monkey Eagle: (from left) Privatus Private Dining founder and executive chef Antonio Jose Reyes; Privatus marketing and communications consultant Joan J. Teotico; Privatus Private Dining founder and F&B manager Mark Anthony Marquez; Monkey Eagle Brewery marketing and sales head Ricardo ìRichî A. Lopa III; Monkey Eagle Brewery founder and brewer Ricardo C. Lopa Jr.; Monkey Eagle Brewery founder and brewer Noreen Lao.
Photos by Bening Bautigas
A 'beer-eka' moment with Monkey Eagle and Privatus
You don't usually think of beer as something that requires special instruction to appreciate. But for Tagaytay brewery Monkey Eagle, that's what they had in mind, bringing five of their craft ales together with the crafty food stylings of chef AJ Reyes, who runs Privatus Private Dining in Pasig. The private dining and catering company partnered up with Monkey Eagle to showcase a food-beer pairing menu that will be offered to the public on July 7.
Called "Beer Appreciation 101," the session helped us learn more about one of humankind's finest inventions. Monkey Eagle founders Ricardo ("Rocky") Lopa and Noreen Lao were on hand to give us notes, while chef AJ Reyes of Privatus provided the pairing menu.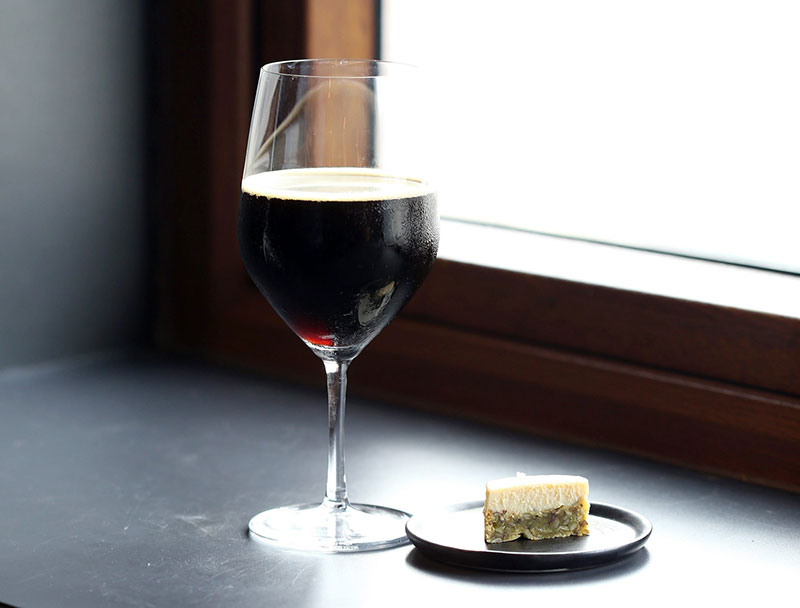 Monkey Eagle Brewery served a final, secret, experimental craft brew — a porter — paired with Privatus Private Dining's deluxe dessert, Mini Lemon Cheese Cake with Sea Salt.
Here are some beer tidbits:
• Beer was first brewed in Syria about 10,000 years ago. Yeast was considered a god, because they didn't understand what it did to you when you drank it.
• Women were the first brewers, since men tended to be off hunting, gathering or working.
• Beer originally had a medicinal use back when water sources were sketchy because the alcohol in beer killed off bacteria.
• Beer contributes to HDL — the good cholesterol — and reportedly reduce heart disease risk by relaxing you.
• Reports say beer can help reduce onset of dementia and Alzheimer's because drinking makes you more sociable, and stimulates brain activity.
• Hops is related to the cannabis family, though not in effects; only in bitterness of the plant.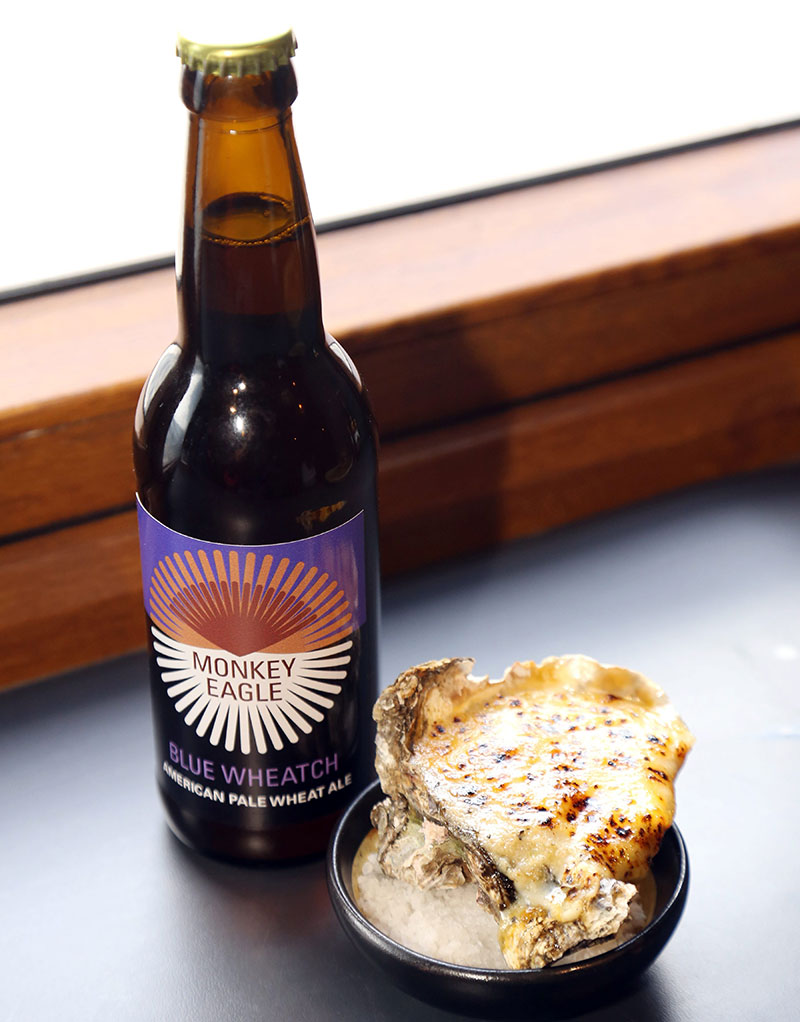 Blue Wheat American Pale Wheat Ale paired with Baked Oysters
Our host Lao informed us that beer is meant to be heartily quaffed — not sipped like wine — and that serving in water goblets with a stem is a good idea because then your sweaty mitts won't warm the beer. (She also demonstrated a pressure point move said to reduce hangovers — inserting her left thumb into her pelvic area. Does it work? Haven't tried yet.)
Basically, there are two types of beers: lagers and ales. Lagers are fermented longer at cooler temperatures, crisper and lighter. (Lager means "storehouse" in German.) Monkey Eagle only makes ales, which are fermented for a shorter time, but at higher temperatures. They're "more bitter, in your face," according to Lao.
We started with the Saison Farmhouse Ale paired with pork and salmon sinuglaw. Progressing from light to strong ales, this ceviche-type dish went well with the fruity notes of the Saison.
It was followed by the Blue Wheat American Pale Ale with baked oysters. Chef Reyes uses local oysters from Amlan layered with four cheeses — parmesan, mozzarella, cheddar, bleu cheese — that really complements the beer. We are told to have a slug of beer first, then taste the oyster. The combination is like cool waves hitting you after a spell in the hot sand and surf. A pleasant combo.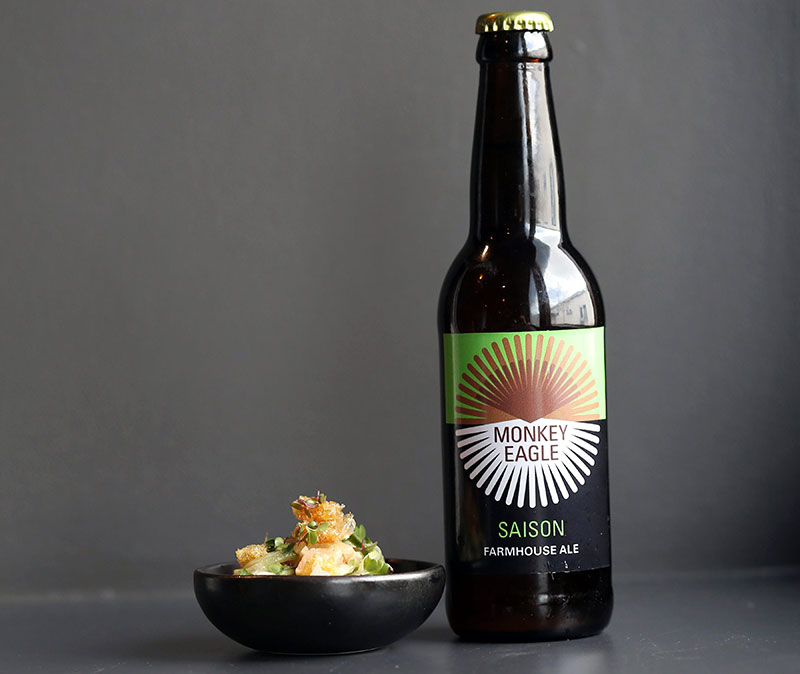 Saison Farmhouse Ale paired with Pork and Salmon Sinuglaw
Next came the Radical Wagyu Sliders. Chef Reyes uses "local Wagyu," which comes from imported Japanese cattle bred on a farm with local cows to better withstand the hot climate. That stood up well to the Burning Matt signature ale, with its hints of spice and fruits. The beer's named after "an American guy we met who taught us our first homebrew in US" and used to frequent Burning Man Festival.
Next came the heaviest beer, Potion 28 India Pale Ale. It was paired with one of Reyes' crafty inventions: smoked quail's egg, inspired by his Japan travels. "I tried to up the pickled flavor, making it my own atchara, somewhat sweet and pickled," he says, and that bite is necessary to stand up to the bolder I.P.A.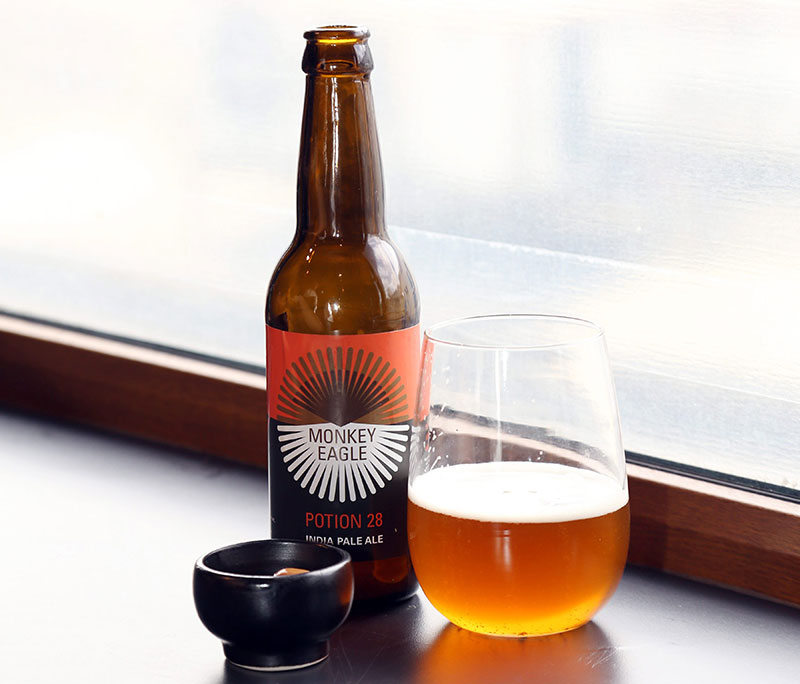 Potion 28 India Pale Ale and Pickled Smoked Quail Eggs
The menu finished with a final experimental craft brew by Monkey Eagle — a porter — that was paired with a deluxe dessert whipped up by Reyes, mini lemon cheesecake with sea salt. The caramel notes of the porter actually made perfect sense with dessert.
I asked Lopa and Lao about their first "beer-eka" moment: it happened during a wine tour in Malborough, New Zealand. Someone recommended a local beer while they were waiting for a seat at a restaurant, and they were hooked; next came beer trips to Japan, then off to Chicago, where they trained in brewing methods. Monkey Eagle started in 2014 and now houses a 1,500-liter brewing facility in Tagaytay. Why Tagaytay? Says Lopa: "Beer is 90 percent cleaning: you need clean air, clean water. We're not brewers, we're cleaners. We're always sanitizing things." He says that yeast, which really contributes to beer flavor, can easily get skunked up by invasive bacteria in a hot climate like Manila.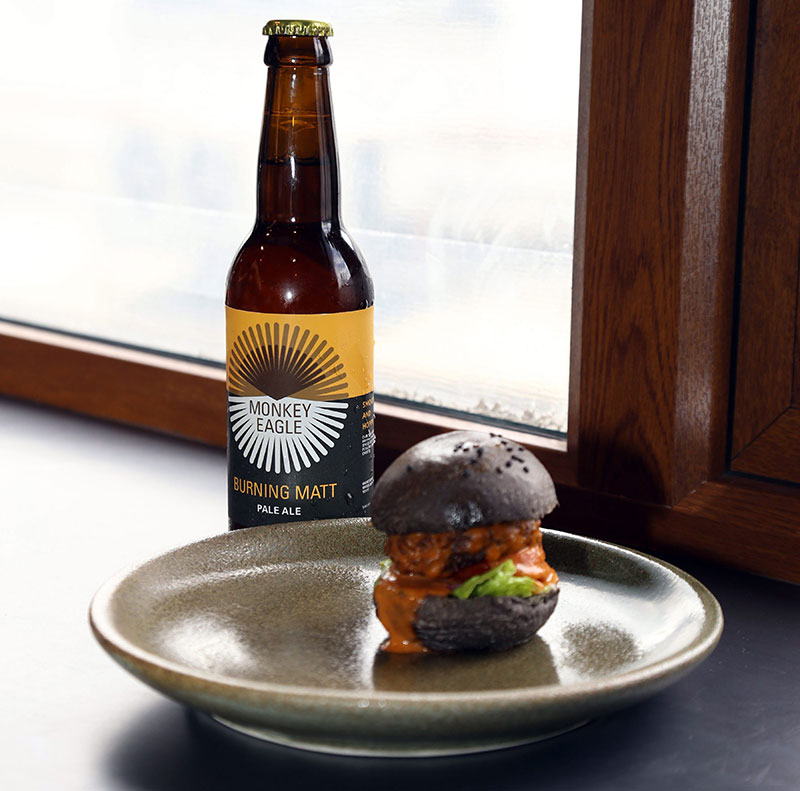 Burning Matt Pale Ale and Radical Wagyu Sliders
"Our ale yeast are happier at 18-22º C," adds Lao.
And we're happy quaffing their beers.
* * *
Privatus Private Dining will hold "Beer Appreciation 101" this July 7, 5 p.m. at Privatus Private Dining, 8 F. Legaspi Street, Pasig. The beer-pairing menu costs P800 with five courses. Call 907-5457, (+63917) 6297453 or email sales.privatus@gmail.com to reserve slots.
Monkey Eagle craft beers are available at Privatus Private Dining for P230/bottle. Email info@monkeyeagle.com for details.