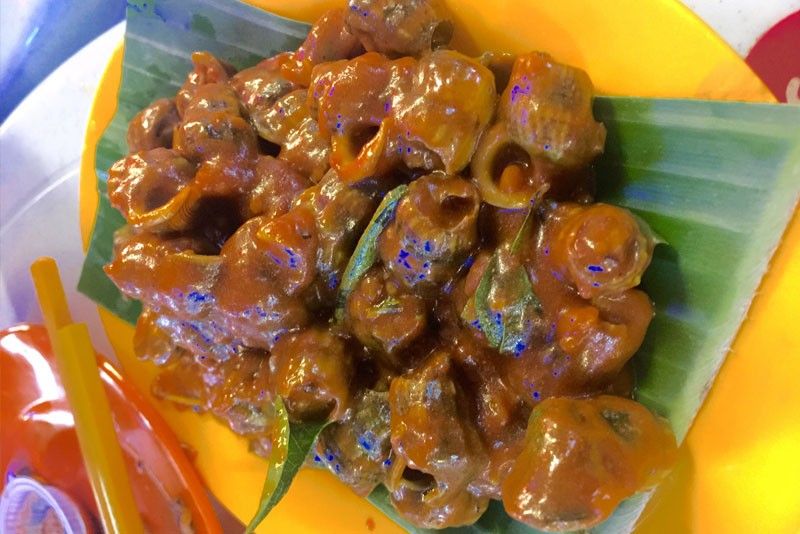 The Belitung makes for interesting eating and the house sauce is fantastic.
For someone who travels only for food, it was quite curious that it took me over 30 years to finally set foot in Penang. Widely recognized as the food capital of Malaysia, Penang is a food nerd's dream, as it is wall-to-wall with eats that are delicious and inexplicably affordable.
When my cooking show was green-lighted to shoot in Penang two years ago, it was one of my most anticipated location shoots. I must have gained five pounds on that shoot, and I knew I would not wait another 30 years to go back.
That's why when AirAsia called about doing a Chasing Wonders video with them, I unhesitatingly agreed. There was more to eat in Penang, and I was looking forward to it.
This time, instead of tackling all the food by myself, I would have help. Joining me were chef Mitchie Sison and food stylist and blogger of Happy Tummy Travels, Chichi Tullao, plus AirAsia's Noelle Salvan and videographer Deej Robles. They were all heading to Penang for the first time, so I made sure to give them a quick primer, plus a reminder to get ready for some serious eating (and belt adjusting).
We flew to Kuala Lumpur and, after a brief turnaround, flew a second, shorter flight to Penang. Upon landing, I discovered we weren't heading for the hotel. Our local guide Junie said we would go eat first. I was loving this trip already.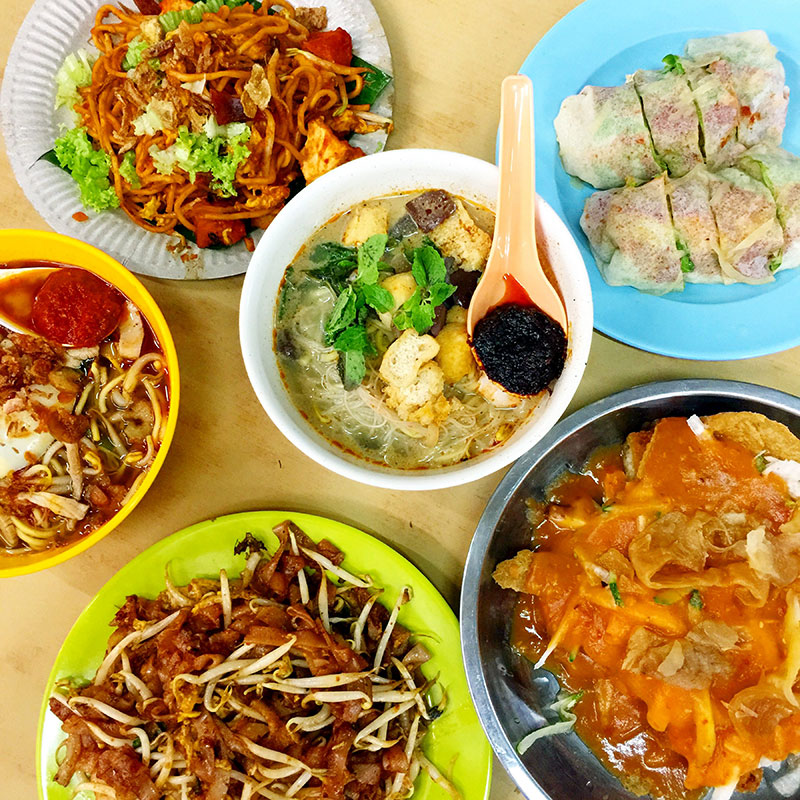 Our first Penang meal: (clockwise from top) Mee goreng, popiah, pesambur, char koay teow, Hokkien mee and curry mee in the middle
Our first stop was Batu Lanchang Market, a local market that also housed several hawker stalls. I immediately felt at home with the sights and sounds of hawker masters hard at work on their craft, intermittently chopping, flipping pans or calling out orders. We let Junie order for us and it was a great decision! She picked out the best dishes of the market and had us share. On the table was char koay teow, mee goreng, curry mee, Hokkien mee, pesambur and popiah.
While everything was delicious, I had my favorites. The char koay teow, my favorite noodle dish of rice noodles, beansprouts, egg, shrimp and cockles, was particularly good and that's saying something. Penang is an entire island filled with some of the best char koay teow in the world, and this one was special.
The consensus around the table was the curry mee was the favorite. The broth was rich and creamy and the he ko (shrimp paste) gave a great umami flavor to the dish. The tofu and pork blood were perfectly executed, too. It was clear to us that we needed to have more curry mee in the coming days.
Meanwhile, as we were wolfing down our food, Junie kept looking back towards a particular stall. When asked, she finally explained why. Every day at 4 p.m., the stall selling Nyonya kueh would finally open and the lines are always long, so she wanted to be first in line. Nyonya kueh translates as "Nyonya cakes," sweets made by the Straits Chinese who married into the Malays, called "Nyonya" in Malaysia. Turns out, just like the popiah, which is like our lumpiang sariwa, the sweets resembled our local kakanins — glutinous rice cakes. Of particular interest to me was the traditional pulut taitai, rice cakes colored with the blue ternate flower and topped with kaya or coconut jam. It tasted like a slightly salty suman with the kaya serving as the latik. While enjoying all of the colorful kuehs, two interesting thoughts entered my mind: it confirmed my theory that our kakanins, just like the Nyonya kueh, do have Chinese roots. Meanwhile, I was amazed at how long the lines were once the stall opened. For many of us, these rice cakes tend to get overlooked, but in Penang, people would line up, sometimes for as long as 30 minutes, to get some. We were told that the stall sells out on everything every day.
The Nyonya kuehs resemble Filipino kakanins in flavor and texture, like the blue-colored pulut tai tai.
Full and satisfied, we then headed to our hotel, Cititel Penang, to check in and rest. After a quick nap, we headed out for dinner. Turns out, dinner was just a few steps away from the hotel at the Red Garden food court. While I didn't get to visit this particular hawker center on my previous visit, it looked very familiar to me. Then I realized that I had seen this center before in Anthony Bourdain's former show No Reservations.
This time, our group was also joined by Yang, who works for the Penang tourism office. He and Junie told us to pick dishes that would interest us and between the five of us, we picked some interesting and delicious dishes: ikan bakar, misua goreng, satay, oyster cakes and Belitung, plus apam balik for dessert.
As expected, all of the dishes were delicious. I was particularly happy with the oyster cakes and I was so happy they hawker master allowed me to watch and learn from him. The ikan bakar, grilled stingray with chili, was masterfully done, with no trace of fishy smell at all.
The dish of the night in terms of interest, however, was the Belitung. Belitung are Malaysian sea snails and they are cooked in an absolutely delicious sweet and spicy sauce that has traces of peppers and peanuts. We were given a quick tutorial on how to eat the Belitung, the secret being sucking the meat through both sides of the shell. While that makes eating it a tad more tedious, it's also fun because you get to enjoy more of the delicious sauce. Food that is delicious gets even more so when there's an element of fun!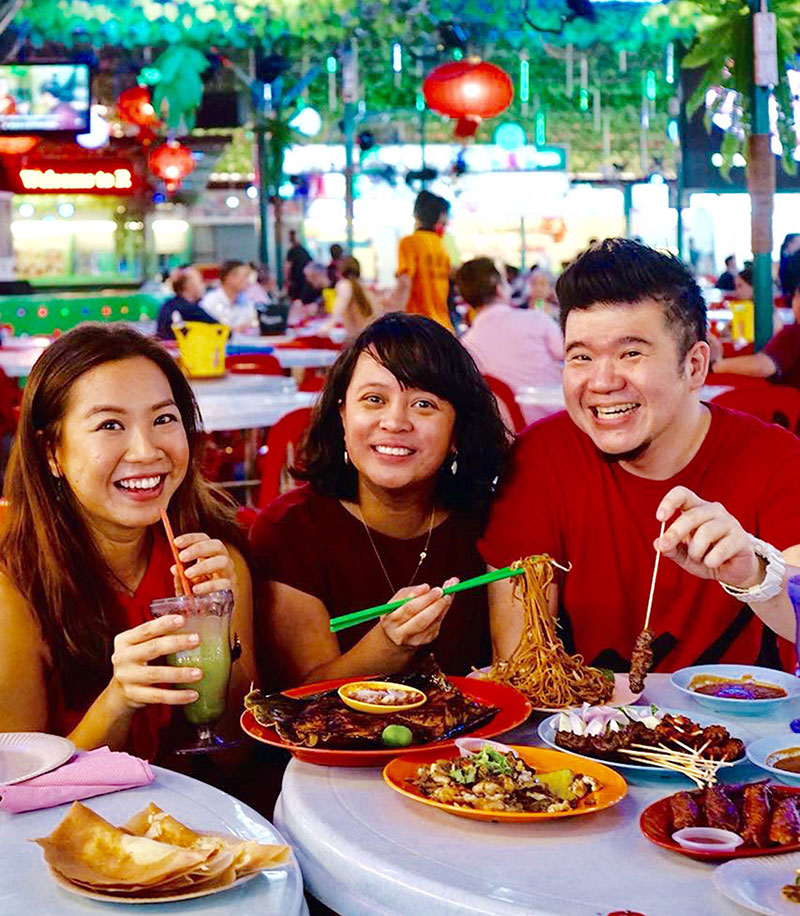 The lean, mean eating crew: Mitchie Sison, Chichi Tullao and author Sharwin Tee
Completely satisfied, I could already deem this trip a foodie success, but that would be premature. After all, tomorrow would be when the real eating would begin. I know I just detailed how much we had eaten on our first day, but Yang assured us there would be much more to follow. He decreed that his plan was to have us gain "three kilos in three days." While we all laughed at his joke, I also had a sneaking suspicion it was an achievable goal. I simply could not wait for day two.
* * *
Follow Sharwin's food adventures on Instagram @chefsharwin and for questions, reactions, recipe and column suggestions, contact him at www.sharwintee.com.