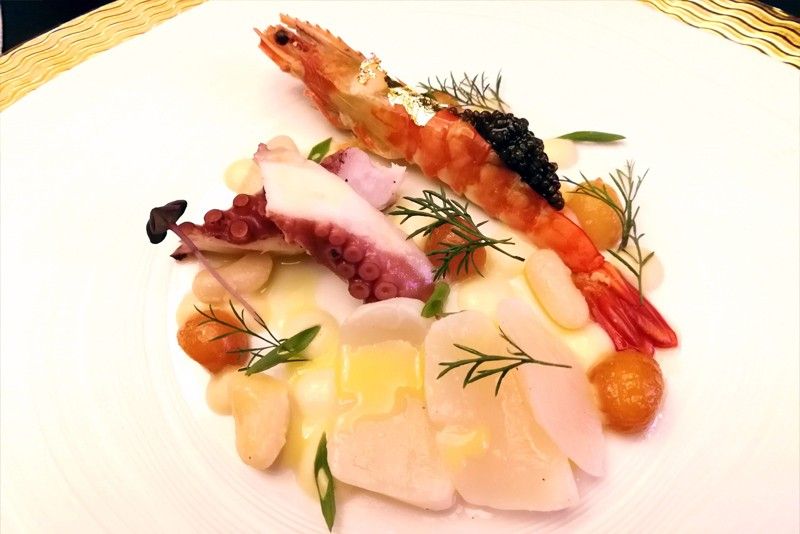 An assortment of seafood as a cold appetizer: Octopus, Tuscany beans, red prawn carpaccio and Calvisius oscietra caviar
An evening with food and wine connoisseurs
FOOD FOR THOUGHT
-
Millie and Karla Reyes
(The Philippine Star) - April 12, 2018 - 12:00am
MILLIE: The most prestigious gastronomic guild of international connoisseurs and gastronomes is the Confrerie de la Chaine des Rotisseurs. It was formed to promote French gastronomic values and fine cuisine. It began in 1248 as a small guild of goose roasters tasked to train apprentices and improve their technical skills. Eventually, around 1509, the guild expanded to include the roasting of game birds, poultry and even venison and lamb.
The guild was granted a royal charter in 1610 and it even had a coat of arms. Its purpose was to project and maintain the highest standards of professionalism in the culinary field until it was disbanded during the French Revolution. It was reborn in Paris in 1950 through the efforts of Jean Valby, Auguste Becarte, Prince Curnonsky, and chefs Louis Giraudon and Marcel Dorin.
Today, the organization is represented in over 120 countries and has a membership of over 26,000 professional and non-professional connoisseurs who appreciate wine and fine dining.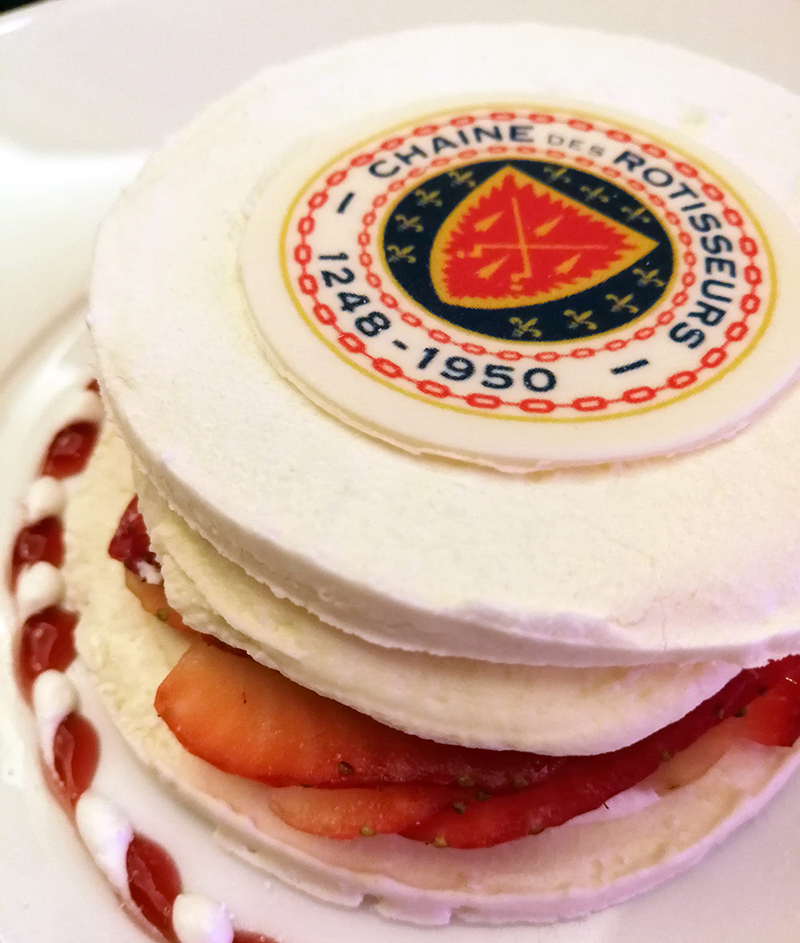 Strawberry

meringata

: Chantilly cream with thin slices of fresh strawberries sandwiched in a personalized meringue with the seal of
Chaine

des

Rotisseurs
I was probably the youngest member at the time I was inducted as dame Maitre de Table Restaurateur in Hong Kong in 1976 by Jean Valby, Le Grand Chancelier. I was lucky to have met the legendary Cassam Gooljarry, a Chevalier de la Legion d'Honneur who was a friend of my parents. Cassam often came to Manila selling his vintage wines and fine food items like caviar and foie gras, which we would offer at special catering events, particularly those hosted by the revered General Carlos P. Romulo, for diplomatic receptions.
My dad, too, was inducted Maitre de Table Restaurateur and we both attended the delightful dinners prepared by five-star hotel chefs and rubbed elbows with the who's who in the local culinary scene.
Today, the Manila chapter of the Confrerie de la Chaine des Rotisseurs not only involves the appreciation of fine dining, they have made it their advocacy to promote social development aimed at improving the living conditions of the needy with feeding programs in select communities.
KARLA: I was invited to attend the Chaine des Rotisseurs induction of new members. I had been hearing about this secret society my whole life, as both my mom and Lolo Joe were members. It was held at the Makati Shangri-La.
The evening started out with cocktails, then we were ushered into a room for the induction and awarding. The induction ceremony was interesting to watch. It felt like a knighting ceremony, as they were tapping the flat side of a sword on the shoulders of an inductee, then giving them a medal.
Prior to the dinner service, there was an announcement regarding the dining rules of Chaine des Rotiseurs. They believe that to be able to thoroughly enjoy the culinary experience, water is never served to diners unless requested for medical reasons. Salt, pepper and other condiments and spices should never be served as respect for the chef's work. The availability of bread and butter is upon the discretion of the chef.
Lobster consommé with black cod, baby squid and saffron potatoes
For dinner, we were served an assortment of seafood as a cold appetizer. It had octopus with Tuscany beans, red prawn carpaccio and Calvisius oscietra caviar paired with Champagne Lhuillier Brut Rose NV. For soup we had a lobster consommé with black cod, baby squid and saffron potatoes. The next course was duck ravioli with Parmesan cheese paired with Les Terres de Cistelles Chablis Premier Cru Fourchaume 2014. The main entree was a beef tagliate with Sicilian caponata paired with the Fonterutoli Chianti Classico 2015.
The cheese course was my favorite. It was brie with a layer of mascarpone with truffles and herbs in between and served with a side salad. It was paired with a Luccarelli Il Bacca Old Vibe Primitivo di Manduria 2015.
For dessert, we had strawberry meringata. Swirls of Chantilly and thin slices of strawberries were sandwiched between meringues that were personalized with the seal of Chaine des Rotisseurs and served with a scoop of cheesecake ice cream. It was a delightful evening for a good cause and I wish them success in their feeding programs.
* * *
Send email to milliereyes.foodforthought@gmail.com and quichethecook.ph@gmail.com. Find us on Facebook: Food for Thought by Millie & Karla Reyes and Instagram: @quichethecookph.