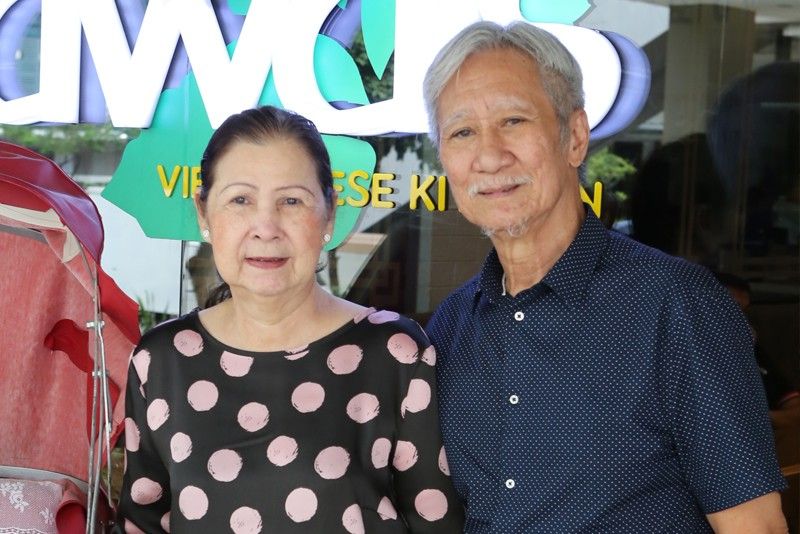 Ver Tatlonghari and Bawai Dung first opened the original Bawai's Vietnamese Kitchen in their home in Tagaytay in 2007.
Photos by Walter Bollozos
Feeling a grandmother's love in Bawai's Vietnamese Kitchen
Ver Tatlonghari and his Vietnamese wife, My Duyen, fondly called Bawai, prepare familiar as well as unique homecooked dishes. 'We have our own quintessential coffee, too, using beans and condensed milk from Vietnam.'
MANILA, Philippines — Simple is a word that is commonly used to describe typical Vietnamese dishes. But simple does not necessarily mean unexciting and ordinary. The simplest things can bring the most pleasure. Take a simple bowl of piping hot soup pho bo, for example, the traditional Vietnamese beef noodle soup cooked with herbs and spices. Done right, it can leave you with a satisfied tummy and a wide smile on your face.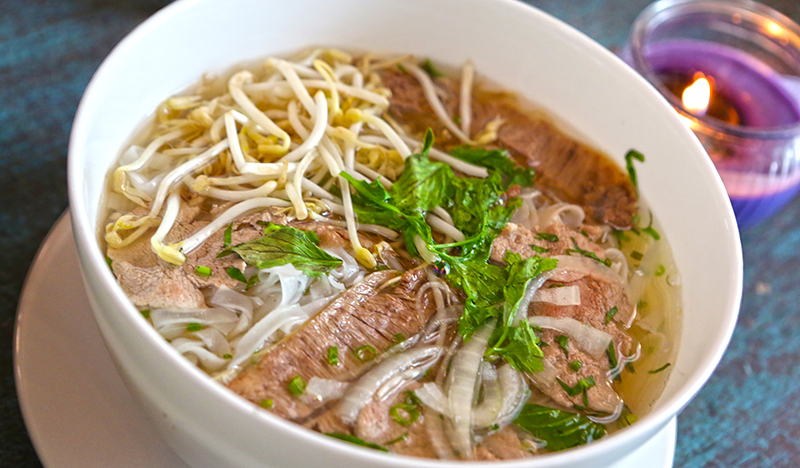 Pho

bo

, traditional Vietnamese beef noodle soup
The dishes served at Bawai's Vietnamese Kitchen do that, with their subtle alchemy of simple recipes using simple ingredients and cooking techniques. We just couldn't get enough of the fresh spring rolls called goi cuonand its fried version called cha gio, which you wrap in a fresh lettuce leaf and dip in a sweet sour sauce. The Pho Bites version has dry pho noodles wrapped in lettuce and thin beef strips with caramel glaze.
Bawai's House Salad is made with young coconut sprouts called ubod. "The young coconut from which the ubod is harvested were planted specifically for this purpose," says Virgilio "Ver" Tatlonghari, who together with his Vietnamese wife, My Duyen, first opened the original Bawai's Vietnamese Kitchen in their home in Tagaytay in 2007.
Originally from Candelaria, Quezon, Ver met and married My Duyen in Vietnam where he worked as a power plant tender inside a military base camp in the late 1960s. After two sons and three daughters, plus 20 more years working in Saudi Arabia, Ver finally came home and built their retirement house in Tagaytay. It was here where My Duyen or Bawai Dung, as she is fondly called (bawai means grandmother in Vietnamese) prepared her homecooked Vietnamese dishes that were enjoyed by family and friends who soon convinced her to open a restaurant.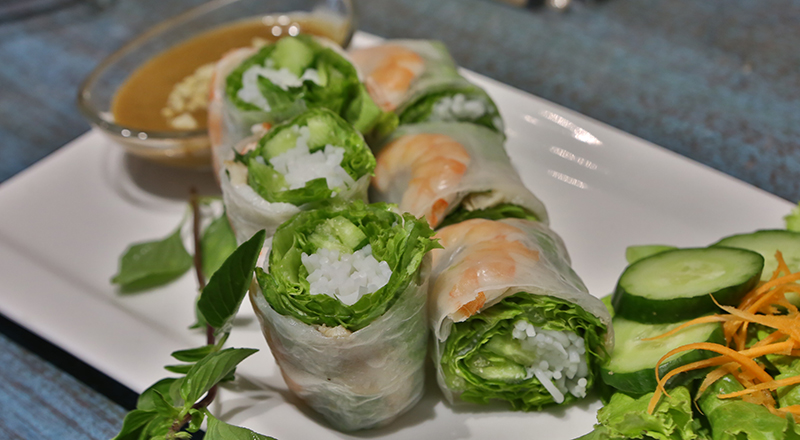 Fresh spring rolls called

goi

cuon
To prepare herself, Bawai Dung enrolled in a cooking school in Vietnam in 2006, prior to opening their Vietnamese restaurant in Tagaytay. After completing her formal training, "I was ready to share my personal recipes," Bawai Dung relates. "We sought the help of our neighbors and their families, trained them to be our cooks, servers and staff." It did not take long for Bawai's Vietnamese Kitchen to become a popular weekend dining destination.
Ten years later, in 2017, Bawai's opened a branch at Uptown Parade in BGC. To ensure that what they serve is consistent with what Bawai's loyal customers have come to love, "our chefs trained for six months in Tagaytay," says Anderson Hao, Bawai's master franchise holder. "Our fresh ingredients are sourced from Bawai's suppliers in Tagaytay so guests are assured that what they get here in BGC are the same as those in the original Bawai's in Tagaytay."
Bawai's gets most of their fresh ingredients from the Mahogany Market in Tagaytay, which is well-known for their farm produce, as well as fresh Batangas beef. The spices are imported directly from Vietnam. The Vietnamese patis comes in concentrate form, which Bawai Dung cooks in coconut water to achieve a milder-tasting fish sauce. It's a nice condiment that goes well with their bun tom, dry noodles with sautéed buttered prawns, topped with vegetables and roasted nuts.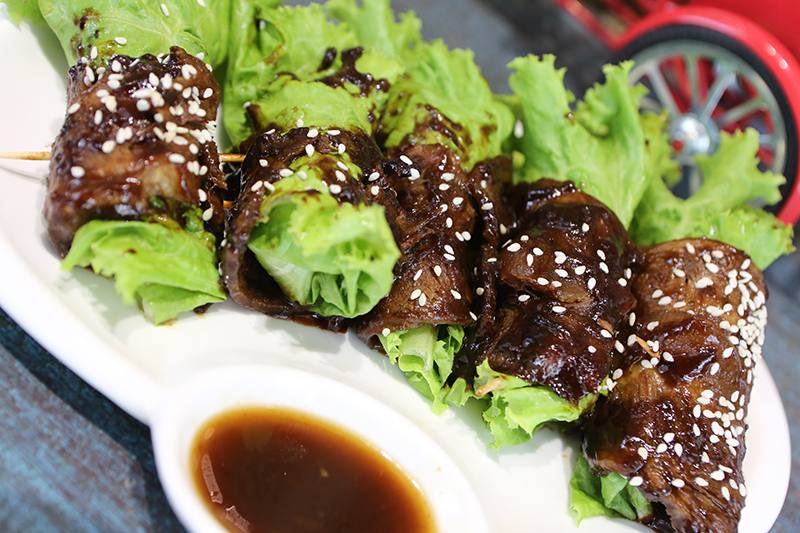 Pho Bites has dry
pho

noodles wrapped in lettuce leaf and thin beef strips with caramel glaze.
Bawai's bestsellers include com suon cha, grilled pork belly glazed with a caramel-lemongrass marinade and served with a vermicelli and mushroom egg pie; curry ga, which is chicken with coconut milk; and tom rang me, black tiger prawns with fresh tamarind sauce.
"A must-try is bo kho, beef stew slow-cooked for eight hours, with 12 spices, potatoes, carrots and onions," Anderson recommends. For this dish, they use kalitiran, the tender cut from the shoulder blade of the cow that is rich in tendons and fat marbling.
An item that you don't always find in the menu of other Vietnamese restaurants is ca kho to, pan- fried Norwegian salmon with caramelized onions and served with a cabbage and chicken side salad.
For dessert, you can choose from a short list of Vietnamese favorites such as the familiar che bap, sweet sticky rice with corn and coconut milk. And to wash everything down, there's their quintessential Vietnamese coffee with condensed milk.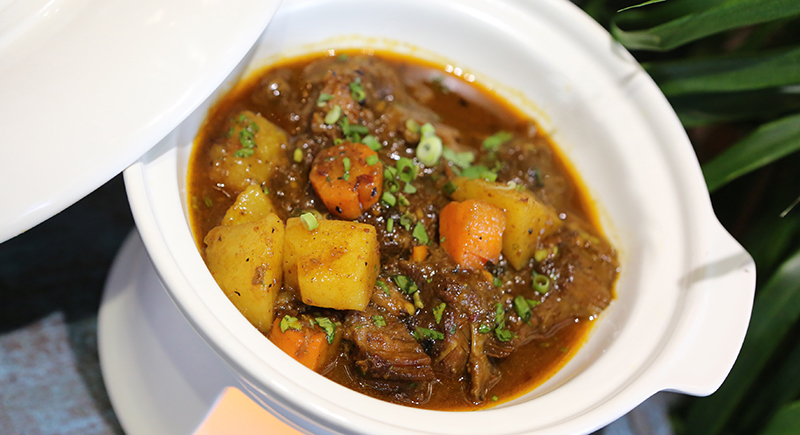 Bo

kho

, beef stew slow-cooked for eight hours with twelve spices,
ptatoes

, carrots and onions
"We have our own formulation for our coffee," Anderson says. The coffee grounds as well as the condensed milk are imported from Vietnam.
Bawai's also offers Family Meals that include their bestsellers, good for four to eight persons. And for a quick snack, you can grab abanh mi, that classic Vietnamese baguette with pork, vegetables and pork pate filling.
A large mural inside Bawai's at Uptown Parade in BGC depicts a typical scene, of graceful Vietnamese women dressed in their iconic ao dai, standing by a lotus pond.
The mood is relaxed and comforting, just like the food that they serve.
"We treat our customers not only as guests but as honorary members of our own family," Bawai Dung remarks. "Every dish is prepared with love."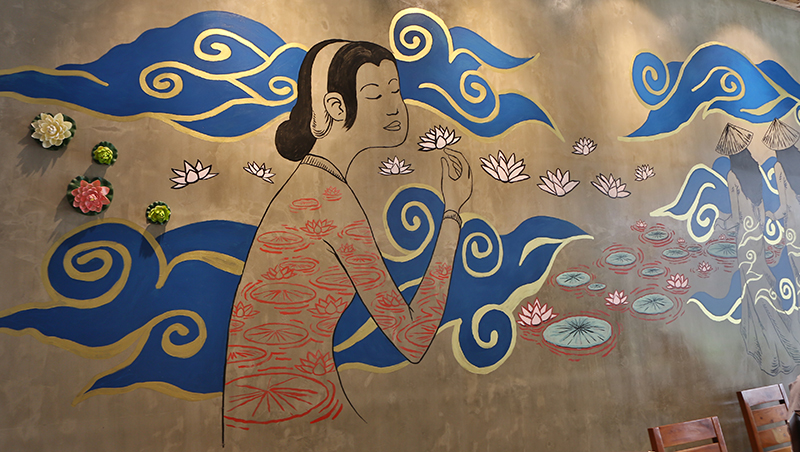 Detail of the large mural inside
Bawai's

newst

branch at Uptown Parade in

BGC

depicting a Vietnamese scene.