Gout de France: A celebration of French Gastronomy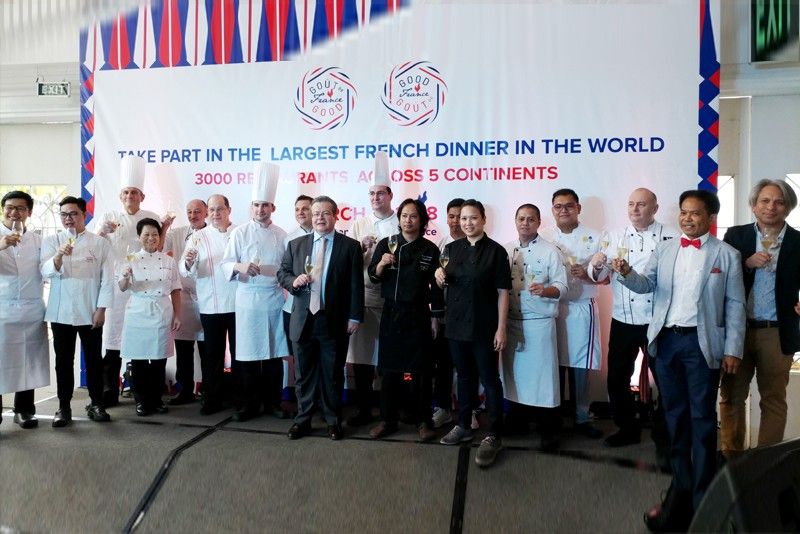 Millie: Every year, French gastronomy is celebrated in a most unique way as about 2,000 chefs in five continents simultaneously serve French cuisine in an effort to promote French tourism and spread a taste of France to as many food enthusiasts as possible. French gastronomy, after all, is the only cuisine inscribed by UNESCO in its list of "Intangible Cultural Heritage of Humanity."
The legendary Auguste Escoffier, a restaurateur, culinary writer and probably the most popular French culinary icon known for his traditional culinary techniques that are the ABCs of any chef's fundamental kitchen education, is said to have initiated in 1912 Les Diners d'Epicure (Epicurean Dinners) a one-day, one-menu affair served in cities all around the globe.
In my lifetime, I am happy and proud to have met world-renowned French chefs, notably Paul Bocuse who popularized nouvelle cuisine and recently passed on at the age of 91. I met Bocuse in 1976 when he came to Manila upon the invitation of a friend Cassam Gooljarry of the Confrerie de la Chaine des Rotisseurs to attend the grand opening of the Philippine International Convention Center of which The Plaza was the exclusive caterer from 1976 to 1985.
On a recent trip to Switzerland, my friends Susan and Franklin Bertschy drove Karla and myself to Vonnas, France and we had the great pleasure of meeting chef Georges Blanc. He developed a unique gourmet village where we dined in one of his restaurants and was served the delightful poulet de Bresse.
Karla and I were also lucky to have first met Alain Ducasse in Manila a few years ago and have since been such fans that, whenever we get a chance, we dine at his restaurants in Paris, Hong Kong or elsewhere. I even took private cooking lessons at his school in Paris instead of going shopping!
It was also a delight to have met Jacques Pepin, a celebrity chef, restaurateur and dean of the International Culinary Center in New York where Karla graduated from culinary studies last year.
Our most recent acquaintance (and a memorable one at that) was Daniel Bouloud, a chef restaurateur par excellence. We dined at his restaurant Daniel in New York on 65th street between Madison and Park Ave. and truly enjoyed the experience.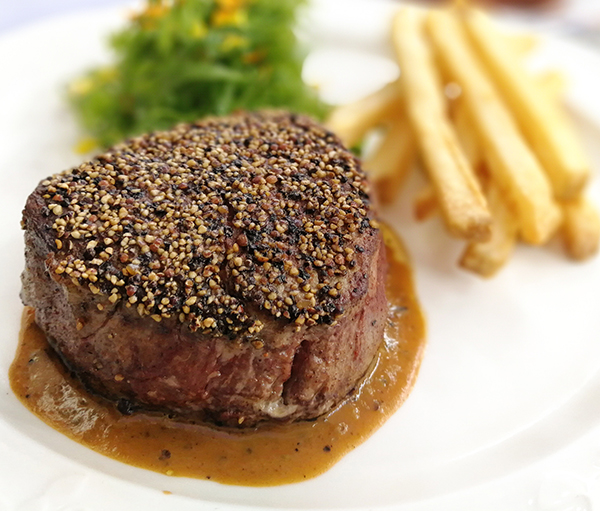 The peppered US Black Angus beef tenderloin in creamy cognac pepper sauce served with creamed potatoes and terrine grilled vegetables by chef Jessie Sincioco of Chef Jessie at the Rockwell Club, Makati
Karla: During the Gout de France held yesterday, 18 select chefs prepared a prix fixe menu for the evening following the sequence of a traditional French meal — aperitif with finger food, starter, one or two main courses, cheese platter and dessert and, of course, all accompanied by French wine — a must.
During the sneak-eat, I was able to sample some items on the menu and I would like to mention the dishes I enjoyed the most: the peppered US Black Angus beef tenderloin in creamy cognac pepper sauce served with creamed potatoes and terrine grilled vegetables by chef Jessie Sincioco of Chef Jessie at the Rockwell Club, Makati; the beetroot tartare with goat cheese and caramelized onions by chef Miko Calo of Elbert's Steakroom in Makati; the braised beef cheek with paprika, wild mushroom fricassee and roasted vegetables by chef Julien Cosse of Spirals in Sofitel Manila; seared scallop with black caviar, green asparagus, beetroot foam and cauliflower puree with Britanny sauce by chef Jonathan Bouthiaux of Samira restaurant at Anya Resort & Residence in Tagaytay; and fresh mango and Don Papa rum cream mille-feuilles.
It seems that the celebration has grown this year not only to other restaurants in Manila but this year, they also featured chef David Virrey of Eiffel Kubo in Bukidnon; chef Richard Amado of La Vie Parisienne in Cebu; and chef Jonathan Bouthiaux of Anya Resort & Residence in Tagaytay. Other participants this year were chef Katrina Alcantara of CDP, chef Miko Aspiras of Le Petit Souffle, chef Justin Baradas of Restaurant 101 in Enderun, chef Pierre Cornelis of Vatel Restaurant, chef Clement Damotte of La Mere Poulard, chef Kevin Endaya of Lemuria, chef Dino Ferrari of Paris Delice, chef Michel Herbert of Le Bistro d'Agathe, chef Martin Kaspar of L'Entrecote, chef Robert Lilja of Maria Luisa's Garden Room, and chef Josua Mara of Gourmet Bar.
* * *
To read the full menus of participating restaurants and for more information, visit www.ph.ambafrance.org or follow the Embassy of France to the Philippines on social media at www.facebook.com/ FrenchEmbassyManila.
***
Send email to milliereyes.foodforthought@ gmail.com and quichethecook. ph@gmail.com
Find us on Facebook: Food for Thought by Millie & Karla Reyes.