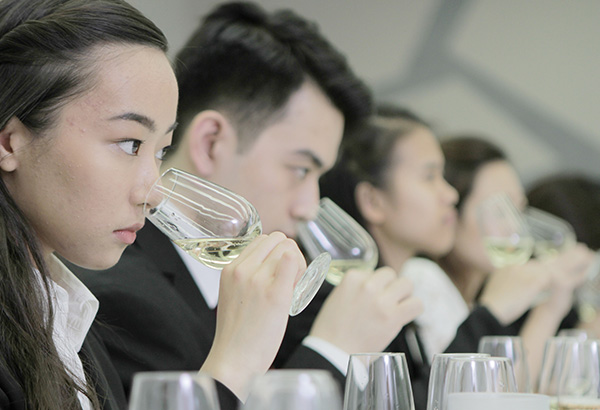 Students of a wine masterclass. Released
WATCH: Experts give a 101 on wine appreciation
(philstar.com) - March 20, 2018 - 1:51pm
MANILA, Philippines — Do you love wines?
Wine experts from culinary institution Enderun Colleges recently gave a class on wine appreciation. Watch the following video to know how to become a wine connoisseur.
With 165 years of wine-making as its legacy, Hardys continues to produce some of Australia's most beloved vintages. Founded in 1853 by Englishman Thomas Hardy, the brand started producing wine out of the verdant and beautiful McLaren Vale wine region. By 1857, it celebrated a milestone by being the first to ship wine to England, essentially earning him the name "Father of the South Australian Wine Industry."
Today, the brand claims to source its best bottles from across 5,000 acres of vineyards located around Adelaide, South Australia's capital and enjoys distinction and prestige from wine consumers, connoisseurs, and the wine industry in general.
Wine enthusiasts and professionals will have the opportunity to earn an advanced wine certification from UK-based Wine & Spirit Education Trust (WSET) with award-winning wine specialist Jorge Orte Tudela DipWSET as Enderun Colleges launches the WSET Level 3 Certification on March 19 to 23.
Jorge Orte is a WSET Certified Educator and is currently the Export Manager and Wine Educator at Grape Bebop. He is also a Certified Educator of sherry and cava by the Consejo Regulador Jerez-Xeres-Sherry and Institut del Cava respectively. Besides teaching, Tudela also travels extensively, serving as a judge in notable wine challenges such as the International Wine Challenge, International Wine & Spirits Competition, Premios Baco, Premis Vinari, and others.
Enderun Colleges has been an Approved Programme Provider (APP) of WSET since 2014 but this March marks the first time that it is offering the WSET Level 3 Award in Wines.
"My love for the trade (wines and spirits) is so big and my curiosity so vast that is not just enough to drink them. I am fascinated by the different varieties, styles, how the vigneron copes with adverse weather conditions, how they market them and how the consumer perceives them. After becoming a Sommelier, I found that the mere understanding of what is in the glass was not enough. I wanted to know why what is in the glass tastes and smelled like that," he said. — Video by EC Toledo, Kat Leandicho