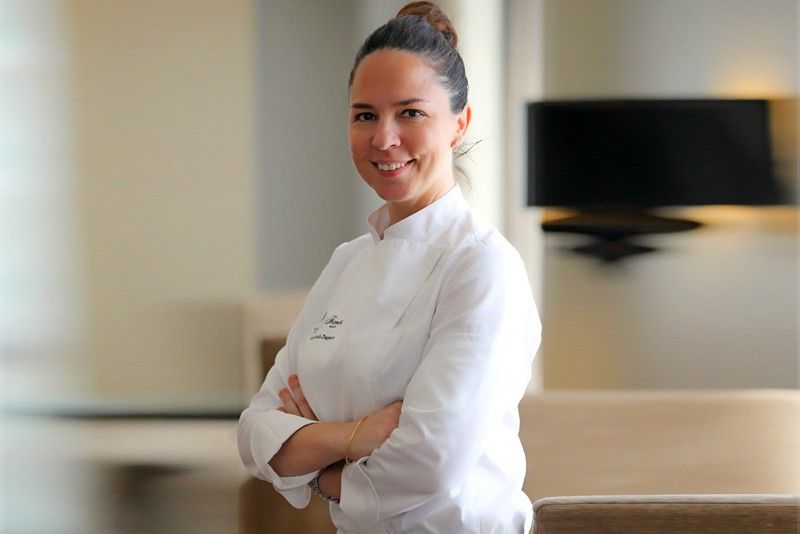 Raffles and Fairmont Makati's new executive chef Anne-Cecile Degenne: "I'm excited to cook with buko, the sweetest ones are in the Philippines." Photos by Walter Bollozos
The joie de vivre in chef Anne-Cecile Degenne's food
Raffles Makati's new executive chef, the first female to hold that position in a luxury five-star brand in the country, sees food as a way to share and care.
One elegant plate comes out after another from the kitchen, with the chef in her crisp white jacket, her hair in a neat bun and a wide smile explaining each one.
Say bonjour to Raffles and Fairmont Makati's new executive chef, the very French Anne-Cecile Degenne, a native of Bordeaux and a balikbayan of sorts to Manila.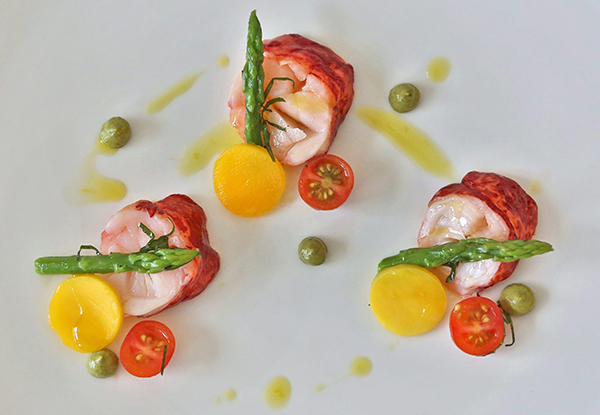 Lobster salad with mango and Thai curry and basil
The first female executive chef to head the F&B department of an international luxury brand chain in the country, Anne-Cecile and Raffles managing director David Batchelor hosted a Chef's Table lunch last week at Raffles Residences.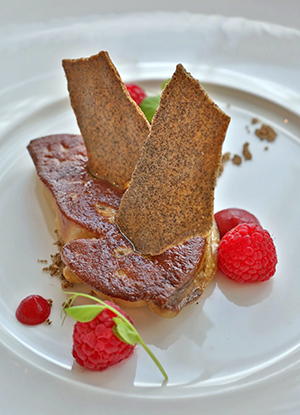 Seared French foie gras with raspberry and buckwheat
Anne-Cecile began her culinary journey at the one-star Michelin restaurant Campagne et Gourmandises in Biarritz, France. She then held progressive positions at Eden Rock Hotel in St. Barthelemy as the executive sous chef; Jolie Restaurant in New York as executive chef; a stint on Top Chef France Season 5 where she made it to the top six; and has since worked with culinary legends such as Jean-George Vongerichten.
She then moved to Accor Hotels, of which Raffles is a part of, where she re-opened Sofitel Manila's Spiral restaurant, Sofitel So Singapore and MGallery Hotel Des Arts Saigon in Vietnam. She has also cooked for the likes of Serena Williams, Beyoncé and Jay-Z, Bono and Mick Jagger to name a few.
"I'm not from a cooking family that owned restaurants, but my mother and grandparents loved to cook, so I was always in the kitchen. We are an, epicurean family, we love wine and food," says the chef who remembers her mom's lamb shoulder cooked in the oven with roasted vegetables around. "A lot of rosemary inside and garlic — beautiful!"
It's no surprise then that at home, Anne-Cecile likes roasting. "You know, those that you leave in the oven, you just forget about it, then you play around and then it's time to go."
"Food is about caring and sharing," she says and that's exactly what she does at our lunch.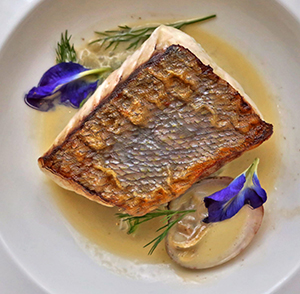 Emperor fish with fennel and truffles and
clam juice
Anne-Cecile says she is bringing her French training and combining it — just a hint, but it's there —with Asian flavors to her kitchen. Her lobster salad with mango and Thai curry and basil is her introduction to our palates. It's so refreshing in the mouth with the mango offering that zest alongside the fresh lobster. The plate is such a feast for the eyes, you almost can't believe that the chef's comfort food is ordinary caramelized popcorn.
Next comes seared French foie gras with raspberry and buckwheat to cut through the richness. The emperor fish with fennel and truffles and clam juice, paired with Chablis, contrasts with the foie gras and just wows us with its delicacy and simplicity. The Australian Wagyu striploin, with its perfect marbling, is paired with watercress and cauliflower coulis.
For dessert, we get a taste of the local calamansi in her meringue tart. It's the perfect amount of sweetness and tartness in that slice of joy.
In her last stint in the Philippines, Anne-Cecile was able to indulge in her fave sport, scuba diving. "I've been to El Nido, Bohol and Caramoan. I love diving, I've been doing it for more than a decade because I worked in the Caribbean for 12 years."
How does she like being back in Manila? "I like the life here," says the chef and mother of two (her three-year-old was born in Singapore and her youngest, 11 months old, was born in Vietnam. "They are used to Asia's hot weather."
And if there's one ingredient that she's most excited to cook with, it's buko. "I think the best coconuts are here in the Philippines, they are really sweet and you can do so many things with them. I didn't like coconut until I came to the Philippines. When I was working in the Caribbean, I wouldn't eat coconut meat or drink the juice, I never ordered any coconut dessert or whatever. Once here, they forced me to try it and I was really wowed. It tasted completely different. In France we don't get fresh coconut, we only have the dry, brown one — there's a lot of meat but no juice."
She says that this time, perhaps she will stay longer in the Philippines — and we can't wait what this lovely French woman does with buko.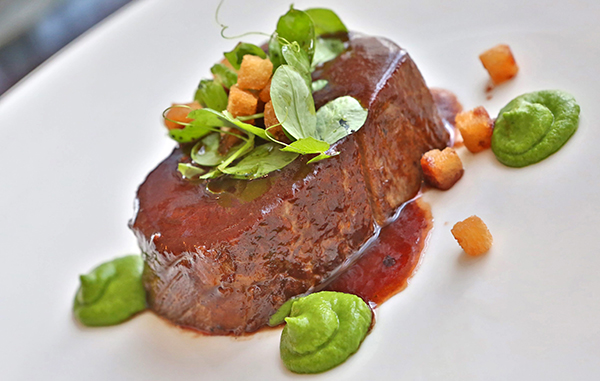 Australian Wagyu striploin with watercress and cauliflower
* * *
Visit the author's travel blog at www.findingmyway.net, follow her on Instagram and Twitter @iamtanyalara.
Raffles and Fairmont Makati are located at 1 Raffles Drive, Makati Avenue. Call 795-0777 for reservations.