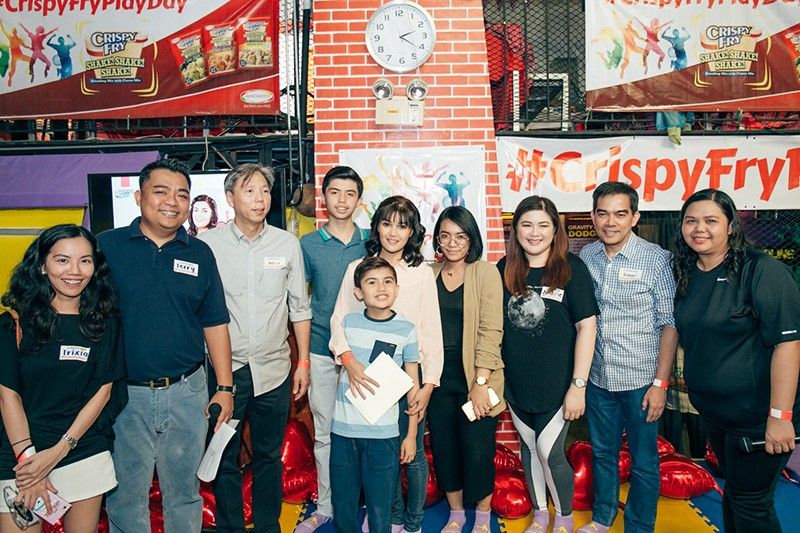 Family bonding and home-cooked food at #CrispyFryPlayDay
MANILA, Philippines — Fostering the family ties of today's generation of parents and kids, Crispy Fry, the country's No. 1 instant breading mix brand, hosted the #CrispyFryPlayDay and introduced its newest product, Crispy Fry Shake! Shake! Shake! last Feb. 24 at the Trampoline Park in Greenfield District, Mandaluyong City.
Guests gathered at the Trampoline Park for a day of fun and play at the #CrispyFryPlayDay, where attendees jumped into the giant foam pit, played trampoline-style basketball, and learned free jump techniques.
A key part of the event was the official launch of Crispy Fry Shake! Shake! Shake!, a new addition to the family's favorite Crispy Fry fried chicken that is available in three new flavor mixes: Parmesan Cheese, Smokey Barbecue, and Savory Seaweed.
Senior brand assistant for Crispy Fry Justine Pasco shared how the three variants are made with the same top-secret spice-and-seasonings formula that the brand is known for. "We provide only the best quality by using choice flours and starches blended specifically to provide crispiness, combined with a special mix of herbs and spices for the perfect seasoning for fried dishes," she explains.
Crispy Fry celebrity endorser Donna Cruz-Larrazabal and her sons Cian and Gio joined the fun. The Cebu-based actress, singer, wife, and mom revealed that she and her husband spend time with their three kids amid school activities and work schedules. They also make time for a movie-and-dinner date every week.
When staying in, she likes to cook Belle, Cian, and Gio's favorites with chicken tenders as one of their most requested dishes. "Yung favorite nilang chicken tenders, mas naging exciting kasi we can now use Crispy Fry Shake! Shake! Shake! in Parmesan Cheese, Smokey Barbecue, and Savory Seaweed," she shares.
There was also a cooking demonstration of the signature Crispy Fry fried chicken wings in Parmesan Cheese by Ajinomoto's resident chef, Jeffrey Chang. Sofia Conejos, culinary networking and communication manager of Ajinomoto, then gave helpful tips on how to deal with kids who are picky eaters. As a licensed nutritionist-dietitian, she emphasized the need for parents to include nutritious food in their kids' diets in any way they can.
For information, like the Facebook page facebook.com/CookmunitybyAjinomotoPH/ and visit www.ajinomoto.com.ph.
Media friends and their families went home with big smiles and their own chicken pillows. Released.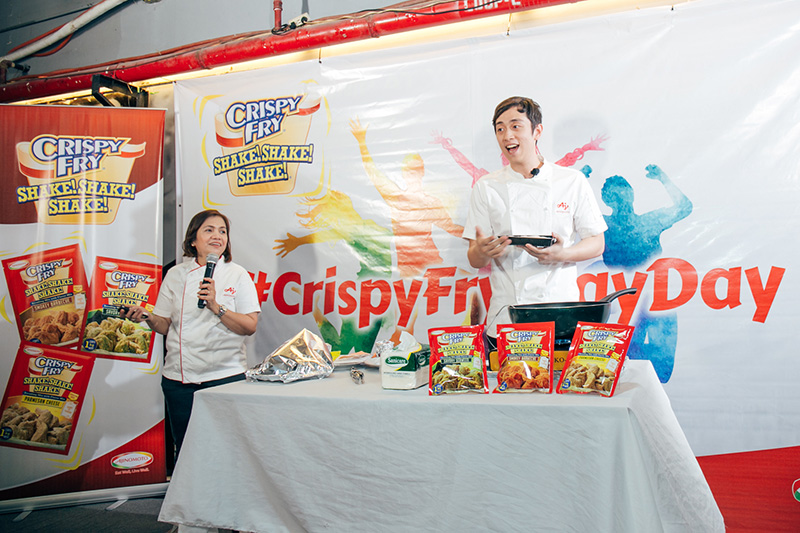 Resident Ajinomoto chefs Sofia Conejos and Jeffrey Chang demo the flavored fried chicken wings recipe. Released.