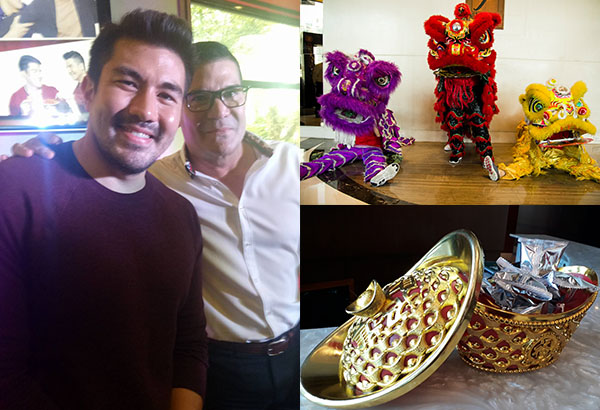 Father-and-son Edu and Luis "Lucky" Manzano (left); Chinese New Year festivities in Bonifacio Global City.
Philstar.com/Jan Milo Severo, Deni Rose M. Afinidad-Bernardo
LIST: 18 'lucky' food for 2018
MANILA, Philippines — This Year of the Earth Dog, since Earth is the prevailing element, a feng shui expert warns of eating anything that comes from the earth.
"Also, because there is a lot of earth this year, people have to be careful of what they eat," feng shui expert Princess Lim Fernandez recently said during an interview with Philstar.com.
Particularly vulnerable, according to her, are those whose animal signs are Dragon, Goat, Dog and Ox.
18 flavors for life and luck
Like most celebrations, the Chinese New Year is best celebrated with food. But not just any food — whether it is dinner with family or a really big party, it is important to serve food that attracts the right vibes for the rest of the year.
These food items are not just good; they also come with a generous helping of good fortune, ideal for ushering in the Year of the Earth Dog.
1. Walnuts
Walnuts generally symbolize happiness for the entire family. Besides tasting great, they also contain nutrients that support the brain.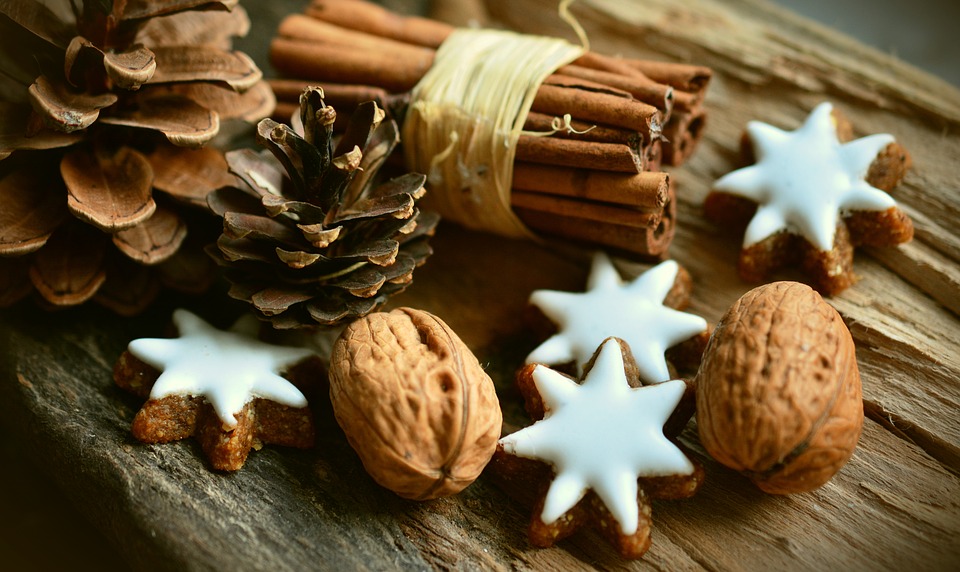 Walnuts
2. Almonds
Almonds are often baked into coin-shaped cookies to symbolize wealth, but they're good to eat on their own, especially when toasted.
As one of the world's most popular bar chows, peanuts hardly register as special items on the menu. But in Chinese tradition, they symbolize vitality and prosperity, among others.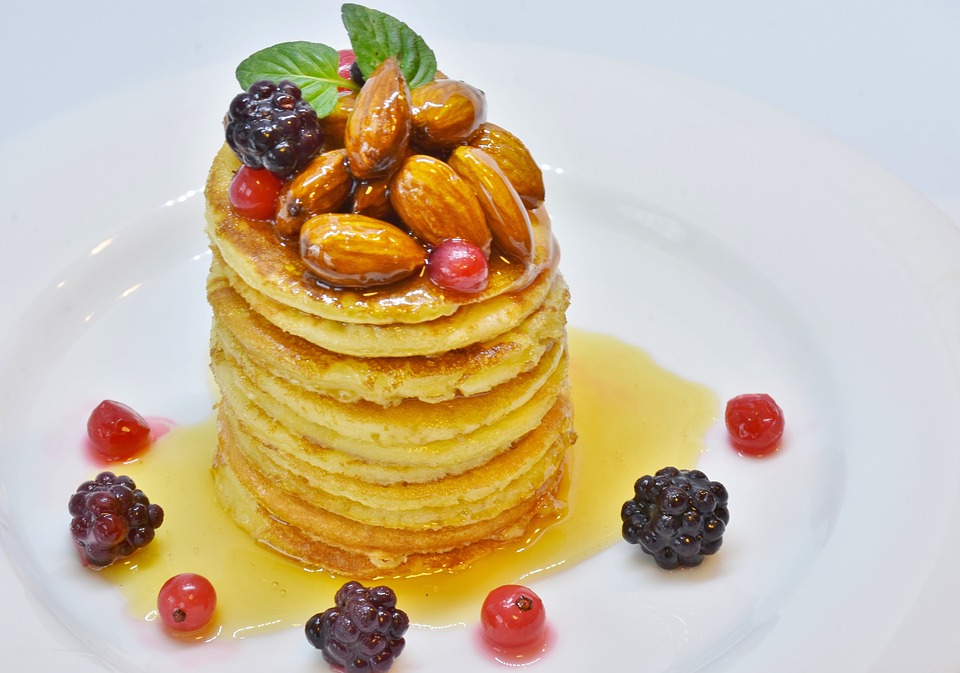 Pancakes topped with almonds.
3. Ginger
Ginger symbolizes longevity. In candied form, it's often included in the "Box of Harmony," which is a meaningful selection of treats often given out during important celebrations.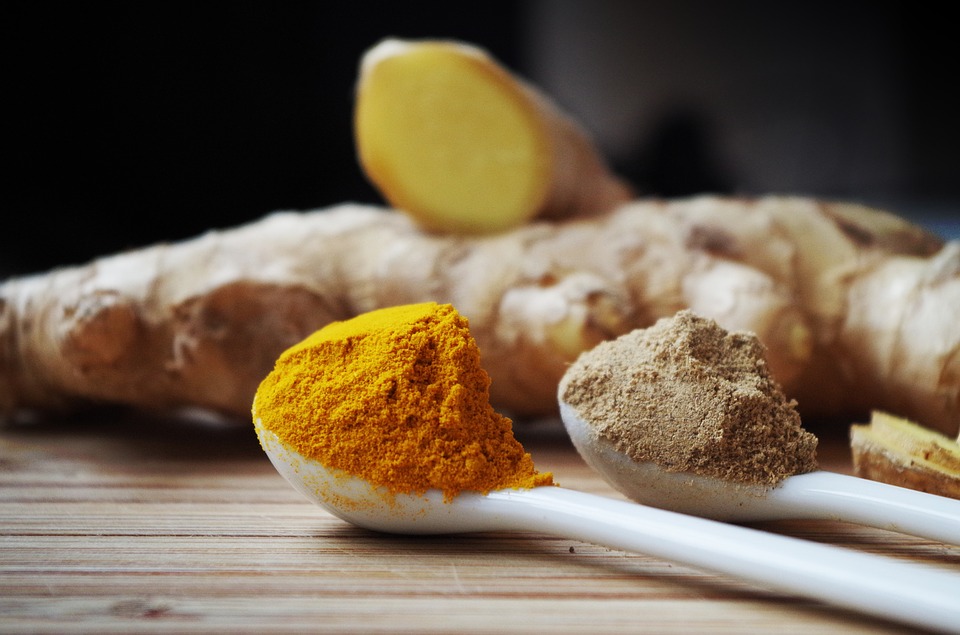 Ginger
4. Apricots
Like ginger, apricots are often included in the Box of Harmony. The golden color is believed to attract wealth.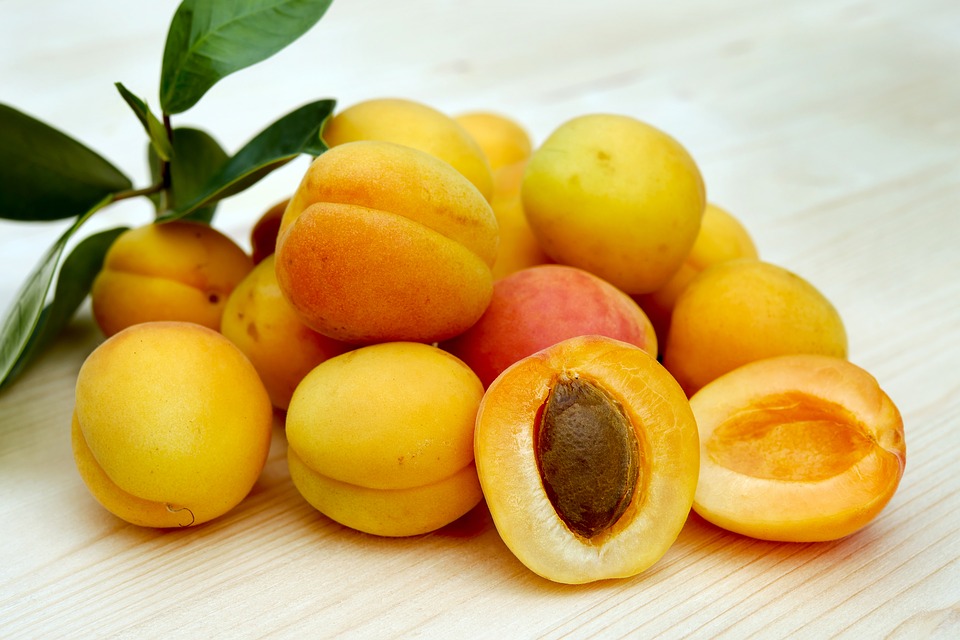 Apricots
5. Cinnamon
Often used to improve various dishes, spices like cinnamon can enhance the whole dining experience simply through the aroma alone. The enduring fragrance is said to invite a long and honorable life, so keep them in the room to enjoy the benefits.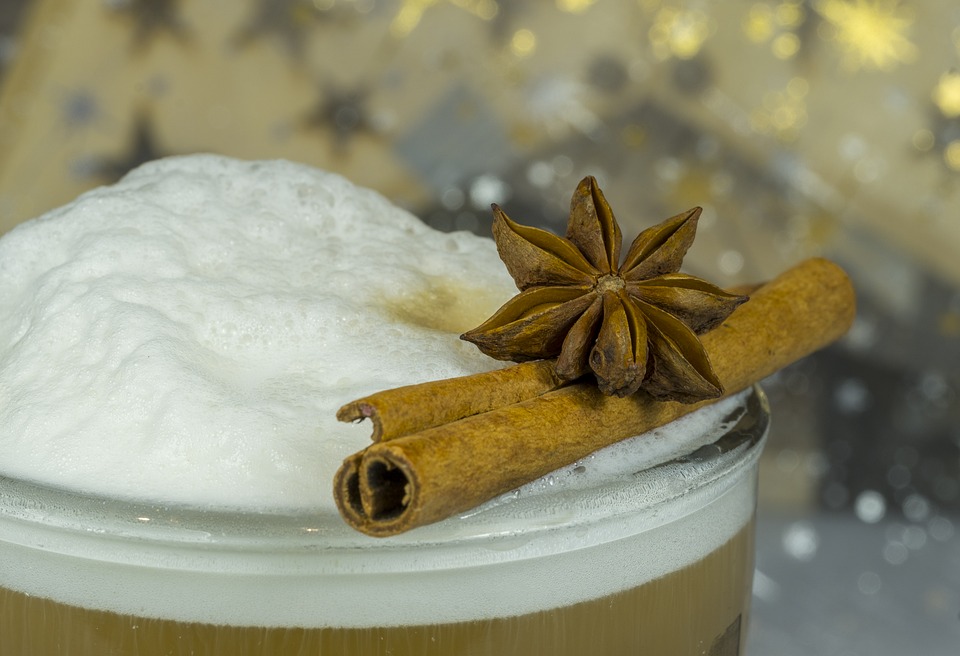 Cinnamon
6. Jasmine
Chinese culture has always valued flowers like jasmine for symbolizing rebirth, growth and prosperity. Infused in tea that stands for harmony, the resulting drink is a fine addition to the New Year feast.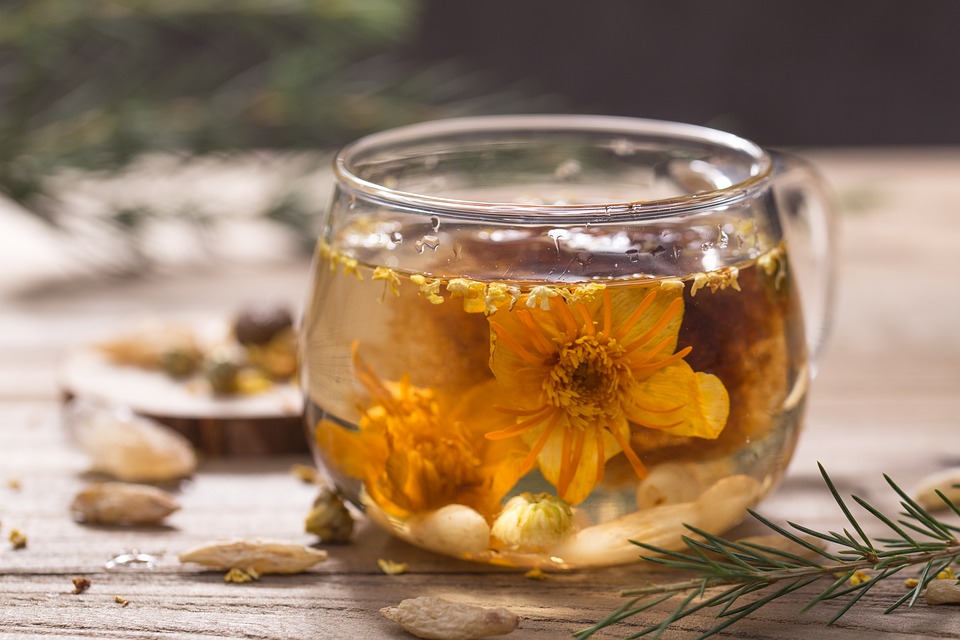 Jasmine tea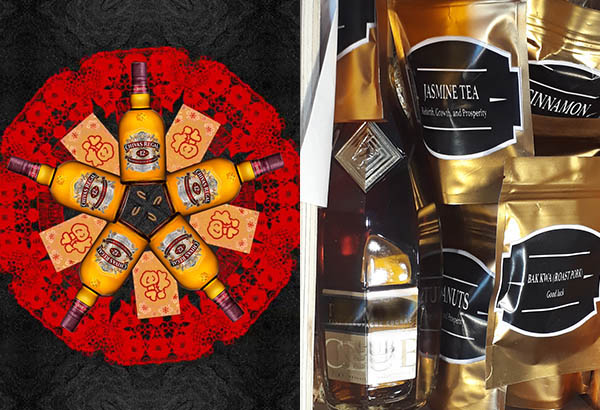 Drinks that complement Oriental dishes include Chivas Regal (left) and Rémy Martin Club (right), a mix of aromas, including grilled almonds, spicy cinnamon, and the floral scent of jasmine. Its bottle has eight sides, a nod to the luckiest number in Chinese tradition.
7. Pork
Pork is one of the most popular meats in Chinese cuisine and it also happens to bear significance in folk tradition. When roasted, the skin turns bright red, a color mostly associated with good luck.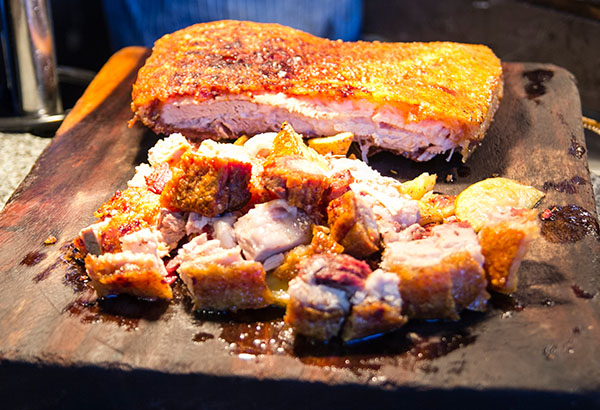 Crispy lechon Macau at F All-Day Dining.
To welcome the Year of the Earth Dog, F1 Hotel Manila in Bonifacio Global City, Taguig City, recently unveiled its Chinese New Year look and offerings. The event was led by the hotel's department heads, while Cindy Brual, Hotel Director, instigated the ritual. Red lanterns and envelopes were all over the hotel as these deliver wealth and good fortune. Hotel guests were also invited to see the lion dance performance at F All-Day Dining, where traditional auspicious Chinese New Year dishes come in a yin and yang presentation in the buffet.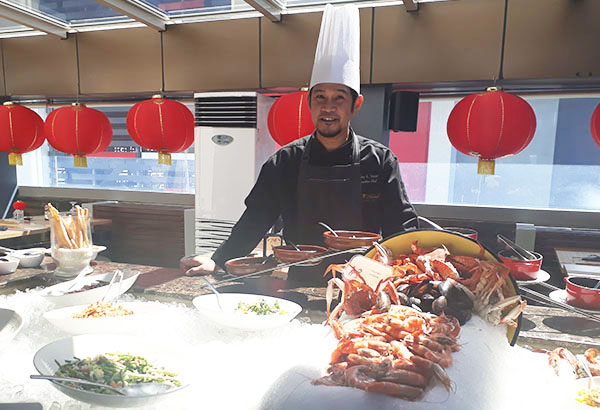 Executive Chef Angelo Timban
The yin and yang presentation, according to Executive Chef Angelo Timban, ensures that the restaurant serves only enough amount of food, with the aim of minimizing leftovers and cost, and to ensure that the food supplied into the chafing dishes are always freshly cooked.
Apart from the Asian-themed buffet composed of traditional Chinese fare like dimsum, wok-fried chicken with Hainan sauce and lechon Macau, the diner also offers a Filipino-Mexican buffet spread every Friday and Saturday for the whole month of February.
8. 'Tikoy' for family togetherness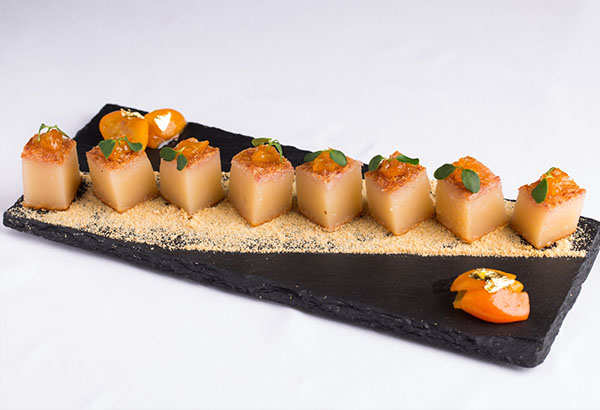 Pan-fried Crispy Nian Gao (tikoy) with Kumquat Compote at City of Dreams Manila.
A "Tsinoy" reunion dinner will not be complete without the presence of "tikoy," which is an absolute favorite even among non-Chinese revelers. Ideal for gift-giving and served at the dinner table as well, tikoy's sticky glutinous rice consistency signifies strong familial bonds and togetherness. Delight family members and friends more by taking the tikoy cooking game a notch higher by making it crunchier: encrust the tikoy slices using sesame seeds or coat them in Good Life Japanese Style Bread Crumbs before frying them to a perfect light golden brown.
In China, this glutinous rice cake is called "niangao" and sounds like it's saying "getting higher year after year" or "nianniangao sheng." This is why rice cakes have come to symbolize an increase - it could be a literal increase in height, a business rising up to success, or a person getting promoted.
At City of Dreams Manila, the koi-shaped Nian Gao is available until March 2 at Crystal Dragon. The traditional treat, locally known as "tikoy," is a sticky and sweet delicacy symbolizing unity and togetherness, is mainly made of glutinous rice flour and is this season's ubiquitous popular gift. The restaurant also offers two set menus and new dishes in the a la carte menu. For groups of four to six, the "Happiness" and "Abundance" five-course set menus are ideal for celebrating with family and friends.
Meanwhile, Red Ginger's prosperity salad is comprised of thin slices of fish, seven-colored shredded vegetables, kaffir lime leaves, crushed peanuts, pomelo and honey plum sauce. At the Noodle8 casual dining area at the main gaming floor, a Lunar New Year menu special is offered until February 28, consisting of festive dishes.
The luxury integrated resort welcomes the Year of the Earth Dog with activities at DreamPlay, touted as the world's first Dreamworks-inspired interactive place space that introduces the new character Tigress from the animation "Kung Fu Panda." Tigress, together with Master Po and dancers, will have a five-minute dance showdown to celebrate the "Chinese New Year of Awesomeness" every Saturday and Sunday at 11 a.m. and 4 p.m. until February 25.
9. Sweet rice balls for higher income or status
Traditionally served in a sweet and syrupy soup, sweet rice balls or "tang yuan" purports unity, harmony and togetherness due to their round shape. They are also associated with reunions.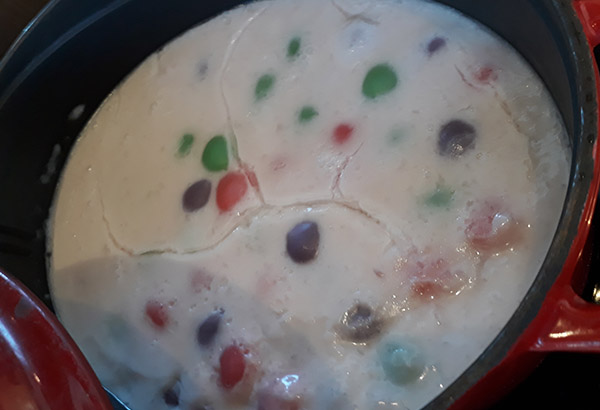 Sweet rice balls at F All-Day Dining
10. Long noodles ('mian tiao') for happiness and longevity
Served hot and uncut, this ubiquitous noodle dish symbolizes longevity or long life. Impress guests by making different pansit dishes like canton, bihon, or sotanghon easily using Good Life vermicelli, egg noodles and "bihon."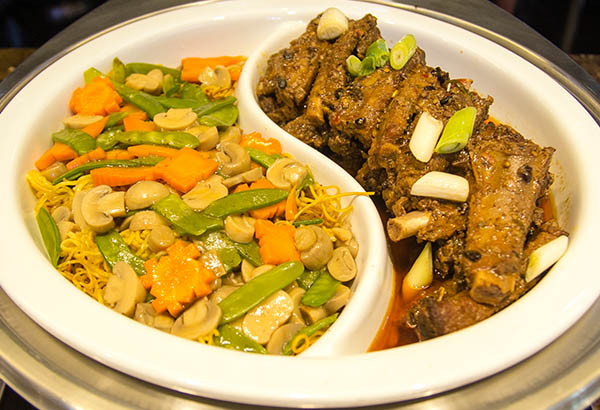 Crispy Noodles and Marinated Pork Ribs in yin-yang presentation
The longevity noodles or "changshoumian" is a dish that is always present in Chinese New Year celebrations as well as birthdays. It is said to symbolize a longer and happier life for the one who eats the dish. These are longer than the usual noodles and are always left uncut.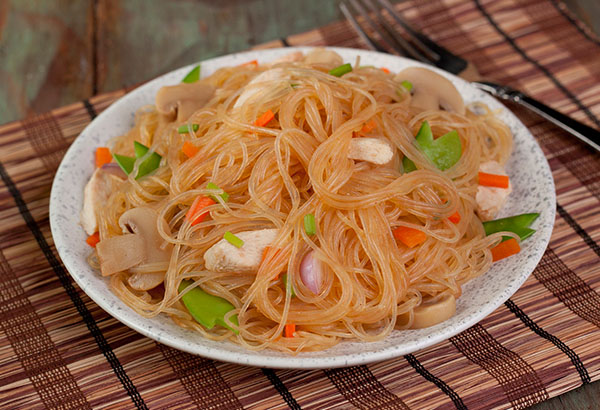 To those who want authentic Oriental meals, Good Life has been offering a varied line of food products like vermicelli, egg noodles, bihon, japanese style bread crumbs, sesame oil, and oyster sauce.
11. Fish for prosperity
Because "yu," the Mandarin word for fish, sounds like the word meaning having more or "extra," a whole fish is served by the Chinese as a way of symbolizing surplus or abundant wealth. If serving pan-fried fish, easily give it a richer, Oriental flavor by infusing it with oyster sauce. Or, for a more crunchy rendition, give the fish a crusty coating using breadcrumbs.
Fish in Chinese is called "yú," which sounds like "surplus" in Chinese. It represents prosperity and as you eat fish you hope for abundance for the coming year – "niannianyouyu." Fish is usually served whole for Chinese New Year celebrations as a symbol for unity in the family. Make sure to leave leftovers for the next day to signify a welcomed excess in prosperity.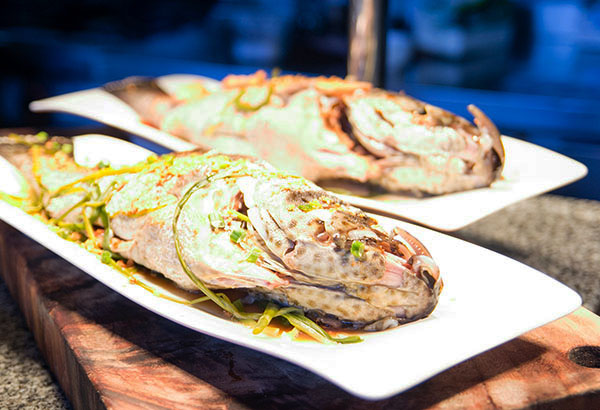 Lapu-lapu dish at F All-Day Dining.
Steamed Fish with Herbs
Cook Time: 12 to 15 minutes | Temperature: 75°C | Shelf Level: 2 | Function: Full Steam | Water: 270ml | Serves: 4 - 6
Ingredients
1 kilogram fresh fillet of sea Bream or Bass
1 lemon
Pinch of salt
Pinch of pepper
Olive oil
Clove of garlic or two, sliced
Herbs — whatever is available fresh (coriander, fresh onion, oregano, basil and flat parsley are all good options).
Procedure
1. Set the steam oven to the "Full Steam" function, temperature 75°C.
2. Coat the fish in the oil, sprinkle salt and pepper, put in the steam cooking dish.
3. Cut the herbs into 5 to 6-centimeter pieces.
4. Wash and slice the lemon and place on the fish.
5. Spread the garlic slices on the fish.
6. Cook on shelf level 2 on the "Full Steam" function at the preheated temperature of 75°C for 15 minutes.
7. Strain the stock into a small pan and bring to the boil. Switch off the hob, add the butter and egg yolk and blend to a creamy sauce.
8. Season with salt and pepper and pour over the steamed fish fillets.
12. Poultry or 'jia qin'
In the true spirit of the occasion, eating chicken (served with the head and the feet still attached) is a must as it symbolizes unity and good marriage between families.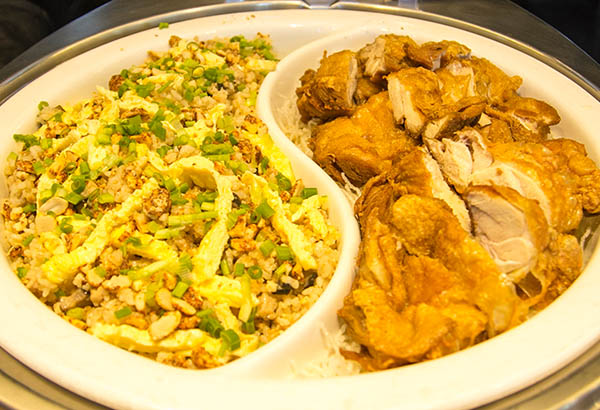 F All-Day Dining's Kiam Pung Rice and Hainan Chicken
Commonly marinated then air-dried for three hours until the skin becomes paper-thin like, the chicken is then flash fried and coated with spices. Best served with oyster sauce (or chili sauce) for dipping, boiled rice and steamed Shanghai cabbage.
13. Vegetables
A classic salad called the "Prosperity Toss" (also known as "lo hei" in Cantonese or "yu sheng" in Mandarin) is also served during the celebration. Containing shredded vegetables, strips of fish, along with a variety of sauces and condiments, the Prosperity Toss symbolizes abundance and prosperity. Make this year's version even more sumptuous and filling by giving its sauce a bit of seafood flair using oyster sauce.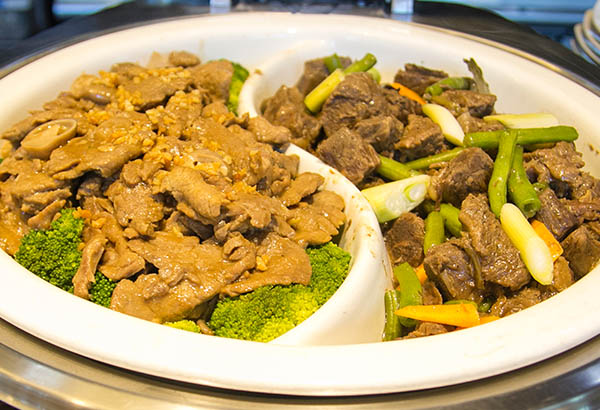 Beef and broccoli
14. Dumplings ('jiao zhi') for wealth
Associated with wealth because of its close resemblance to the "yuan bao" or gold ingots which were used as money in Ancient China, they are traditionally served boiled along with soy sauce dip. Bless guests even more by serving dumplings alongside oyster sauce.
It is said that the more dumplings or "jiaozi" you eat on Chinese New Year's Eve, the more money will come in the incoming year. This belief comes from its shape that resembles the old Chinese currency called ingots. Even the pleats in the dough should be a good number as if it's too flat it is believed to signify poverty.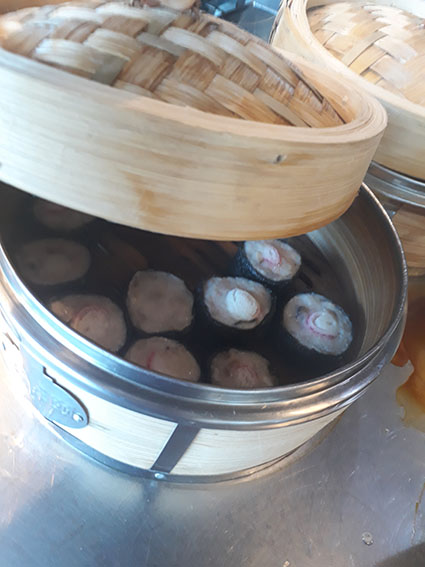 Dumplings shaped like maki at F All-Day Dining.
15. Spring rolls for wealth
Another quintessential part of the holiday experience is serving spring rolls. Resembling gold bullions, serving this dish is said to bring more prosperity and wealth. In Mainland China, eating spring rolls – made up of fresh vegetables or any ingredient grown or available during spring – is a way to welcome the arrival of the new season.
Usually filled with vegetables or meat, spring rolls or chunjun comes from the Chinese name of the Spring Festival, "chunjie," which is when they are traditionally prepared.They are said to bring you wealth since their cylindrical shape and golden-yellow color are similar to gold bars.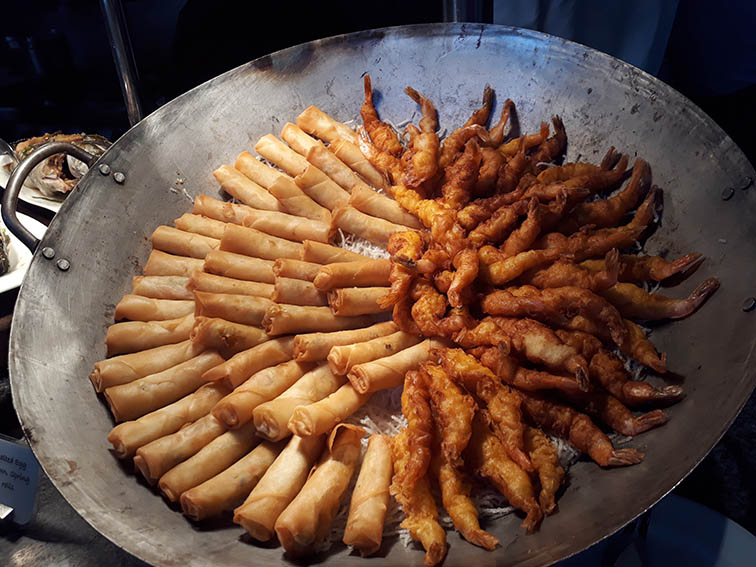 Spring rolls at F All-Day Dining.
16. Mooncake and hopia or oranges and pomelos for fullness and wealth.
Because of their round shape and sweetness which symbolize good fortune, both mooncake and hopia are given away by the Chinese during the occasion. If and when you ran out of mooncake and hopia, one budget-friendly round-shaped option is buchi or sesame balls.
Oranges and pomelos are particularly thought to be lucky because of their circular and "golden" color, symbolizing fullness and wealth. They are often used for decoration as it is also believed to bring good luck and fortune or given as gifts in a fruit basket. It is also said that the more you eat these fruits, the more wealth you will receive.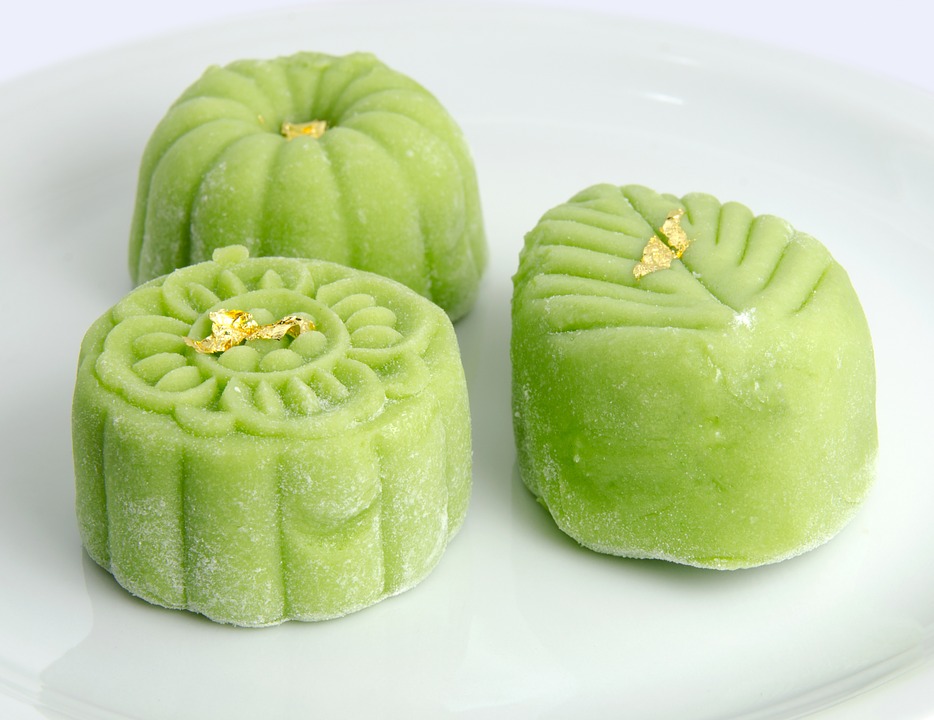 Mooncake
17. Crab and cheese dumplings
Cook Time: 15 minutes | Temperature: 200 ºC | Serves: 6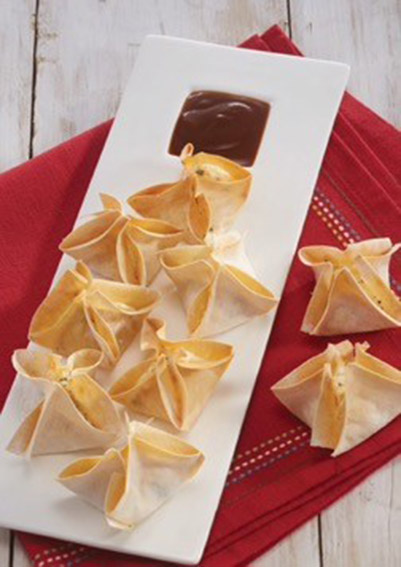 Crab and Cheese Dumplings
Ingredients
Main Dish
1 box 8 oz cream cheese
3 Tbsp chopped spring onion or chives
1 tsp garlic powder
¼ cup flaked crabmeat or chopped crabsticks
1 pack wonton wrappers
1 egg + 1 Tbsp water
olive oil spray
½ cup homemade or store-bought
sweet and sour sauce
Homemade Sweet and Sour Sauce
¾ cup sugar
½ cup white vinegar
1 Tbsp oyster sauce
1 tsp garlic powder
½ tsp onion powder
¼ cup ketchup
1 Tbsp cornstatch + 2 tbsp cold water
Procedure
1. Preheat your Electrolux Tabletop Microwave Oven with Grill & Convection to 200°C (400°F). Lightly grease a baking sheet.
2. Cream together the cream cheese, spring onion or chives, garlic powder, and crabmeat or crabsticks; chill for 20 minutes.
3. Lay out the wonton wrappers in a single layer on the baking sheet. Put about 1/2 tablespoon of the cream cheese mixture in the centre of each wonton.
4. In a small bowl, whisk together the egg and water until foamy. Dip your fingers in the egg wash and use the same fingers to pinch together the corners of each wonton to seal the cream cheese inside.
5. Spray the wontons with olive oil and bake using the top and bottom heat + fan function for 8 to15 minutes until the edges turn golden brown.
6. Prepare the Homemade Sweet and Sour Sauce. Whisk together the sugar, vinegar, oyster sauce, garlic powder, onion powder, and ketchup in a medium-sized saucepan over medium-high heat. Bring to a boil.
7. In a small bowl, whisk together the cornstarch and water until dissolved then pour into the sauce and stir until thick. Set the heat to lowest setting until wontons are ready to serve.
18. Shrimp Finger Rolls
Prep time: 30 minutes | Cook Time: 20 minutes | Serves: 6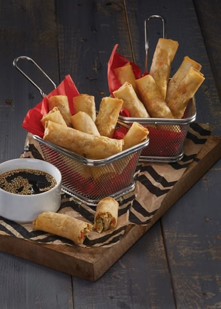 Shrimp Finger Rolls
Ingredients
1 cup broccoli, cut in small pieces
½ cup thinly-sliced carrot
½ cup shredded cabbage
1 stalk celery, chopped
2 Tbsp finely-chopped parsley
1½ Tbsp minced garlic
2 Tbsp olive oil
½ tsp ground ginger
½ tsp sesame oil
½ Tbsp honey
1½ cups precooked shrimp, shelled (about 25 small shrimp)
2 egg yolks
8 egg roll wrappers
water (to stick the egg roll together)
¼ cup melted butter
For the dipping sauce
1 ½ Tbsp honey
1 Tbsp hoisin sauce
1 Tbsp vinegar
1 Tbsp rice wine
½ Tbsp sesame oil
1 tsp grated ginger
½ tsp sesame seeds
Procedure
1. Preheat the oven to 200°C (400°F).
2. In a big pan, saute the broccoli, carrot, cabbage, celery, parsley, and minced garlic in olive oil using your Electrolux Induction Hob Cooking Range. Add in the ginger, sesame oil, and honey and saute for another minute. Add in the precooked, shelled shrimp and toss; remove from the heat. Cool and toss in egg yolks.
3. Put 2 tablespoons of the vegetable and shrimp mixture onto an egg roll wrapper. Roll into an egg roll (check the directions at the back of the package on how to do this). Process the remaining mixture and wrappers until done.
4. Brush the rolls with butter and place on a lightly-buttered baking tray. Bake using the bottom heat function for 15 to 20 minutes.
5. Mix the dipping sauce ingredients together (adjust to your preference) until well-blended.
6. Serve hot egg rolls with the dipping sauce.
Year of the Earth Dog: An overview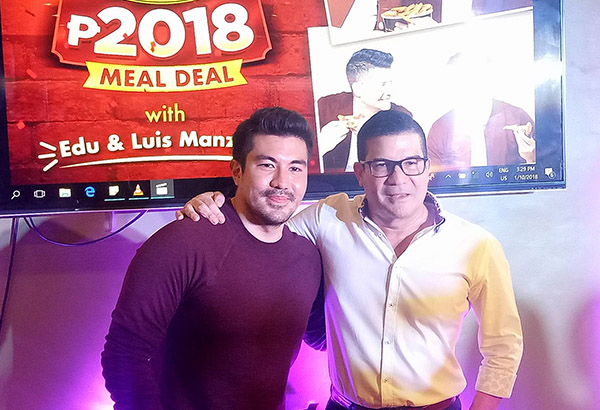 Father and son Edu and Luis Manzano were featured in a new Shakey's commercial featuring the 2018 Meal Deal composed of pizzas, pasta, fried chicken, mojos, Mozarella sticks, salad, iced tea and a loyalty card. Philstar.com/Jan Milo Severo
The arrival of Chinese New Year is believed by many to bring about a change in the winds of fate and fortune. This February, the Year of the Earth Dog brings a welcome respite from the unsettled energies of the Fire Rooster.
The 11th animal in Chinese zodiac, the Dog is a symbol of honesty and loyalty and is attributed with most of the best traits of its real-life counterpart, man's best friend. People born under the year of the Dog are thought to be friendly, good-natured, energetic, faithful, loyal, smart and full of energy.
The Earth Dog is believed to bring about stability and a conserving force. According to feng shui, this is a good year for those who want to break bad habits and start on new ventures. For people who, like most of those born in the Year of the Dog, are hardworking and proactive, 2018 promises to bring prosperity and positive change.
Despite the fact that the year of the dog is not commonly associated with the pursuit of wealth or fame, people born under this Zodiac sign are no strangers to success. They are naturally ambitious, and their honest good nature, loyalty, intelligence, and knack for effective communication easily win them both trusting business partners and loyal team members. Famous people under this sign include musical icons Madonna and Elvis, creative genius Steven Spielberg, and British Royal, Prince William.
What most people born in the year of the Dog naturally gravitate to, though, is public service, driven by their generosity and willingness to help others. It is no surprise to find out that one of the people most known for their kindness and generosity was born under this sign, Mother Theresa.
People born under the sign of the Earth Dog are particularly blessed with the gift of ambition, as their element is linked with metal and thus, prosperity. They are also likely to be able to achieve their goals and enjoy the finer things in life such as luxury whisky Chivas Regal.
This 2018, Lazada has also revamped both its website and mobile app to give customers a better shopping experience. Customers now get to see products, brands, categories, and bundles personalized according to their preferences and shopping interests. Apart from tech, fashion, and beauty and travel essentials, one can also shop for items you usually get from Chinatown like incense, lucky charms, feng shui lucky cat, golden wealth pot, red money tree and banguas, and have them delivered straight at your doorstep. — Video by EC Toledo IV