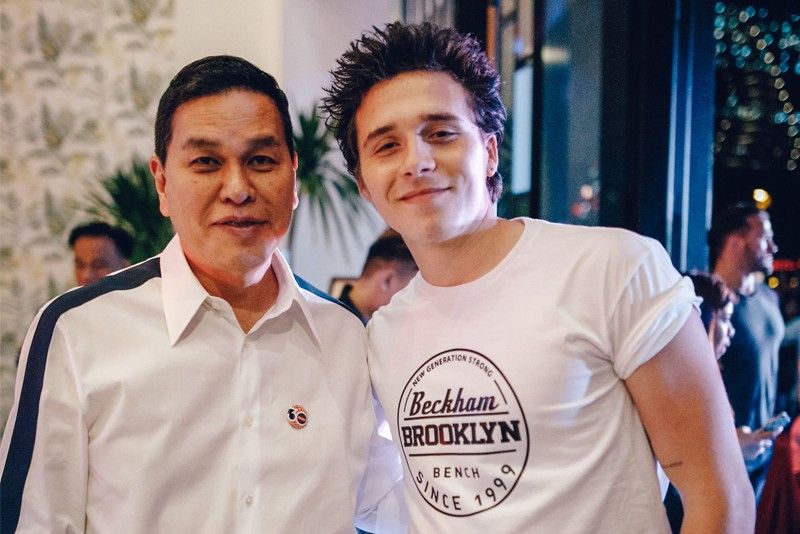 Ben Chan at the entrance of the Bench Flagship Store at BGC with his latest endorser, British heartthrob Brooklyn Beckham: Offering the well-designed experience one can get from international brands, but at a democratic price. Photos by Miguel Pastor
It' s about time: Ben Chan creates his own Bench Cafe
Brooklyn Beckham ate bistek. He was fascinated by our halo-halo. And did I see him making tusok-tusok the fish balls?
Yes, this happened at the Bench Cafe on the second floor of the Bench Flagship Store in Boni High Street of BGC, which was inaugurated last Saturday with the British heartthrob Beckham, the newest Bench endorser, as guest of honor. And no, he didn't look for fish and chips.
Bench Cafe is the latest creation of retail visionary Ben Chan. It is a creation whose time has come. After all, major fashion brands in the world complete their lifestyle statement with a food place that reflects their taste and aesthetics.
Armani Caffe, found in cities like Milan, Cannes, New York and Dubai, carries traditional Italian haute cuisine but with a modern twist on classics.
Blue Box by Tiffany & Co. New York will help you relish Breakfast at Tiffany's, a la Holly Golightly.
Then there's a Gucci Cafe in Ginza. And a Maison Hermes Le Cafe, also in Ginza, admittedly designed for the cognoscenti. It is said that, "luxury brand cafes let you indulge your haute couture sensibilities without breaking that pret-a-porter travel budget."
Over a tray of Binagoongan Caesar Salad, a street food platter of cuttle fish balls, lobster balls , fish balls and shrimp cake, plus pinakbet, flying fish and tinola, we asked Ben Chan to give us a few bites of his latest project:
PHILIPPINE STAR: You have opened in the Philippines several franchise restos from France and Japan. Finally, you are opening your very own brand, Bench Café. What took you so long?
BEN CHAN: It's not the first time for us to venture into the food business since we did bring in brands such as Paul, St. Marc Café, Maisen, Pablo, and Marugame, but it's about time we opened our own café because it has always been my dream to open a Filipino restaurant. There is, as they say, a right time for everything, and this felt like the right moment to finally build on that dream. We saw an opportunity to put up the café when we started working on the flagship store, so that's really where it all began.
You are a tastemaker in fashion, and now you are literally a tastemaker in the dining scene. I have personally seen how you are such a foodie, trying out the best in haute cuisine as well as popular cafes and street food during travels abroad. What is your concept behind Bench Café?
Let's admit it — some of the best meals we've all had were in the comfort of our own homes. With the Bench Café, I wanted to replicate that experience. My goal was to create a brand that would ultimately promote Filipino fare. The Bench Café fuses Filipino with Filipino — that is, we are combining elements of classic and modern Filipino dishes to create a selection that glorifies our own cuisine. This is very much in line with our #LoveLocal advocacy, which is something we've applied to fashion, literature, art, and film, among other fields. We've gone from publishing a #LoveLocal book, to supporting the annual Art Fair Philippines, to co-producing the award-winning MMFF entry Ang Larawan. Now we're extending the advocacy and our efforts to food. Through the café, we want to give people a taste of home.
Tell us details about the interiors. How did you arrive at its look and feel?
The Bench Café bridges together the three-level retail space and weaves together a series of social spatial experiences, from the bar to the main dining area to the private dining room. Guests can freely roam around the space and browse through the assortment of products available on the second floor, or simply admire the views of High Street. The space is fluid, and ultimately celebrates the theatrics of eating, drinking, and socializing.
The café has an inviting atmosphere that's reminiscent of a modern Filipino home, and the design is a cross between the Filipino-Spanish Bahay na Bato and the '50s American diner. We made use of pleasant shades such as blush, Moroccan blue, chalk white, green, and mauve, and used gunmetal display cases and bronze mirrors to complement these colors. In the private dining area, you will also find photos from old Bench campaigns, as well as contemporary art and slogans displayed on the wall. There are also dramatic ceiling grids above that flood the spaces with light and mark special dining areas, while gold pendant lights are scattered throughout the café to captivate the eye as food delights the palate.
Raw materials such as brick, white stone, oak timber, burnt steel with green colored glass dominate the 74-seater café. The bar is enveloped with a gunmetal black grid, giving it a bit of an industrial feel. All in all, we crafted an ambience that is at once casually domestic, yet still retains the charm of informal dining.
You have partnered with the Foodee Global Concepts for Bench Café. You are also their partner in some of their restos. Looks like there is some wonderful bonding between you and Rikki Dee and his family? Rikki and Beng tell me how much they admire and respect you.
The feeling is certainly mutual; we go way back, and we also share the same passion for business. But, more than that, there is trust. We've partnered with Foodee for Tim Ho Wan, Todd English Food Hall, Pound, Hook, Flatterie, FOO'D by Davide Oldani, and our very own Maisen at Shangri-La The Fort, and these are all efforts that have proven to be widely successful. We already have a harmonious working relationship so it was especially easy to venture into this new project with Rikki and his family. In addition, we knew that their experience in the food industry was something that would really help us bring our vision for the café to life, as they know the pulse of the market both locally and abroad.
The dishes we tasted at Bench Café seem to be Filipino comfort food with some creative twist. Very "love local." How much of the menu is your personal taste? Which are your favorites?
Most of what we serve in the café is comfort food — dishes we all know and love. Among my favorites from the menu are the Benchto meals, which are individually portioned set meals that were inspired by the Bento culture of Japan; the Benchanted Iced Tea; the Flan B (leche flan with macapuno) and the three kinds of halo-halo (ube, white, and classic) that we have for dessert!
Bench Café is located on the second floor of your Bench Flagship Store at Bonifacio High Street. There, you also have your very successful Bench Barbers, and your familiar Bench Fix Salon, plus the Bench Design Studio where people can design their own T-shirts. So now the Bench Flagship Store is a whole lifestyle store? What features might you want to add next?
All features of the stores are relatively flexible, making it easy for us to bring in any new ideas or innovations that may come up at any time. Our goal is really to continually conceptualize or create products and services that are at par with the world's best. We want to give loyal customers and casual spectators alike the kind of well-designed, well-constructed experience that they can get from international brands, but this time at a democratic price. We want to give them something that they'll want to come back to.
How about a Bench B&B or a Bench Boutique Hotel or a five-star Bench Hotel in the future? You have such an eye for design, it would be exciting to see your vision for this. You have stayed in the best hotels in the world, as well as quaint and charming hotels in the Arctic Circle. What hotel would a citizen of the world create?
As a lifestyle brand, Bench is certainly open to these new concepts and ventures. As I said, there is a right time for everything, so like anything else that is lifestyle-related, it is a possibility. I do travel a lot and stay at a lot of hotels, so these are part of my experiences. Perhaps in the future, we could look into it if the opportunity arises. We do like to surprise people, so let's see