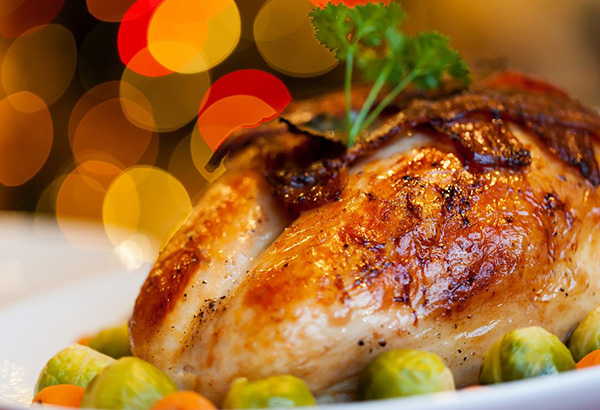 Check out these new recipes, food, dining spots and kitchenware that you could make your holiday feasting easier and merrier.
12 days of Christmas feasting and must-haves
MANILA, Philippines — Caught in a holiday rush?
Since Christmas is just around the corner, here is a list of new recipes, food, dining spots, and kitchenware that you can include into your shopping list for an easy-breezy and a truly Merry Christmas.
Ceramic cookware in season's colors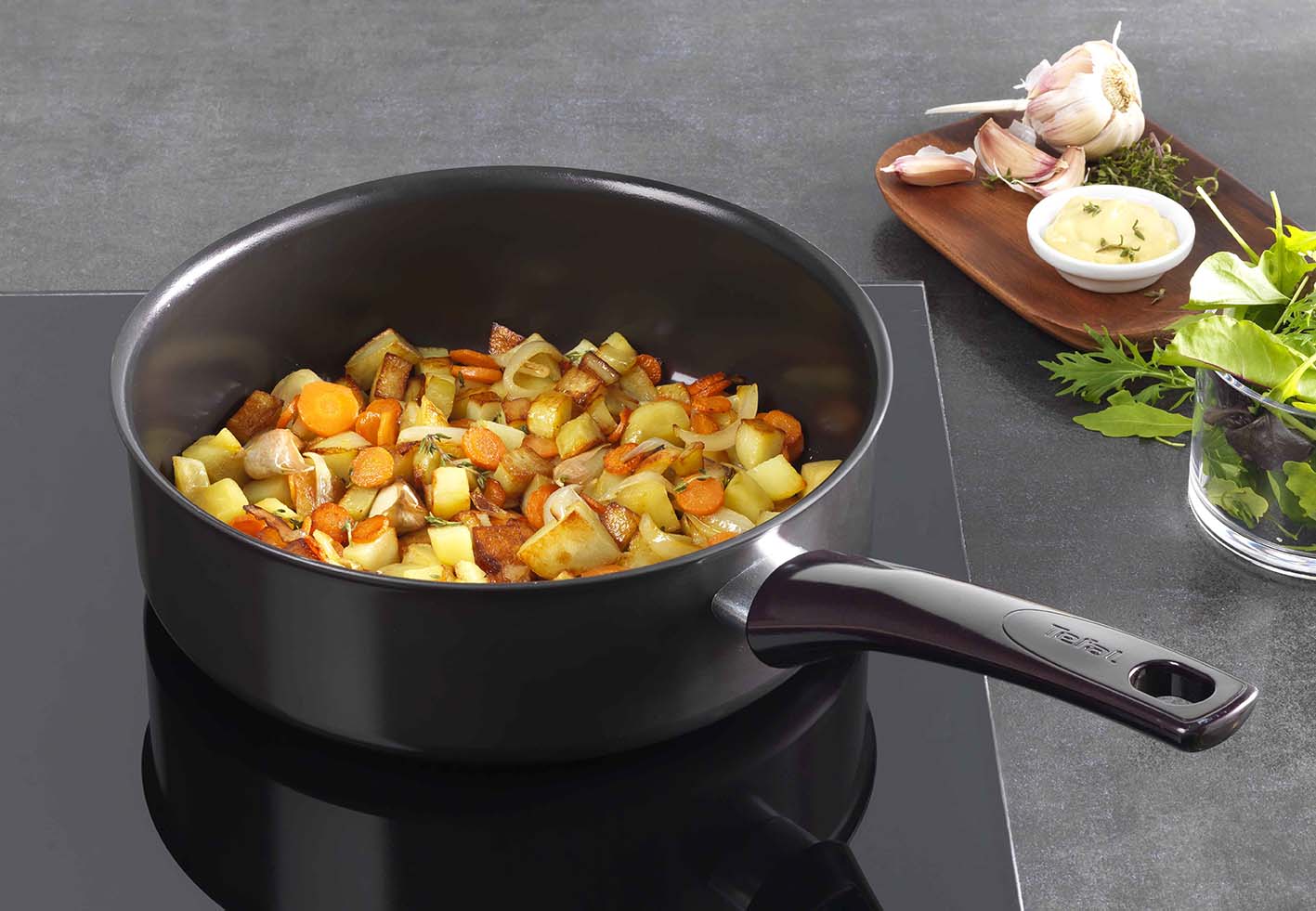 The collection is made with Thermo-Spot Technology that turns red when the cookware reaches the ideal temperature for cooking and searing meat.
A leading brand in non-stick cookware, Tefal, introduces its newest cookware line that brings together design with optimal functionality and durability. Dark Ruby Collection, a full range of stylish ceramic cookware, boasts of high density ceramic coating on aluminum hard base, reinforced with mica minerals for glossy effect and extra hard surface, making it resistant from scratches from the most extreme cookware use to everyday cooking wear and tear.
This extra hard surface and ceramic coating provides added resistance to abrasion from metal spatulas, rough cleaning tools and accidental scratches from other kitchen utensils, making both cooking and cleaning easy. The pots and pans safe and ideal for everyday cookin, including crispy cooking using just a little oil or fat.
Crafted with Thermo-Spot Technology that turns red when the cookware reaches the ideal temperature for cooking and searing meat, the Dark Ruby collection claims to be the only ceramic cookware line that has a heat indicator, ensuring that each meal is perfectly cooked. This range of cookware is also compatible with all cooking hobs, including induction.
Exclusively distributed by Rustan Marketing Corp. and available in leading department stores nationwide, the cookware collection makes for easy and stylish party cooking, allowing more time and energy for family and friends, rather than slaving in the kitchen.
No-brainer Christmas gifts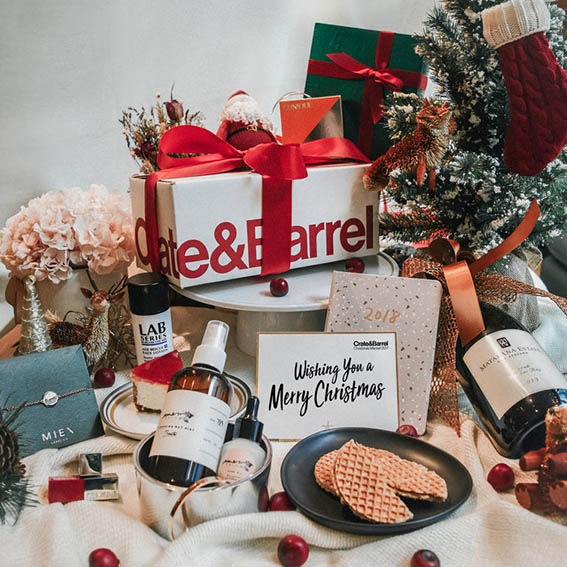 Mix-and-match Christmas hampers.
For those racking their brains on what presents to give to their bosses or special someone, home supplies chain Crate & Barrel presents ready Christmas crates with mix-and-match spirits and glasses for toasting.
In addition, the American brand offers new holiday recipes to try, courtesy of Mothers Who Brunch.
Holiday Poutine
Sweet Potato Fries
2 large sweet potatoes or 4-5 small ones, peeled and cut into ½ inch strips
2 Tbsp extra-virgin olive oil
½ tsp salt
1/2 cup prepared cranberry sauce
200g feta cheese, crumbled
250g roasted chicken or turkey meat (not deli meat), shredded
1 Tbsp chopped fresh rosemary, plus whole fresh rosemary twigs to garnish
2 cups store-bought gravy, heated
1. Preheat oven to 425ºF.
2. On a large baking sheet, toss all sweet potato ingredients until sweet potatoes are evenly coated.
3. Roast for 30 to 35 minutes until potatoes are tender when pierced with a fork and beginning to brown on the bottom.
4. On a warm platter or in a warmed cast-iron skillet (for presentation only), add a bed of fries. Top with feta cheese and chicken/turkey. Ladle over gravy (use as much as you prefer; there may be extra), followed by cranberry sauce and chopped rosemary. Garnish with a rosemary twig and serve immediately.
Bacon and Mushroom Phyllo Cups
2 packages (1.9 oz each) phyllo cups (30 shells total)
250g bacon, sliced into small strips
1 package (8 oz) cremini or brown button mushrooms, finely chopped
1 clove garlic, finely chopped
1 tablespoon finely chopped sage leaves
1 teaspoon finely chopped thyme leaves
½ cup chicken stock
¼ cup heavy whipping cream
½ cup shredded Parmesan cheese
¼ cup sour cream
1. Crisp phyllo cups as directed on package.
2. In 10-inch skillet, cook bacon over medium heat 4 to 5 minutes or until crisp. Remove with slotted spoon; drain on paper towel-lined plate. Add mushrooms to drippings in skillet; cook 5 to 6 minutes or until mushrooms are soft and pan is nearly dry. Add garlic; cook about 1 minute or until garlic is fragrant. Add 1 teaspoon of the sage, the thyme and stock. Cook 3 to 4 minutes or until most of liquid is absorbed. Add whipping cream; simmer 1 to 2 minutes or until slightly thickened. Stir pancetta and Parmesan cheese into mixture; remove from heat.
3.In small bowl, mix remaining 2 teaspoons sage and the sour cream.
4. Scoop rounded teaspoons mushroom filling into phyllo cups; top with sage cream.
Variation:
Tomato Chorizo Filling
1 chorizo sausage (raw), sliced roughly
12 cherry tomatoes, halved
1 stalk spring onions, finely chopped
Fresh ground pepper
Sea salt
olive oil
white wine vinegar
fresh flat-leaved parsley, chopped
2 cloves garlic, sliced
- Cook the chorizo in olive oil, throw the sliced garlic in the oil. Once the garlic starts to produce its wonderful aroma, it's ready.
- Prepare the tomato salad with some olive oil, salt, pepper and white wine vinegar, toss in the spring onions and parsley.
- Mix the cooked chorizo and garlic and some of the oil.
Chicken and Grape Salad
500g cooked chicken, shredded (I used rotisserie)
? cup mayonnaise, sour cream, or a mixture of both
½ cup quartered seedless red grapes
½ cup finely sliced celery
¼ cup chopped walnuts
salt and pepper to taste
1. If necessary, cook and shred chicken with two forks. Allow to cool.
2. In a large bowl, mix grapes, celery, walnuts, mayo or sour cream, and salt and pepper to taste.
3. Add cooled shredded chicken and mix.
4. Serve on sandwiches with toasted bread or on top of a green salad.
A taste of Paris in Manila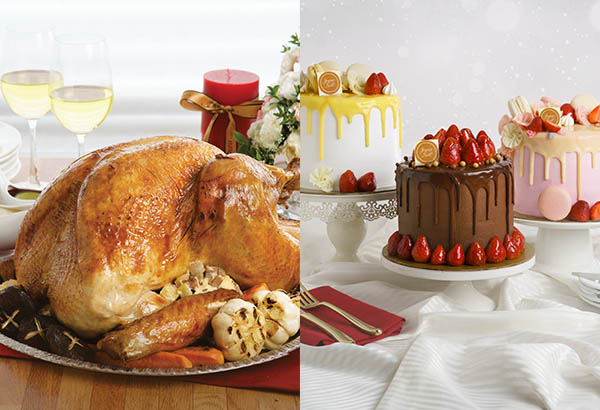 Roasted turkey (left) and Christmas cakes
Showcasing over 10 brand new dishes, Bizu, one of Manila's dining destinations, presents a new mix to its classic favorites and international dishes.
Signature dishes like the 10-Hour Roast Beef, Salmon Pommery and Eggs Benedict have been joined with new dishes such as the Lobster Roll, Clam Vongole, Truffle Lengua, Chicken with Lemon and Rosemary, Burrata with Berries.
Head Chef Alexander Tanco said: "The new menu showcases the exceptional range of authentic and international cuisine. It combines classic dishes such as the 10- Hour Roast beef and our new offerings such as our Lobster Roll with fresh lobster flown from Maine daily. The highlight of this menu is not only its innovative use of great and fresh flavors, but also the growing trends and demands of our customers."
The dining hub's Christmas Collection has been inspired by The Nutcracker ballet and is called "Land of Sweets." Designer Medilen Singh formed unique Christmas dressings for all of the diner's stores. Doilies make for a warm graphic signature. Animated characters from The Nutcracker Ballet inspire a festive and joyful mood. The collection itself features a wide selection of fine foods that could be purchased for one's personal enjoyment or as gifts. These include cakes, Macarons de Paris, roasts, terrines, spreads, chocolate truffles, revel bars, cookies, tarts, and breads.
The cakes come in flavors like Chocolate Caramel, Strawberry Rose and Lemon Walnut, each made with layers of chocolate and genoise sponge and topped with fruits and a Macaron de Paris, making them nice centerpieces for a celebration.
Start a healthier lifestyle with a cup of barley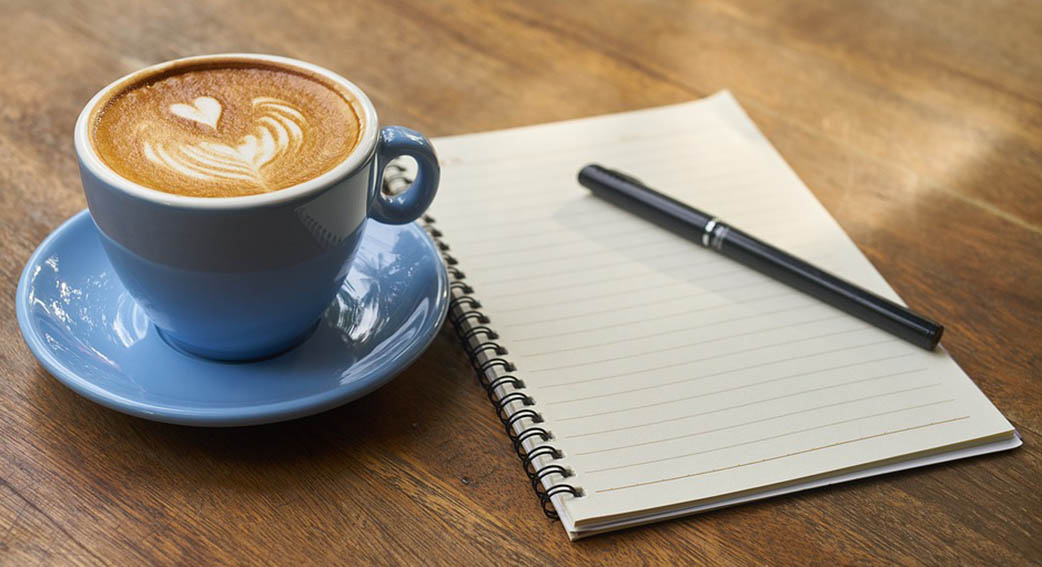 The nutritional benefits of barley is now in coffee and other instant mixes.
Barley is one of the most widely consumed cereal grains in the world. It has high fiber content, loads of vitamins and minerals and antioxidants that help with heart health issues and diabetes.
On the other hand, chicory a close relative of lettuce and cabbage, has woody and fibrous roots that have a similar flavor as coffee when roasted and brewed. Among its many benefits include better gall bladder and liver function, improved bone health and more effective absorption of calcium by the body.
A healthy lifestyle is now within reach as barley and chicory, superfood ingredients with health benefits, are now in the Philippines as instant beverages. Barlico coffee substitutes claim to be 100 percent caffeine free and are made from nutritious ingredients, making them a health-conscious alternative for individuals whose health conditions and preferences limit their caffeine consumption.
Available in supermarkets nationwide, the brand's line of barley and chicory instant mixes contain plant-based ingredients that are rich in fiber, potassium, folate, and Vitamin B, which have been scientifically proven to help lower bad cholesterol, promote bone health, cleanse the digestive system, improve kidney function, and aid in urinary and reproductive health.
Coffee with Filipino touch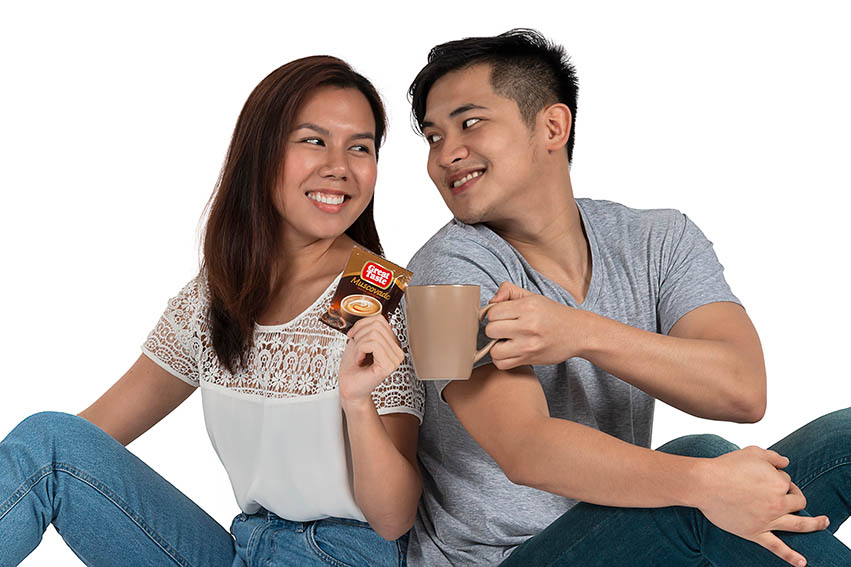 Caption here caption here
Apart from its health benefits like stabilizing sugar levels that makes it allegedly ideal for diabetics, muscovado or sane sugar makes coffee creamier and richer. As such, popular coffee brand Great Taste introduces its new Muscovado variant, ideal for battling the holiday chill.
Festive cakes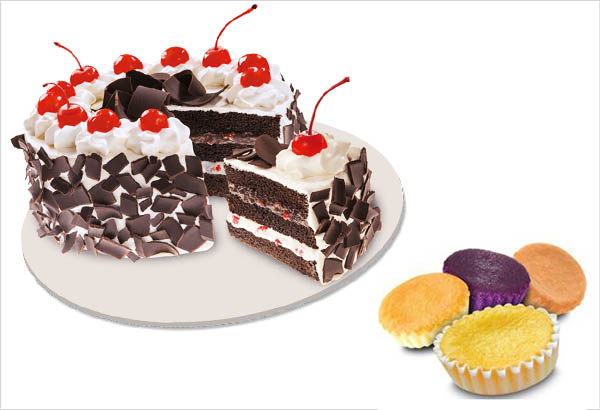 Holiday flavors and Christmas cake packs
Well-loved for its selection of high-quality desserts, bakeshop chain Red Ribbon applies its mastery of flavors in creating the Cake Creations line, composed of Cappuccino Crème, a chocolate cake dusted with cocoa and coffee; Peach Mango Symphony that offers something light and refreshing to cake enthusiasts with its peaches glazed in mango syrup; and the timeless Black Forest, moist chocolate cake and combination of cream and cherries tucked in between its layers.
"Red Ribbon elevates the Filipinos' cake experience with Cappuccino Creme, Black Forest, and Peach Mango Symphony. Those who will try these creations can expect refined flavors and a satisfying serving of indulgence," said Kent Mariano, Red Ribbon Marketing Head.
Celebrating Filipino pride, one roast at a time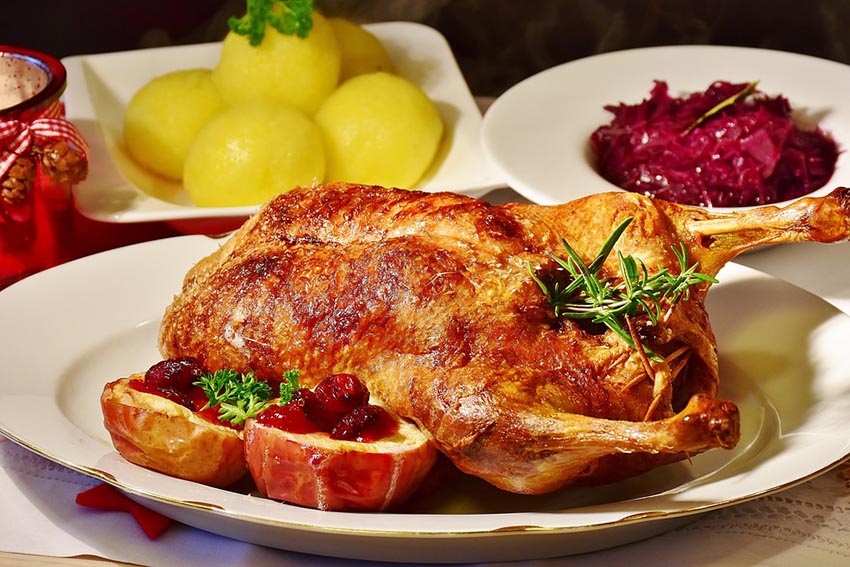 "Litson manok" is a FIlipino Christmas staple.
One food that has truly become a Filipino favorite is the "litson manok." Filipinos love this roasted chicken so much that one can practically find a stall at every street corner; and it sells like pancakes the whole year round.
One company that has driven roasted chicken to national consciousness is Chooks-to-Go, the flagship brand of Bounty Agro Ventures, Inc. With over 1,300 stores nationwide, the brand brings quality roasted chicken to every Filipino's dining table, becoming the trusted take-home "ulam" that gathers families together for an enjoyable meal time.
More than just being a food brand, the company, for the past couple of years, has also shown its love and support for Filipinos, empowering them in more ways than one through its advocacies and corporate social responsibility projects.
In 2014, the brand joined DZMM's Bangka Project, donating fiberglass boats to sustain the livelihood of fishermen in Samar and Leyte who were affected by Typhoon Yolanda. It also conducted poultry training sessions among farmers in Patikul, Sulu and extended support to various indigenous people's communities.
For over a year now, the brand has also been showing support for the country's most-cherished sport, basketball. Charged with the desire to encourage Filipinos to achieve their dreams and passion, the brand has sponsored the country's national men's basketball team, Gilas Pilipinas. The team is supported by the brand in their journey to success and quest for basketball supremacy in Asia.
"Our success would not be possible without the support of the Filipino nation. The things that we do for our fellow Filipinos—from serving quality products to supporting various causes—are only fitting," said Ronald Mascariñas, Bounty Agro Ventures, Inc. president and general manager.
Enjoying life's feel good moments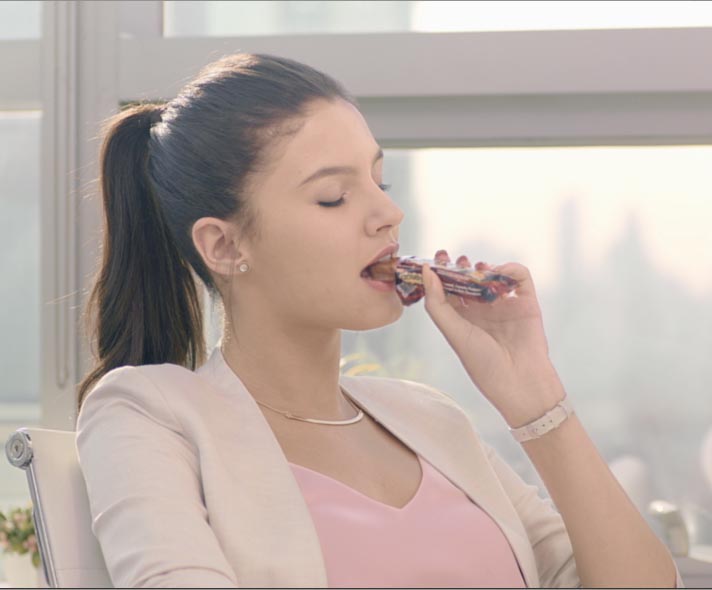 Even a mini 'me' time this Christmas could give one simple joys.
Each day is composed of special moments that make life worth living. But in a world full of distractions, people tend to fast forward in life and forget the value of living in the moment.
Getting caught up in their busy lives, people often miss big opportunities and ignore beautiful experiences that unfold in the present. To encourage people to celebrate special moments as they happen, Jack 'n Jill Cloud 9 continues its #Cloud9Moments campaign.
Through its campaign, the brand inspires people to recognize and celebrate everyday special moments as they can inspire both big and small changes in your life. These spontaneous moments, such as the most heartfelt reunions or the best quick weekend getaways, are #Cloud9Moments that are best shared and enjoyed with chocolate-coated bars.
Appreciate life's sweet experiences while indulging in a bite of the crunchy peanut and soft nougat coated in rich milk and creamy white chocolate with Classic and White. Everyone can also savor the double chocolate treat of Choco Fudge, or satisfy their sweet tooth with a chewy bar of Cloud 9 Overload, filled with luscious caramel and peanuts coated in milk chocolate.
Treats for the sweet tooth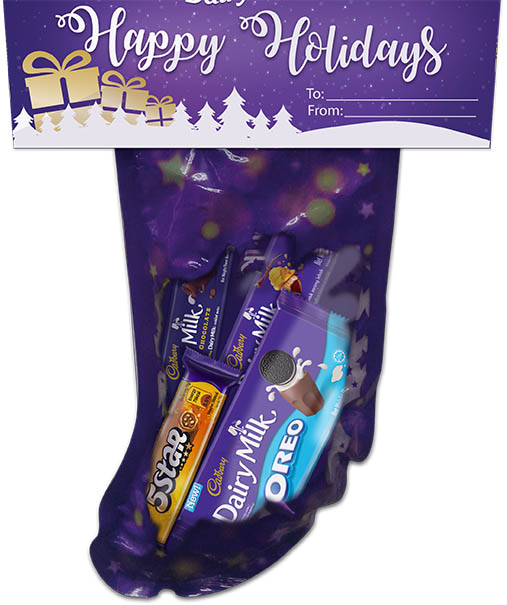 Photo release
Reminiscent of one of this season's most iconic symbols, the Christmas stocking, Cadbury Dairy Milk's latest offering puts the brand's all-time favorite chocolates in one purple package. If you are into the classic smooth and chocolaty taste, the Milk Original Flavor is the one for you. Two iconic snacking favorites are combined in one with the Milk Oreos. For a sweeter and crunchier option, go for Milk Honeycomb and Nuts. And if you prefer to go all out on texture and flavor for that fun chocolaty experience, 5 Star might be for you. The stockings are available in all leading department stores, supermarkets, and convenience stores nationwide.
Chef Donita: Get oil that is good for the heart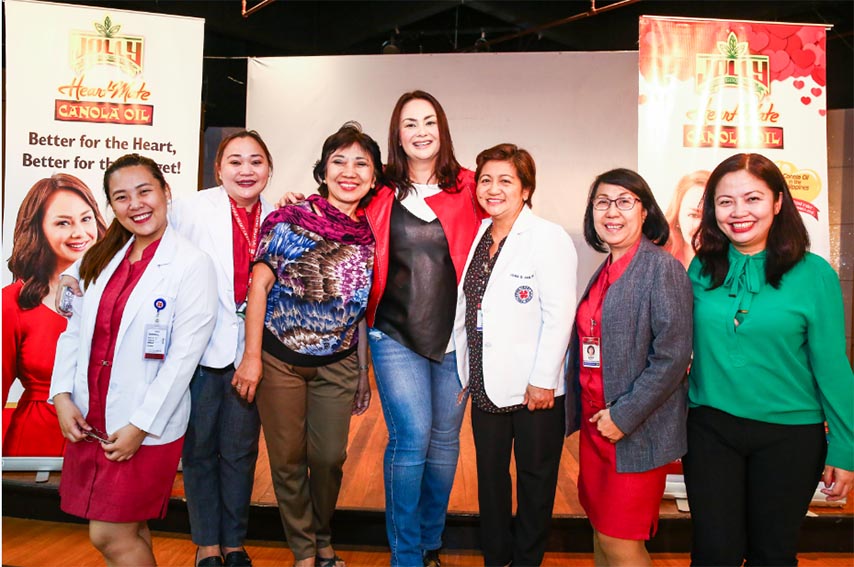 TV host and actress-turned-chef Donita Rose (center). Photo release
Jolly Heart Mate Ambassador Chef Donita Rose recently gave a talk that emphasized on the value of giving attention to healthy eating.
"We must always be conscious that the ingredients we use should be good for the heart, like Jolly Heart Mate Canola Oil, which contains the lowest amount of bad fats (saturated fats) but packs in the good kind like omega 3 and 6," Chef Donita shared.
"We believe that little lifestyle upgrades, like choosing healthy cooking ingredients, especially in their cooking oil, will make a big difference in improving one's health," concluded Fly Ace Corporation Group Category Manager for Oils Zen Prudentino.
New milk discovery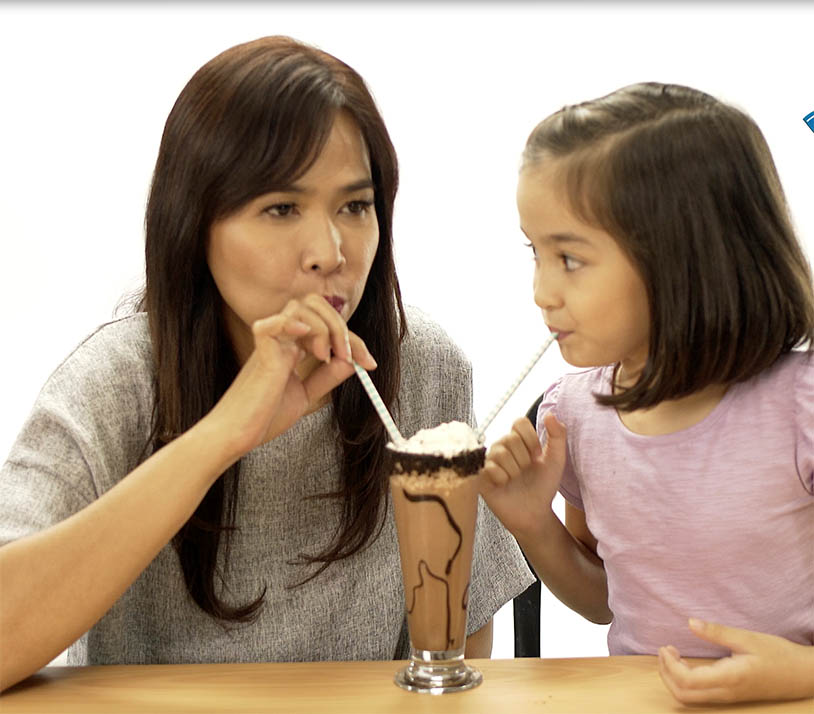 Turn milkshakes into holiday bonding moments.
A chocolate milk that has chocolate taste, made from 100 percent pure cow's milk and real cocoa, Jolly Cow Chocolate Milk is sourced from Europe.
"The popularity of the brand comes from its quality and taste that are truly loved and enjoyed by kids," said Fly Ace Corporation Associate Product Manager for Jolly Cow, Ersanti Regi Santos.
Bringing Filipino identity into modern dining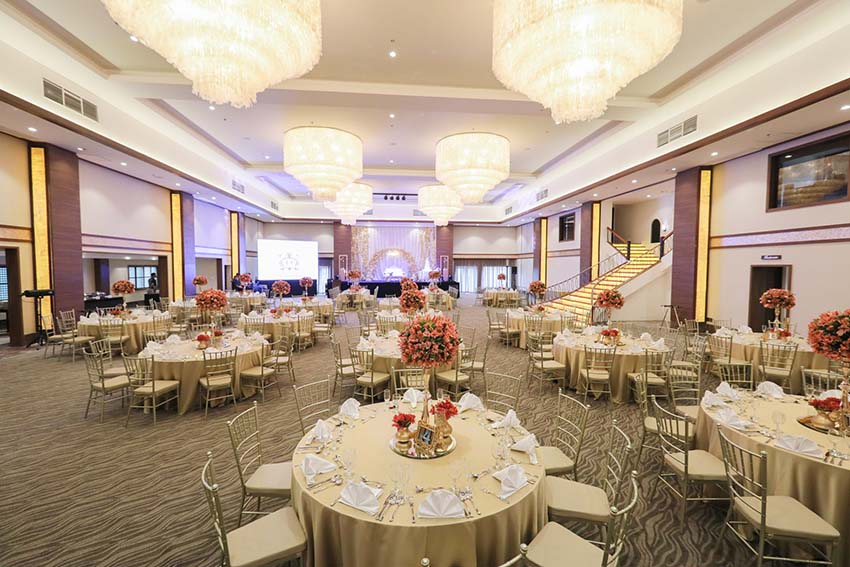 The newly revamped Manila landmark boasts of modern Filipino elements.
Modern Filipino design uses elements of the old and new with indigenous materials accentuating certain areas or features. Ibarra's Party Venues & Catering knows it well and has helped Filipinos party over the years. The company has now unveiled Casa Ibarra, its grandest and largest events venue touting that modern Filipino aesthetic.
Located at the MOA Complex in Pasay City, Casa Ibarra boasts of interior design that is unique through the use of different elements like wood, capiz, raffia fabric and Mindanao's traditional T'nalak weave. These native materials can be found throughout the building's design, accents of its Filipino identity.
On the second floor is Sala de Amor, which boasts of six huge capiz chandeliers made of approximately 20,000 capiz shells each.
Like a sizable four-story Filipino house from the Spanish period, the restaurant's architecture has a facade that has a porte-cochere, where guests can be dropped off safe from the elements. Upon entering the building, Homage to Monet, Filipino-French artist Olivia d'Aboville's specially commissioned artwork greets visitors with its ethereal beauty. The 11 x 3.5-m. artwork consists of eight panels made of 365 meters of Philippine silk textile. The silk was handwoven in Palawan and Aklan for over three months before being custom-dyed using the Shibori technique, one of the artist's signature textile techniques.
Filipino Christmas captured in bread packaging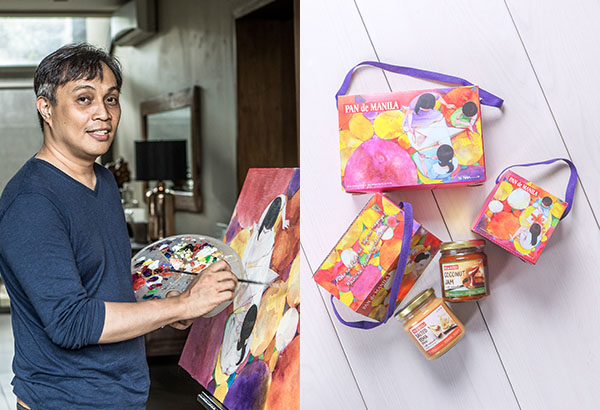 Antipolo-based artist Noel Mahilum and his artworks in the new Pan de Manila packaging.
Famous for his "Batu-Bato" series, Antipolo-based artist Noel Mahilum made colorful circular strokes, featuring stones and children portray innocence and love for celebration, for his 2017 limited edition paper bags for bread chain Pan de Manila.
"The artwork reminds me of my own childhood," Mahilum shared. "When we were young, we would visit my own father in his studio, finishing his paintings. We would imitate whatever he's doing and he noticed that. So when Christmas time came, we got our own sets of paints and easels as gifts. My siblings and I remembered that."
Noel's father is renowned painter Tony Mahilum, a Contemporary master. His influence would spread over his children, including Noel, who would all become painters and artists. They all took up Painting at the University of the Philippines College of Fine Arts.
Growing up, Noel would later develop his own style. From Manila, his father would move the family to Antipolo City in 1984, which was sudden yet proved to be beneficial to the creative process of his children.
"We did not expect the surprising change of scenery and environment when we moved here," Noel confessed, speaking in his art studio in Antipolo, where he and his brothers live. "It was quiet and provincial, very different from the vibe and movement of Metro Manila. We had to adjust with the lifestyle."
Nevertheless, Antipolo and Rizal Province's rich heritage would provide that milieu for the younger Mahilum.
"I remember when during fiestas and Christmas, the higantes of Angono would parade right in front of our house," he said. "Antipolo is about the mix of traditional and modern during Christmas. Because we are located on high ground, the cool, clean air adds to that holiday feel."
Christmas also reminds Mahilum's artwork of gift-giving and decking the house with yuletide decor. "The colors in the (featured) painting showcase the tradition of gift-giving and dressing the house with ornaments," he added. "I remember when we were young, and my father would give us aguinaldo money. We would get to buy the toy we want. I ended up buying a set of color toy square blocks. Little did I know I was already preparing myself for an art career that early."
Noel's painting featured those scenes of Paskong Pinoy. "The images included in the artwork are the lanterns/ parols and the gifts in boxes," he explained. "I drew my inspiration from the beaming smiles and excited faces of children during Christmas season, when they prepare by decorating their houses with Christmas trees and parols, wrapping and opening gifts and eating together as a family."
Chilean wine and Filipino food pairing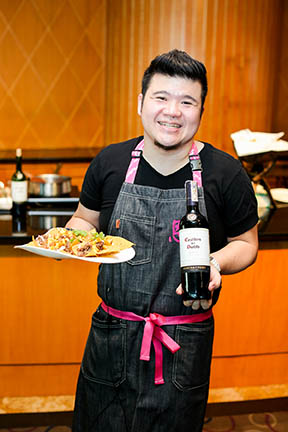 Chef Sharwin Tee
"A Filipino dish isn't the one that pops up into our mind when we think about wine and food pairing because they are not classically served with wine, but with Casillero del Diablo's wide array of wines, this isn't the case. The brand, with its wide selection of wine varietals, gives you an opportunity to experiment and know which wine will really suit and should be paired with the taste of a Filipino food," shared Chef Sharwin Tee, the Chilean wine brand's new ambassador.
Highly acclaimed after gaining his culinary fame for being the first-ever winner of Lifestyle Network's reality cooking show "Clash of the Toque-en Ones" and a host of his own show, "Curiosity got Chef," Cher Sharwin likes to experiment with recipes of hearty Filipino dishes that are deliciously familiar and easy to pair with any side dishes whether paired with a hot cup of coffee or a glass of wine.
"We all know that Filipino dishes have already a very distinct and strong flavor - but I've decided to spice it up with Casillero del Diablo, available in Merlot, Chardonnay, Shiraz Tinto, Pinot Noir, Sauvignon Blanc, Chile's famous Carmenere and the best seller Cabernet Sauvignon," said the chef.
Get the party started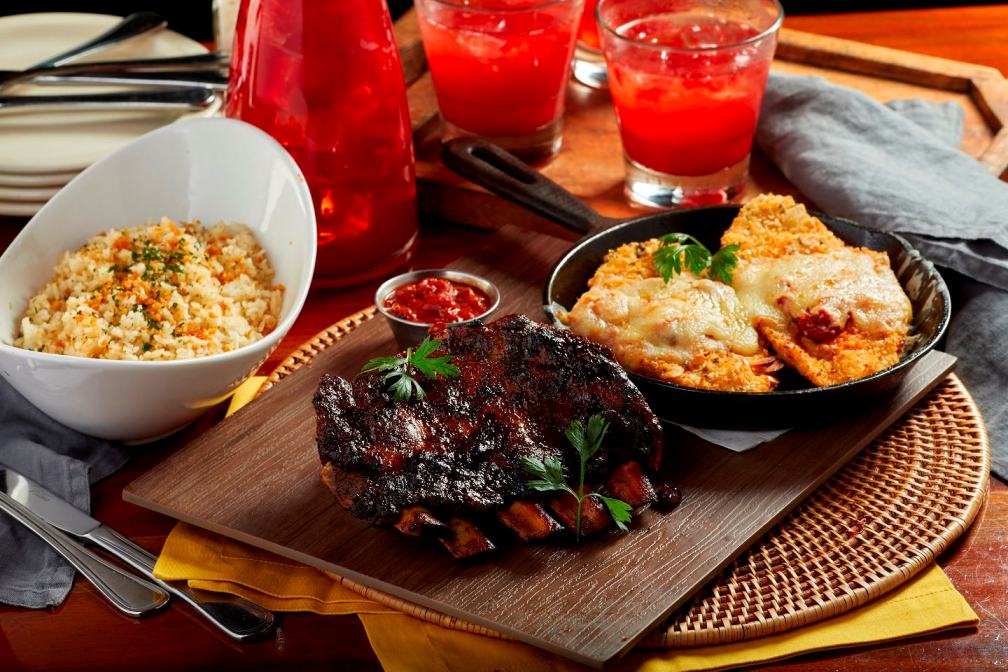 American-style party dishes
Because everyone's been good all year round, TGI Fridays is doubling down on the good stuff to spread holiday cheer as it introduces new bundles that put together big flavors of two American-style dishes in one platter.
Perfect for the season of sharing is the Ribs & Parmigiana bundle, a melding of rustic and delicate slow cooked ribs with apple barbecue sauce and almond crusted chicken parmigiana. For those who want something lighter, the Grilled Chicken & Almond Fish includes barbecue chicken fresh from the grill and the flaky texture of fresh white fish crusted with almond panko for an outer crunch. Both bundles come with garlic rice and can be enjoyed with new drinks Watermelon Ale and Tropical Fizz.