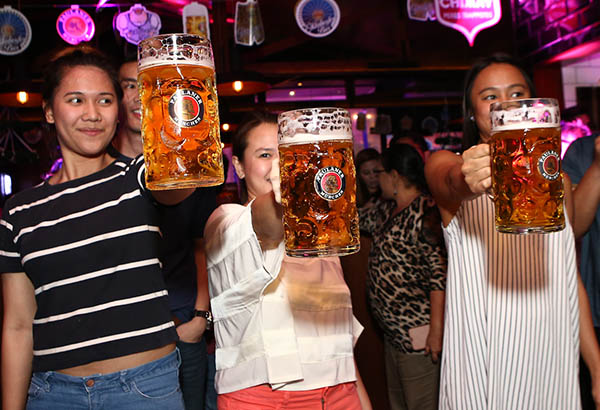 It is no secret that for many Filipinos, celebration means liquor, especially during holidays. Philstar.com/Seph Asong
Expert's warning: Don't mix alcohol with sugar
(philstar.com) - December 12, 2017 - 12:10pm
MANILA, Philippines — This Christmas, wine and booze will surely be a staple in many Filipinos' tables. Filipinos usually like their cocktails sweet to fight the strong taste of alcohol – without knowing that this could silently kill.
In a recent Relearn Natural event at the Manila House in Bonifacio Global City, Belvedere Vodka ambassador Marek Vojcarcik told the attendees the danger of mixing alcohol with sugar.
"Obviously, the Philippines is a big sugar consumer. Most of the sugar is built by glucose and fructose. The fructose is a thing that our body can dissolve and it goes straight to our liver for filtration," Vojcarcik said.
But once the liver gets overloaded with fructose, it starts to turn fructose into fat. High fructose or sugar plus alcohol overload the liver and kidneys even more. It is also a dangerous combo for the teeth.
"If you combine alcohol and sugar together, it doesn't do any good, that's why we don't put any additives to our vodka…you might find it sweet but the sweetness comes from the rye, it is not sweeten by sugar," Marek explained.
Made in Poland with only three ingredients — rye, water and character, the brand claims to be the world's first super premium vodka and concocted from the abundance of nature and completely free from additives.
Marek gave event goers a glimpse of a mixology session and pointed out that it is better to infuse colorful fruits, select herbs and fresh vegetables to the vodka instead of instant mixes.
"For us, it means social responsibility. We want you to enjoy your life, drinks and time with your friends. We want to come back to your favorite bar and enjoy your drinks again and again and again," Marek said.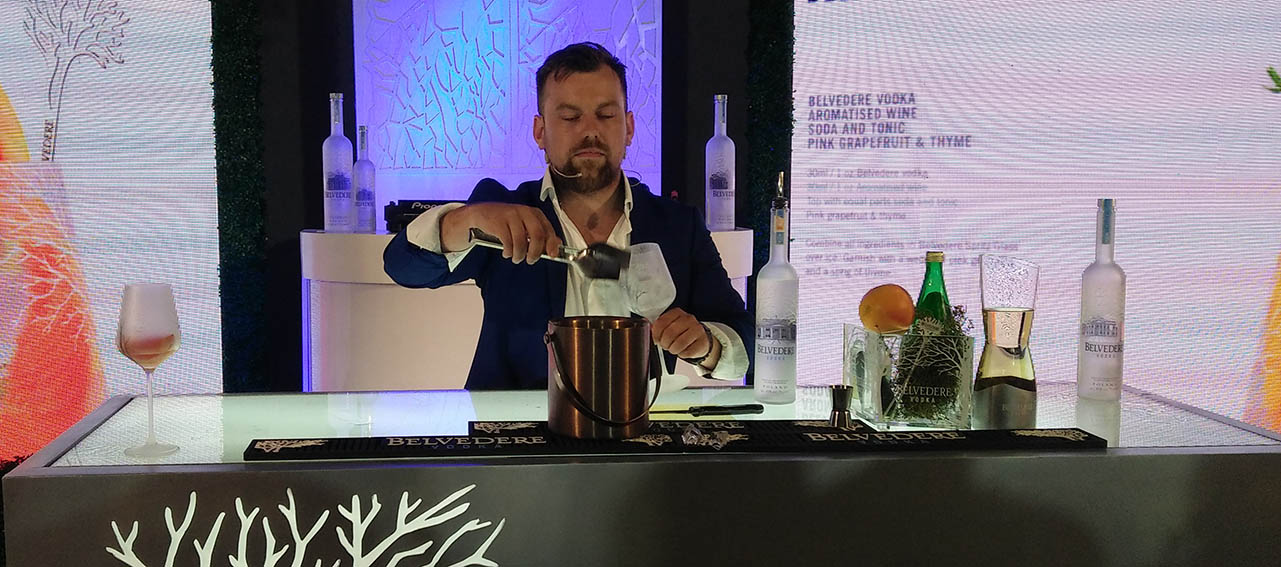 Belvedere Vodka ambassador Marek Vojcarcik.
Spirits of Christmas
After that warning not to mix sugar with alcohol, head on to the fun and check out the following spirits that could accompany one's holiday merriment.
A cognac for every celebration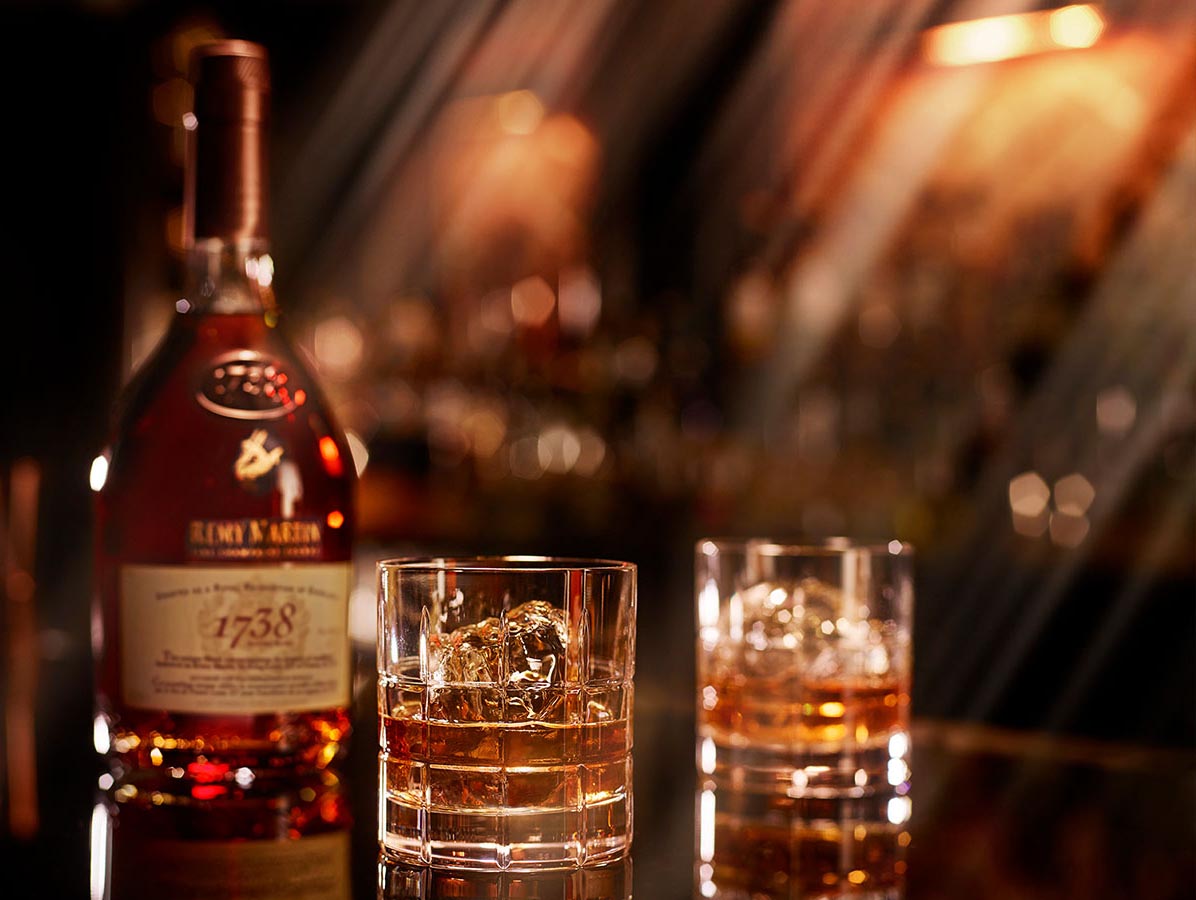 Founded in France in 1724, the brand is one of the world's biggest producers of fine champagne cognac.
There is drinking, and there is drinking to celebrate. A refined man knows the difference—after all, good times should always be celebrated with good drinks like Rémy Martin, which offers a collection of gift boxes available in leading supermarkets nationwide.
The VSOP gift box comes with two free glasses. As with all of the brand's cognacs, the Club drink is exclusively grown in a special, chalky soil that ripens the fruit to perfection for cognac making—just like how a healthy relationship matures over time. The gift box comes with a free 30ml miniature bottle. Finally, there is the XO, a fine champagne cognac made from a blend of up to 400 different "eaux-de-vie," exclusively produced in the Grand Champagne and Petit Champagne regions of France. The gift box comes with two free XO Swirl Cognac glasses.
Founded in France in 1724, the brand is one of the world's biggest producers of fine champagne cognac. The esteemed cognac house claims to distill three centuries of expertise in every bottle.
Grammy Award winner launches new tequila bottle
Jose Cuervo's rich history dates back to 1795 in Jalisco, Mexico, when the Cuervo family was granted the first license to commercially produce tequila. In the centuries since, other tequila brands have come along.
On December 9, popular DJ and record producer Flume performed in Manila for the first time. Highly regarded as a pioneer of "Future Jazz," Flume began his career in 2004 and grew to become one of the biggest DJs in the world. He has remixed the music of popular acts such as Lorde, Arcade Fire, and Sam Smith. In May 2016, Flume released his second album, "Skin," which earned him the Best Dance/Electronic Album at the 2017 Grammy Awards.
The event was be sponsored by Jose Cuervo, during the launch of its new line of bottles, the The ShXt, which maintains the brand's iconic shape, but with updated touches that reflect the brand's centuries-old tradition.
Fun beer fact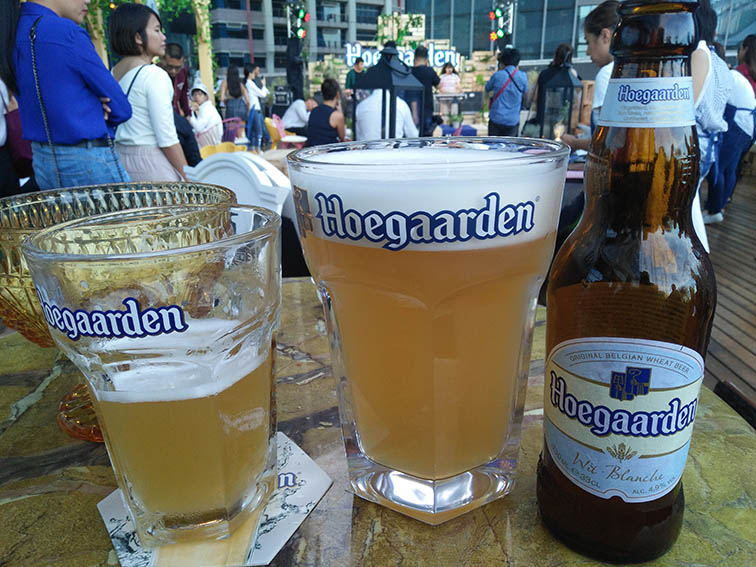 World Beer Cup is regarded as the "Olympics" of beers. Philstar.com/Jan Milo Severo
It is no secret that for many Filipinos, celebration means liquor.
Some Filipinos, however, hate foams on their glasses of beer. But did you know that foams protect the taste and the aroma of the beer and seals it from external elements so it does not get decarbonated?
That is a fun fact about beers, according to Raymon Chester Cabrera, marketing head of Philippine Booze Online, the exclusive distributor of Hoegaarden in the Philippines. Hoegaarden Original White Ale bagged the gold award in Nelgian-Style Witbier Category of the 2016 World Cup Beer, besting 77 other witbier brands. World Beer Cup winners were selected by an international panel of 253 beer judges from 31 countries. It is regarded as the "Olympics" of beers.
According to Cabrera, the brand goes through a complex brewing process that uses special barley malt, raw wheat and a unique yeast that result in a distinctive cloudy-white appearance.
"The key to the authentic Belgian wheat beer's unique, refreshing flavor and spicy nose is ingredients including real Curacao orange peel and a delicate balance of coriander. Many years ago, brewmasters' creativity led to the iconic beer we know today and we are proud to perpetuate the tradition," Anne Ghanima, Brewmaster and Brewery Manager, added in a statement.
Relive Oktoberfest this Christmas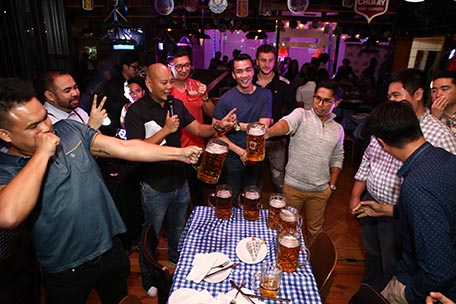 Paulaner has a special brew that is made for Oktoberfest.
Leather clad Bavarians in matching fancy outfits, amusement rides, rowdy American exchange students who gone wild, the grizzled veterans, the Brits, the hot Munich party boys and girls, and the Wurst people (sellers of all kinds of sausages)—are probably the most common attractions you will see at Oktoberfest.
The largest annual beer festival in the world kicked off a century-old celebration starting in Munich extending all the way to the United States and Asia. Oktoberfest usually starts late September and runs through mid October, and throughout the years it has become the biggest event showdown of different beer brands; showcasing their authentic Bavarian flavors.
Although Oktoberfest has been replicated by many countries, and even localized by certain cultures, like when you visit some distant town in Fujian (you get our point, right?), one thing remains true: beer is the unifying element. You can probably mess up with other things like sausages and pretzels, but you can never go wrong with the beer you serve. This is the reason why Booze Online Inc. (one of the biggest distributors of imported beers in the country) and Draft Gastropub Manila teamed up to bring an authentic Oktoberfest experience in every possible way they could. What best way to do it? Bring Germany to Manila—well, at least a few pieces of it.
When it comes to Oktoberfest, Paulaner is on the top list of all Bavarian beers in the market. It is no secret that this German brewery has been hosting some of the biggest gatherings throughout Europe and across many nations.
According to Chester Cabrera, Marketing Head of Online Booze Inc., Paulaner has a very special brew that is made for Oktoberfest. In fact, only six breweries in Munich produce "Oktoberfest bier," and Paulaner is the only one that's available in the Philippines.
"Oktoberfest isn't just about drinking beer; it's a celebration. And If you want to experience the real Oktoberfest, you need a beer that's made especially for that celebration," Cabrera shared.
Apart from the overflowing beer, one of the highlights was the beer drinking contest that challenged the toughest party-philes of the night. The challenge was to drink the beer straight up from a humungous "beer stein" without pausing; you can breathe, but you cannot stop. Now, that is how you celebrate Oktoberfest.
Negros rum hits 21 countries by storm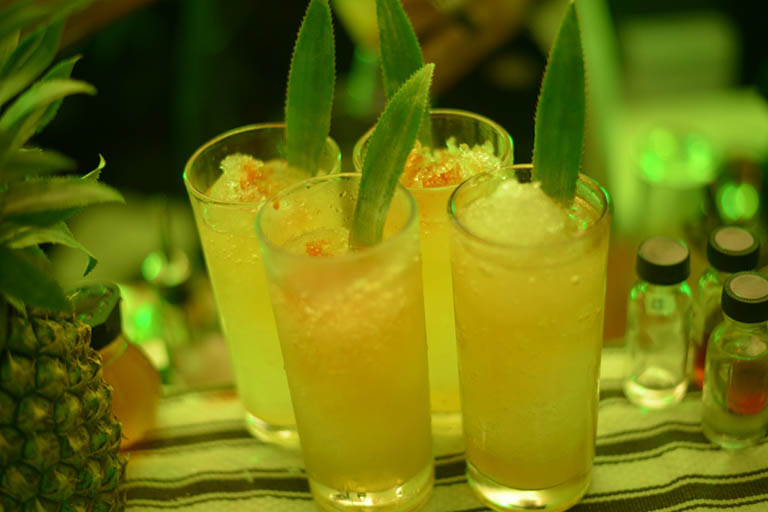 'Filipina Maldita' cocktail using Don Papa Rum. Philstar.com/Jan Milo Severo
Did you know that one of the best-selling rums in Europe came from the Negros Island?
Launched last 2012 in the Philippines, Don Papa Rum from Negros claims to be taking 21 different countries around the globe by storm.
"Our dream is to build a world-class Philippine premium rum. We can't tell the world that we come from Philippines if we can't launch in the Philippines first," Monica Llamas, Head of Brand and communication of Bleeding Heart Rum Co., the manufacturer of Don Papa Rum, told Philstar.com during the brand's fifth anniversary.
Llamas added that this is an eye-opener to all, especially to foreigners who cannot believe that the Philippines can produce rum; some even do know where the Philippines is!
"The taste of Don Papa is something really appeals to that market. People didn't know that our country is a lush country that can grow sugar," said Llamas.
When asked what is their brand's contribution to the country, Llamas said: "For us, in a way, may education din na ginawa. Some people didn't know Philippines where was. Through the brand, we also introduce the country, the people in a little way to other parts of the world."
Where Baguio's beer meets Spanish tapas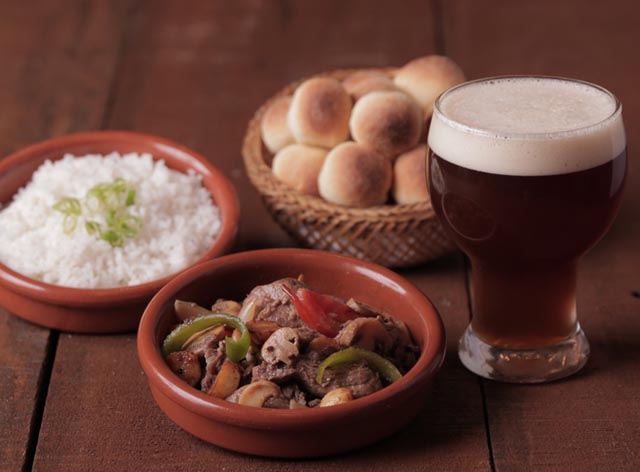 Casa Marcos and Baguio Craft Brewery
Casa Marcos, home to delectable tapas, paellas and other Spanish delicacies, has partnered with Baguio Craft Brewery to offer tapas and craft beer pairings.
The restaurant, located at the secod floor of Il Terrazzo, Tomas Morato corner Scout Madrinian, Quezon City, partnered with the brewery to offer Manila's wine-and-dine citizenry "a cervezeria concept that offers distinction amidst the many gastropubs in the city," said Kevin Khoe, a partner of Casa Marcos.
"Baguio Craft Brewery prides itself with passion for its beers, while Casa Marcos is just as passionate with their food. Like every beer we have crafted, each dish at Casa Marcos is a masterpiece in itself," said Christopher Ordas, owner of Baguio Craft Brewery.
Passion and craftsmanship are the common pursuits, with Casa Marcos continually perfecting the Spanish dining experience since 1945, and Baguio Craft Brewery elevating the status of beer drinking and tasting in the country. Indeed, the tapas-beer pairings are only next to the inspiring partnership between two movers and shakers in Philippine beverage and cuisine.
Mocktail recipes to fuel the holiday fun
Mocktails are totally liquor-free, making them fancy yet family-perfect. An ideal party refresher that will also put all your guests in the holiday fun and festive spirit, mocktails are also ideal to serve for all reason or occasion.
May Sparkling Juice, available in leading supermarkets, and groceries nationwide, is made of fresh and fruity flavors made from Belgium's carefully selected red and white grapes. Using this juice, you can create the following recipes.
"Watermelon Surprise"
The perfect match for a rich dish, this intensely refreshing concoction will open the palate to the wonders of watermelon. The zing of lime also enhances its bright and juicy flavor that's perfect for sipping on a warm day.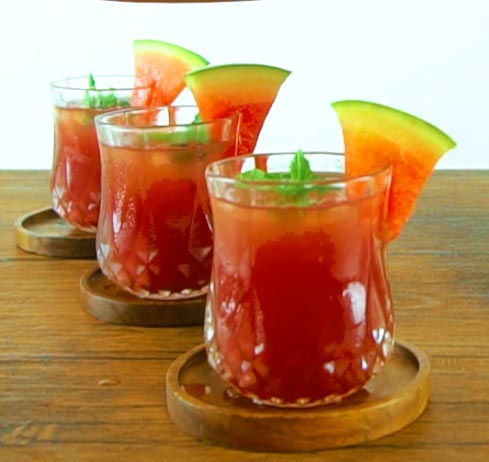 'Watermelon Surprise'
Ingredients:
· 1 medium sliced watermelon, diced
· 3/4 cup fresh lime juice
· 4 cups chilled May Sparkling Juice (red)
· Ice cubes
· 2 tbsps. honey
· Garnish: mint sprigs
Instructions:
1. In a blender, puree the watermelon until smooth.
2. Squeeze fresh lime juice.
3. Strain watermelon mixture through a fine sieve into a pitcher; discard solids.
4. Add juice.
5. Serve over ice and add honey to sweeten.
"Mango Tropical Fizz"
When life gives you lemons, serve this invigorating mango drink that's both sweet and tart. Be sure to add some fresh sprig of mint leaves for that whiff of crisp and cooling flavor.
Mango Tropical Fizz
Ingredients:
· 1 ¼ cup of May Sparkling Juice (white), chilled
· 1/2 cup fresh lime juice
· ½ cup of mango slices
· ¾ cups of orange (fruit or juice)
· Ice cubes
· Fresh mint (optional)
Instructions:
1. In a blender, puree the mangoes until smooth. Add orange fruit or juice.
2. Pour in juice and stir once.
3. Add ice cubes.
4. Garnish with mint.
— Reports from Deni Rose M. Afinidad-Bernardo and Seph Asong