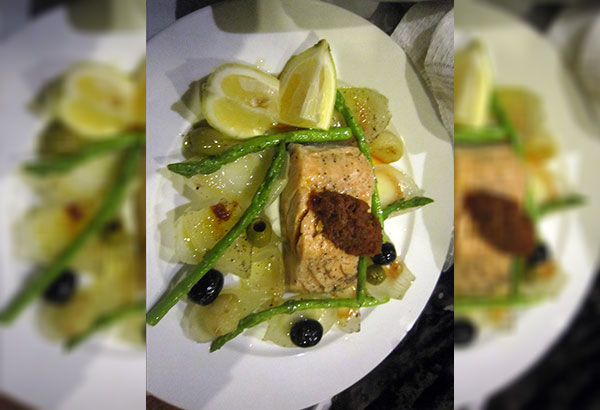 Salmon confit is easy to prepare using Doña Elena Olive Oil.
Did you know that you can use olive oil in everyday dishes?
MANILA, Philippines — Sosyal!" program host Sam Oh remarked when told the dish that chef Kalel Chan had chosen to prepare that night was salmon confit. We were at Lemuria Gourmet Restaurant and Wine Bar in Quezon City, where the launch of the Doña Elena Olive Oil Chef Ambassador Series campaign was held.
Members of the media were randomly chosen to participate in a "market basket challenge," with Locavore executive chef Mikel Zaguirre and Raintree Group of Restaurants' corporate chef Kalel Chan leading each of the two groups.
Pan-seared shrimps was the dish that chef Mikel's group prepared. The idea was to demonstrate how easy it is to prepare great-tasting and healthy dishes using Doña Elena Olive Oil.
"Many Filipinos are intimidated by the thought of using olive oil in their dishes," said Fly Ace group category manager for oils Zen Prudentino. "'Pang sosyal lang,' they say. We want to get their trust by showing how dishes they enjoy in restaurants that are prepared by professional chefs can easily be recreated at home using Doña Elena Olive Oil."
Fly Ace Corporation, a leading food and beverage consumer goods company, is the exclusive distributor of Doña Elena Olive Oil, the consistent number-one olive oil brand in the country.
"It is our commitment to bring the best food and beverages from the world to the Filipino consumer," Fly Ace Corp. general manager Ramon Daez remarked.
"When Doña Elena was launched 20 years ago, it started off with a passion of really just elevating cooking at home by bringing great-tasting dishes that are also healthy at the same time," said Fly Ace Corp. AVP for marketing Abbie Ng-Reyes. "Over the past 20 years, we've launched products that are extremely of good quality and made with excellence."
Olive oil is one of the healthiest — if not the healthiest — type of oil, according to Abbie. "Doña Elena Olive Oil comes from olives grown in Andalucia, Spain, which is known to be the global leader in terms of olive oil. Two varieties of olives, hojiblanca and picual, are delicately blended to produce Doña Elena Olive Oil. The result is a mild and fruity taste that is perfect for the Filipino palate."
"Sometimes, people think olive oil is just used for salads, but through our chef ambassadors, you will see how versatile it is, and you can actually use olive oil in everyday dishes. When you use olive oil, it really elevates the taste of your food," Abbie said.
"The reason why we launched our chef ambassador series is because we want to keep the brand relevant to our younger audience. Millennials nowadays are more health-conscious, but at the same time, they don't want to compromise on the quality and taste of the food that they enjoy. Those are values that Doña Elena shares," she added.
It is this same alignment of values that prompted their choice of chef ambassadors from a roster of "movers and shakers" in the industry. "When we asked them what products they've trusted for the past 10 years, Doña Elena always came up," Fly Ace Corp. PR manager Dianne Pagtalunan related.
"They truly live and breathe the very values that we have at Dona Elena; that is, passion, creativity, excellence," Abbie interjected. "These values could help us change the way we cook our meals at home."
Chef Mikel started using Doña Elena when he was still learning how to cook in cooking school. "We use Doña Elena Olive Oil in our restaurant," he says. "And I also encourage ordinary consumers to use a healthy oil for all of your cooking at home, because it is your family that you are feeding. They deserve the best all the time."
Chef Kalel has been using Doña Elena for almost 15 years. Raised by a family of home cooks — he has been tinkering in the kitchen since he was seven — chef Kalel ensures that his menu in his restaurants consists of ingredients that are sustainable and can be easily sourced. "The first Doña Elena product that I used was the olive oil because of its trusted quality," he shared. "It's very accessible and the price is reasonable, too."
An entry-level size or trial size, which is a 250-ml bottle, retails for about P140. "That's just about the same price that you are willing to pay for a cup of coffee," Abbie said. "We are also creating a series of recipe videos that you can follow online. Even if you don't cook, you will be inspired. When you see the chefs that you look up to in the restaurants that you enjoy going to, you will be inspired to do it yourself at home."
So, how did the salmon confit of Chef Kalel's group turn out? "Yummy!" as someone lost for words might say. With salmon and Doña Elena Olive Oil, you can't go wrong.
This is just the start of the Doña Elena Olive Oil Chef Ambassador Series campaign, partnering with celebrated chefs who have Doña Elena in their pantry and have been using it for years, as well as sharing easy-to-follow recipes that can be replicated at home. "With the coming holidays, I think this is the perfect time for Filipinos to start," Abbie concluded.