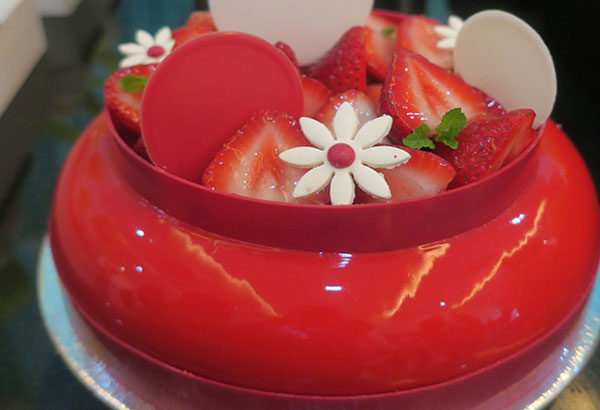 Strawberry field entremet made with a chocolate cake, strawberry compote, white chocolate mousse finished with a shiny red glaze.
Bachour in Manila: An amazing, sugar-glazed week
Karla: When I was little girl, I was rarely in The Plaza's hot kitchen. I suppose it was just too busy and dangerous for a three-year-old girl. Stockpots were even bigger and taller than I was, so I would have to ask my yaya or the chef to carry me so I could see what was inside. I wasn't allowed to walk in there without supervision and that wasn't fun at all. I spent most of my time in the bakeshop, where I learned to roll out dough, crack eggs and separate the yolks from the whites, as well as how to use a mixer, cream butter, etc. While most kids had Play-Doh and dough cutters, I was making my own happy face cookies and cutting my own shapes of cookies. Although I didn't pursue a pastry program, I'm no stranger to the bakeshop.
Millie: Eventually, Karla learned to bake Bruun butter and prune cakes when I would get big orders for Christmas. She would measure and sift the flour, whip the egg whites and — her most favorite chore — cut and fold. It was good to have an assistant and pretty soon, she was helping me market and sell the cakes.
As she grew older, she learned how to use a tempering machine and mold chocolate candies that I would sell in my tiny Sweet Shop for kiddie parties. But I think what she enjoyed most was licking the chocolate off the wooden spoon!
KARLA: A few months ago, I saw a sponsored ad on Instagram by @thegastronomiegroup, announcing that they would be bringing in chef Antonio Bachour to conduct workshops here in Manila. I immediately got in touch to inquire about the classes. Though I did say that I was no stranger to the bakeshop, a master class with chef Antonio Bachour was something I was actually terrified about.
Millie: Chef Bachour is a world-renowned master pastry chef and is considered one of the top 10 best pastry chefs in America. He hails from Puerto Rico and is an American citizen based in Miami, Florida. He was executive pastry chef of the luxury hotel St. Regis Bal Harbour in Miami.
Bachour came to Manila to conduct master classes on modern French patisserie techniques to culinary students, seasoned bakers and professional chefs in the country. Bachour has authored several cookbooks and was a brand ambassador of the world-famous Valrhona chocolate and high-quality professional pastry molds by Pavoni Italia.
I myself was excited to meet chef Bachour as I walked into his class on the first day. He was warm and cordial and we exchanged pleasantries. He invited me to come on the third day to see and taste the finished pastry products, as well as on the last day to watch him conduct an actual demonstration. He claims he learned how to bake from his mom, who would bake goodies at home.
Karla: In the class, we learned all sorts of techniques; of course, they were mostly new to me. On the first day of the workshop, we made entremets, which are layered cakes. We made everything inside the cake, including the dacquoise, the base of the cake, all sorts of mousses, and more. On the second day, we were let loose and tasked to prep some recipes individually. In an intimate class of 16, somehow chef Bachour noticed that my recipe wasn't coming out the way it was supposed to. I realized that I did one procedure wrong and had to repeat the entire thing. I haven't gotten that rush since I was back in culinary school. In the hot kitchen, when you make a mistake, most of the time there is something you can do to rectify it. But in pastry, I knew I had to scale new ingredients, and I had to do it quick. I don't think I've moved that fast since I was in New York. Haha! With the help of some of my group mates and chef Bachour's assistant, Karina Rivera, I was able to pull through. On the same day, we worked with a lot of chocolate. Not just chocolate for the mousses and glazes, but we also made chocolate decorations, which was so exciting.
Millie: Upon chef Bachour's invitation, I came towards the end of class on the third day. I was drooling when I saw the spread! I wanted to just dive in and have a bite. The cakes were decorated with shiny glazes in different colors of bright red, canary yellow, chartreuse green and chocolate, of course! A chocolate dessert caught my curious eye and I immediately nudged Karla that I wanted to taste that particular one. Karla confirmed with a smile that the one I liked was the gianduja made of toasted hazelnut dacquoise, hazelnut éclat d'or, gianduja cremeux, gianduja mousse and was finished with a shiny gianduja glaze.
Karla and I were on our first week of the ketogenic diet and I fought so hard to resist tasting the dessert spread, but eventually succumbed and had three bites. I carefully chose the desserts that looked interesting to me, and my shortlisted picks were gianduja, the crème fraiche cheesecake with citrus and almond whipped ganache and the yuzu green tea petit gateau.
The participants were allowed to take home a box of assorted desserts of their choice and I was hesitant because it would be disastrous for both Karla and I. What a time to go on a no-carbs, no-sugar diet! Although we were both aware that this would simply ruin everything, we obliged just the same. We took the box back to the office and my brother Ray had his fill. I didn't realize he also had a sweet tooth!
Karla: During the demo, chef Bachour demonstrated seven desserts within eight hours, such as the Sicilian pistachio dacquoise, pistachio mousseline and berries, the lemon delice with almond sponge cake and lemon cream, peanut butter and jelly petit gateau with peanut butter financier batter, apricot confit, and chocolate flexi ganache with mango cremeux and coconut Chantilly. My favorites were the key lime tart with berries, white chocolate whipped ganache and raspberry foam, the milk chocolate whipped ganache, 46-percent milk chocolate mousse with mango petit gateau and 'Green,' pistachio cremeux with berries confit, pistachio microwave sponge and pistachio white chocolate ganache with green glaze.
At the end of the demo, we were able to have our photos taken again with chef Bachour as well as sample some of his creations. It surely was an extraordinary experience and we were happy to have met him. We hope that he can come back to Manila to conduct more workshops, as truly his modern techniques possess a magical touch.
* * *
Send email to milliereyes.foodforthought@gmail.com and quichethecook.ph@gmail.com. Find us on Facebook: Food for Thought by Millie and Karla Reyes.