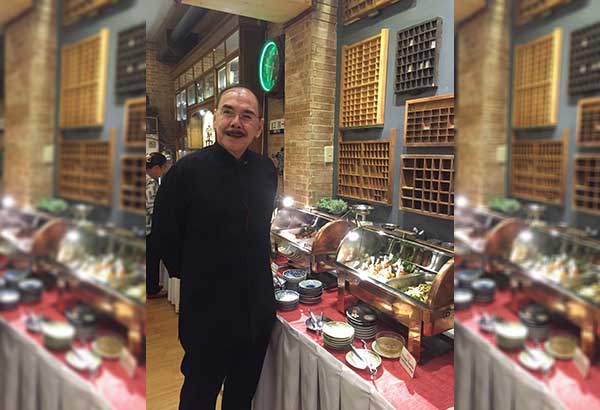 Dr. Boy Vasquez's successful foray into home-style food continues with Irving's All-Day Dining.
The latest from Dr. Boy Vasquez: Irving's all-day dining
Dr. Boy Vasquez's successful foray into home cooking-style food continues with Irving's All-Day Dining, right beside Café Juanita. A former student turned dear friend, I have always known Boy as a passionate and ever-evolving person. He is often resigned to his love of learning and experimenting, so it didn't come as a surprise when he, together with his son, Dr. Jun Bormate, decided to expand his brand with Irving's eclectic menu.
Like its namesake, the vibrant street in the Sunset district of San Francisco, California, lined with cafes, bistros and restaurants, Irving's is an unpretentious synthesis of Filipino-Asian and American cuisines. Boy loves to visit Southeast Asian countries and frequents the US — Irving's is the product of the different inspirations coming from these places interpreted in his cooking.
I was invited to their re-launch and, together with my daughter Carmela, we sampled their exquisite menu that included Pinoy favorites like their homemade US beef tapa, empanada, Baguio longganisa, home-baked breads and pan de sal perfect with a spread of Laguna kesong puti, and viands like the bestselling beef kansi and pancit luglog. American Clam Chowder and Crispy Beef Ribs with Sinigang Sauce are on the menu, too. They also have Italian staples like clam and seafood spaghetti vongole, savory meat Bolognese, and 500-degree Pizza Juanita, topped with only the good stuff, and East Asian flavors like their vegetable Imperial Rolls and the tender Sticky Pork Ribs. For dessert, Irving's offers hand-rolled Kouign Amann and churros, always freshly fried and powdered with sugar, available any time of the day. It was a wonderful trip across Boy's favorite places, tastes and adventures.
Apart from the delectable grub, it is the relaxed and casual interiors that draw patrons in. As we entered the restaurant, we were treated to a space that reminded me of New York studio lofts and warehouses: high ceilings, brick walls, and an elevated area fronted with large French windows lined with plants to create a homey ambiance. The warmth of the wood against the crimson bricks produces an appetizing atmosphere, while the greens and ornaments on the walls make it a laidback place to immerse one's self in. It's an ideal place for a light solo breakfast on a workday, a midday meeting with business partners, or where you can unwind with friends during the weekends. I could see myself celebrating little milestones with my family at Irving's.
I've known Boy to be very hardworking, especially when it comes to pursuing his love for cooking, and ultimately sharing his incredible food with others. He is very hands-on in not only creating the recipes for his restaurants, but also in the operations of his restaurants in front and behind the counter. You are guaranteed to feel Boy's personal touch during every visit. Often, he is visible to guests and friends as he makes sure the kitchen delivers excellently, dish after dish. Customer service at Irving's — very much like Café Juanita's — is friendly, easy, and efficient, a Boy Vasquez signature service that keeps guests staying and coming back.
I believe that Irving's is a refreshing addition to the culinary scene in Kapitolyo, Pasig — a complement to Café Juanita, and a delightful one-stop dining experience of Filipino-Asian-American fare. In a growing gastronomic metropolis with bistros, neighborhood joints and concept restaurants popping up like mushrooms, Irving's stands out from the sea of straightforward businesses as one with heart and soul.
* * *
Irving's All Day Dining is located at 17 West Capitol Drive, Kapitolyo, Pasig City (beside Cafe Juanita). For information, call 656-9081.