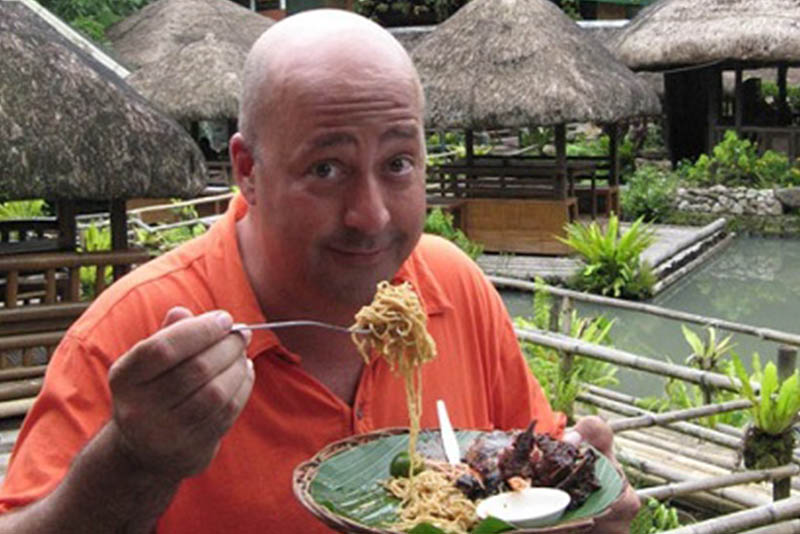 This screenshot from "Bizaare Foods with Andrew Zimmern" shows the American TV host sampling Filipino food.
VIRAL: Andrew Zimmern calls Filipino food 'America's next big trend'
MANILA, Philippines — Award-winning American chef and TV host Andrew Zimmern has praised Filipino food anew as his new video explaining why Filipino food is "America's next big trend" goes viral on social media.
In the video by Tech Insider and Business Insider, Zimmern said he has been telling people for years that Filipino food "will get more and more popular because of the variety of ingredients and the European techniques found in Filipino cuisine."
According to him, America has been experimenting on cuisines from different ethnicities in the past three to four decades and Chinese, Thai, and Japanese food already had their season in the sun in America. It is therefore FIlipino food's time in the spotlight.
"Their (Filipinos') use of acidity, the quality of their food has the best of Asian cuisine and the best of sort of what happens when really good Asian food, island nation food brushes up against Spanish culture," he expounded in the video.
He said the Spanish has colonized the Philippines for almost 500 years (actually, it is over 300 years) at one point, "so the influence is heartfelt."
He thinks people are going into pre-colonial foods because Americans are now in love with pre-colonial foods from Mexico.
"Filipino food will help contribute more diversity into America's world system," he espoused.
It was in 2012 when the host of "Bizaare Foods with Andrew Zimmern" first said Filipino food will be the next big thing in America.
The new video, so far, has over two million views, 8,000 shares, and 11,000 likes on Facebook. It has reaped mixed reactions among local and foreign netizens. Some said Filipino food is too salty, sweet or greasy to be the next big thing in the US, while some praised it for being healthy because it involves a lot of vegetables.
To fuel Zimmern's claim, some Filipinos commented that they want to go to America right now and put up a "turo-turo" or a "jollijeep."