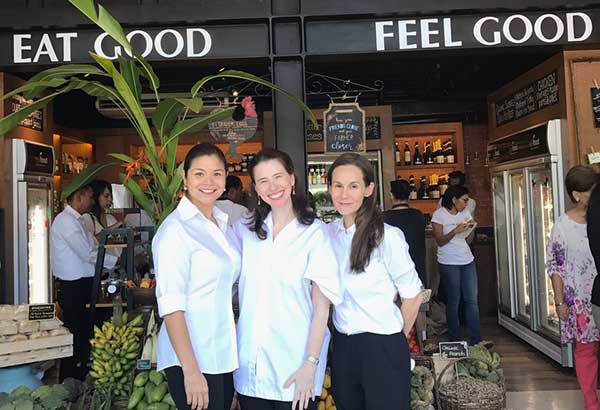 The @realfoodph team: Bea Lucero-Lhuillier Nicole Olbes-Fandiño and Honey Hagedorn-Almendral (not in photo is Katrina Mañosa)
Real Food: A little big store with all healthy food
Two years ago, Nicole Olbes Fandino approached me with the idea of a neighborhood grocery that would carry all the healthy products from her favorite vendors that she buys for her family. For many reasons I declined being a partner. Two years later, I am regretting not partnering with her because after being open for a year, they are doing very well in their Molito branch serving just the neighborhood in Alabang. She has three other partners who are caring mothers like her: Bea Lucero-Lhuillier, Honey Hagedorn-Almendral and Katrina Mañosa. Apparently, Nicole also approached Bea: "We started it because Nicole talked to me about it," Bea says. "She asked me, 'Do you think a store like this will do well in Alabang?' And I said, 'Of course,' and after that night I was thinking about it and the next day I texted her: 'Nicole, if you need more partners let me know.'"
The store is called Real Food. "Our little store is where you can get healthy, natural and organic products, mostly from the Philippines," says Nicole.
Nowadays, new moms are always using the term "real food." What is real food? When I was a 21-year-old mom, we did not have such a thing. I Googled to check what it meant and I found this to be the best definition from eatgood4life.com:
"Food: Something that nourishes, sustains or supplies."
"Real: true and actual, not artificial."
From this, I gather that "real food" is food that is as close to its natural and original state as possible without alterations of any kind.
Bea thinks that Real Food is doing so well "because most parents can come with their kids and say, 'Go shop, buy what you want' and it's healthy."
All the products in the store are tried and tested by the four mothers and are products that they buy to use in their homes.
I can only be happy that their venture helps many families buy healthy products in one location at the same time; they are helping many vendors by making their products available to more clients who can benefit from them. "We have a lot of suppliers coming to us wanting to have their products in our store because they know how well it is doing."
As we are all becoming more conscious of what we eat, it is not too late to nourish ourselves in the best way possible. I am fortunate that my millennial kids are also very conscious. Now, I just have to take care of myself.
* * *
Real Food is located at Molito Lifestyle Mall, Muntinlupa City, tel. 772-0131. They are open from 10 a.m. to 10 p.m. daily.