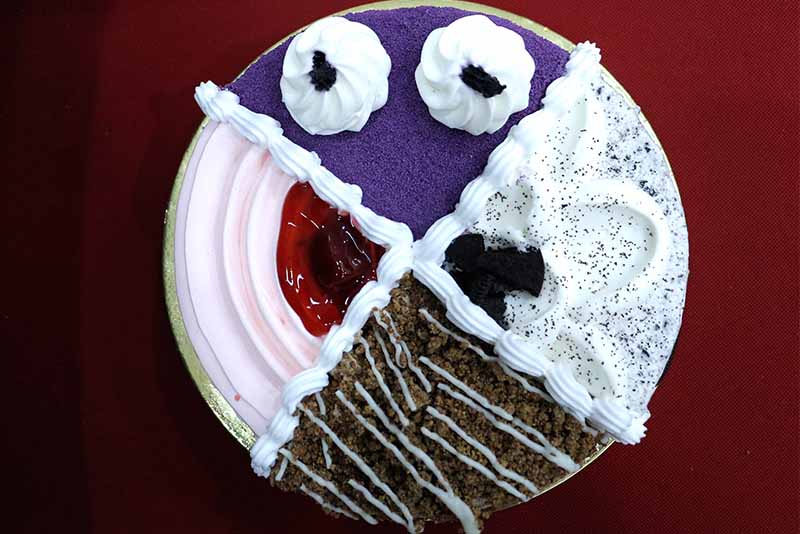 Named the "can't decide cake," it is the perfect choice for those who literally cannot decide which flavor of cake should they get. Philstar.com/AJ Bolando
The four-in-one cake that could ruin your plan to diet
MANILA, Philippines — There is nothing quite like a piece of cake to make the end of every meal special.
Thus, restaurant Red Door Kitchen came up with a cake with not just one, two or three, but four flavors.
Named the "can't decide cake," it is the perfect choice for those who literally cannot decide which flavor of cake should they get.
The cake features flavors that are dear to the Pinoy palate: cookies and cream, coffee crumble, strawberry and ube.
Nothing beats that moment when you experience that first taste of the cake's strawberry flavor. The sweetness is not too much; with only the right amount of zest oozing into your mouth, creating a satisfying feeling in your tongue.
"It's hard to find a decent strawberry-flavored cake that is not expensive, so we decided to include this in our cake," said Rachel Taboso, one of the owners of the start-up business which started operating last year.
Meanwhile, the coffee crumble and cookies and cream deliver the crunch part of the dessert. Imagine slicing through a soft cake then hitting the crisp, crunch part that crumbles on contact.
Lastly, the cake features the famed ube flavor. With tropical notes of coconut and vanilla coupled with a hint of pistachio, ube is rapidly becoming this year's most photographed food. Food connoisseurs is labeling it as the next big thing in the dessert world, which is why it is not surprising that it is included as one of the flavors in the "can't decide cake."
With the right texture of the cake, its smooth and velvety batter, and appetizing presentation, dessert aficionados would surely want to give this cake a go.
Rachel shared that the concept of the cake was the idea of singer Richard Poon, who is also one of her business partners.
"When we launched the cakes, we only have three, tapos naging four. And then one time, sabi niya (Richard), can you put the different cake flavors in a single cake for people like me na gusting itry lahat, mata-try ko lahat without buying all," she explained.
Rachel asserted that while Richard does not go to the shop often, he is active in proposing ideas that would improve the food and service of the restaurant.
A fusion of Filipino classic comfort food with modern techniques and presentations, this is what Red Door Kitchen is all about.
"The idea is to come up with a restaurant that has all the office handaan staple. Anoba usually inoorder kapag may pakain sa office? Pancit, spaghetti, barbecue, chicken and cake. We have them right here in one place," said Taboso. "And the best thing is that you may order them in combo, so it is more practical and mura."
Apart from the "can't decide cake," the restaurant offers a combo meal wherein you can select your favorite noodles from among four varieties and combine it with a meat from among three varieties.
They have a "chinitoyo," a saucy pancit canton with a little bit of sweetness and spicyness, the kung fu pasta, aka the seafood version of Charlie Chan, the classic cheesy spaghetti and palabok with crunchy tsitsaron. For the meat part, they have shanghai rolls, liempo bbq and chicken chops, which is best enjoyed with a vinegar dip.
A graduate of Food Technology and previously a store manager and commissary, Rachel was inspired to set up a business that would encapsulate everything that she has learned since she started working in the food industry.
When asked to give advice to people who want to go from being an employee to the chief executive officer of their own business, she said: "To be able to make a business work you have to believe in your products. If you think that this is good and masarap talaga 'yung product, there is no reason for you not to push through with your business."