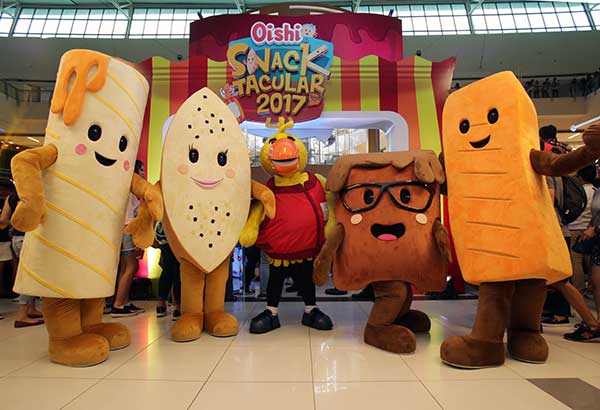 Brand characters Panya, Hippy, Pilyo and Waifu. Photos by ERNIE PENAREDONDO
Happiness is Panya, Hippy, Pilyo and Waifu
Our Oishi Friends have their own personalities," says Shera Tiu, Oishi vice president of marketing, at the Oishi Snacktacular event recently. "Each of them was created to represent our unique brands."
I have covered quite a few Oishi Snacktacular events, but what made this annual extravaganza, where snack lovers get to partake in several fun booths that feature their favorite Oishi snacks, different was the participation of Oishi friends Panya, Hippy, Pilyo, and Waifu, who are the colorful mascots of much-loved Oishi snacks.
"The characters are well-liked by our customers and they have been created to directly embody each of our brand's personalities," added Shera. "It is these characters that make each flavor of the Oishi brand more personal."
Shera also added that the characters are more interactive and the customers who follow the Oishi Facebook Page are able to have fun creating stories with the characters. Shera was quick to point out that the characters are not just for kids — rather, that they were created to make the brand more fun — for kids of all ages.
"I gave our ad agency cues on what makes each brand unique," Shera said. "This Snacktacular event weekend is so much more fun because our Team O members and Oishi Friends are here. And, each one of them can tell the Oishi story in their own way."
The Maine event
On the Saturday that we were there, Festival Mall in Alabang was abuzz with cheers and screams from the fans of Team O member Maine Mendoza, who made a special appearance.
Maine did not let her Oishi family fans down as she got hooked onto the Snack Catcher, where she was lowered into a pool of snacks and able to grab more than 50 assorted Oishi snacks.
"I really love Oishi Cracklets and Spicy Prawns," said Maine. "These are really my favorite snacks. And, I plan to bring whatever I can to get here to the Barangay at Eat Bulaga."
Maine also shared a little about her experience watching her fave band Coldplay twice — once in the US and when they were here in Manila.
"Coldplay is still my favorite band," she said. "I share a connection with the songs they write. I am able to identify with the band's dark and sad songs."
Although Maine is partial to dark songs, she has still set her sights on doing comedy, which she is known for, and which she believes is her forte.
"For now, I will stick to comedy," she shared.
A positive person, Maine temporarily stopped using Twitter because she was saddened by the lack of positive vibes on that social-media platform: "There was too much negativity for me there," she explains.
However, she remains active on Instagram, where she shares who she really is (@mainedcm).
"As much as possible I don't include any endorsements there," she says. "I only like to post the real me. Like, for example, my fashion choices are a big part of my IG. I like to experiment with different styles when I travel. When I am out of the country I am able to share my fashionista side."
It's more fun with Oishi
Back at the Oishi Snacktacular event last Sunday, teen heartthrob Daniel Padilla was sneaking around Oishi's Snack Shack, where he grabbed his favorite Oishi snacks in under 60 seconds, while Alex Gonzaga created her own Oishi snack of Bread Pan and chips dipped in cheese in the Make-Your-Own-Snack booth. She invited hundreds of participants to try their own outrageous combinations in the booth. Some walked away with traditional combinations like chips and cheese, while others made bizarre concoctions like wafers with mustard and mayonnaise.
Kathryn Bernardo made a fan squeal with delight when she invited her to join Oishi's Cuckoo Blaster game. In Cuckoo Blaster, participants were made to wear Cuckoo's signature wings and try to catch as many balls as they could in a basket. Being a veteran at Cuckoo Blaster, Kathryn knew how to catch the balls flawlessly, so she shared some tips with her lucky fan, who managed to catch 23 balls out of the 80 thrown. She fell short of the 40 required for the grand prize, so Kathryn generously donated the balls she caught, resulting in the fan taking home the entire lineup of Oishi's delicious beverages!
No doubt, Team O's KathNiel, Alex, and Maine also had a blast and will be looking forward to being back next year to share even more fun and snacks with their fans.
Before the event ended, I asked Maine what her most memorable Oishi O Wow moment for 2017 is.
"My most memorable O Wow Oishi moment is when I won the Eat Bulaga #dabarkads goals performance," she shared. "I really went all-out for that — and I am happy that I did."
* * *
Stay updated with the latest #OishiOWow news on Facebook, @oishiph on Instagram and @oishi_tweets on Twitter.