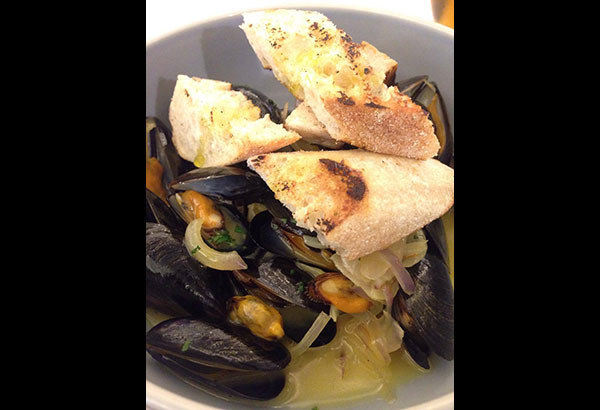 Bouchot mussels in white wine and saffron butter at Venue by Sebastian
Savoring Singapore in every bite?
So many food choices, so little time.
That's what lifestyle/food writers and media influencers — who embarked on a challenge a la Amazing Race at some of the popular food joints in the Lion City — felt during the one-day preview of the Singapore Food Festival 2017, which kicks off tomorrow at Clifford Square.
From the airport, Singapore Tourism Board's Grace Cuenca whisked us off to the casual yet refined Venue by Sebastian at Downtown Gallery for a tapas-style lunch. Pristine whites and cool blues — lit up by spotlights overhead — filled the interiors. The cuisine at Venue is modern European with an Asian touch. Running on a sharing-plates concept, the lunch and dinner menu features a mix of communal dishes in sharing portions.
Here, you'll get an order chit where you can tick off different plates. Don't expect starters to come before mains: whichever dish is ready first will be served on the table.
We had cauliflower fritti with spicy mint aioli ($13), which tasted better than shrimp popcorn; the indulgent roasted and poached foie gras with mirin and shiitake mushroom ($24); the delicious bouchot mussels ($16); and grilled stockyard rib eye with salsa verde ($48). It was a delicious, light, yet satisfying meal. And as soon as the spiced panna cotta and blood orange sorbet were served, chef Sebastian Ng came out of the kitchen to check on the diners — just as we were about to leave.
From the Venue, we moved to Maxwell Food Centre for a teaser of the Hawker Wine Safari, which is one of the highlights of the Singapore Food Festival.
We sampled local snacks like curry puffs and spiced pumpkin rice cake paired with Australian wines. The pumpkin cake tasted like tamales, which went well with a glass of chilled dry rosé.
Slated from July 14 to 31 (except July 17 and 24) from 6:30 to 8:30 p.m., the Hawker Wine Safari showcases the pairing potentials of New World wines with Singapore street food. Enjoy traditional hawker fare paired with artisanal wines from the Merchants' boutique selection, direct from small winemakers in Australia and New Zealand for only $88.
Five carefully curated wines will be poured, pairing beautifully with Bib Gourmand eats from stalls such as Hong Kong Fried Sotong Prawn Mee at Tiong Bahru Market, Alliance Seafood at Newton Circus Food Centre and Tian Tian Chicken Rice at Maxwell Food Centre.
Over at Jiakdalang Palang Eating House, we were treated to a unique dining experience that combined food with contemporary dance. Titled "Project Plait: Inheritance," the food-meets-dance collaboration between Jiakpalang executive chef Nixon Low and dancer-choreographer Naomi Tan is inspired by local traditions that Singaporeans hold close to their hearts but are constantly evolving in fast-paced Singapore. It will be held on July 20 and 21, 7:30 p.m., July 22, 12:30 p.m. at Jiakpalang Eating House at 456 Alexandra Road, Singapore.
"The dances are not always the same. Some are interactive. I will react on how the audience plays with me," says Naomi. "Watch out for the Human Touch performance, which is inspired by Singlish, which my generation doesn't use anymore."
It was back to the '80s as we took a sumptuous trip down memory lane at Chinatown for the "50 Cents Fest" preview.
The wooden tables were laden with old-school snacks Singaporean kids (yes, even Pinoys) love such as Haw Flakes, White Rabbit and ice candies in delicious mung bean and sweet corn flavors.
We also feasted on Abacus Seeds, a Hakka delicacy made with yam; Cantonese-paper wrapped chicken and Hokkien Rickshaw Noodles. Enjoy all these dishes for only $0.50 at Chinatown Food Street.
Smith Street will also turn old school with roving giveaways of '80s toys and sweet treats, games like fishing fountain and hopscotch, and roving character mascots from that era. Come dressed in your best '80s fashion to win fun prizes. The "50 Cents Fest" will be held on July 29, from 12 noon to 11 p.m. and July 30 from 11 a.m. to 11 p.m.
Kuehs, those rainbow-colored Singaporean desserts, awaited us at Bar Stories. Rainbow Lapis, a local company that specializes in kuehs, collaborated with three other Singaporean companies for a kueh pairing workshop series.
From pairing sessions with specially concocted cocktails at Bar Stories (July 22) to Kaldi's Berry specialty coffee (July 23) and Tea Chapter's brew (July 15), these hands-on workshops also focus on teaching how to make the traditional kueh itself. I especially enjoyed the Chinese tea-making session. From prepping the tea set, to the "nourishing" of the teapot, down to the brewing of the leaves, the entire ceremony proves that the best things come to those who wait. As I cradled the cup with both hands and enjoyed the tea's aroma before taking a sip, I will never look at tea the same way again.
Five dining destinations and a whole lot of food, all in one day. These are just some of the highlights to look out for in the 24th edition of the Singapore Food Festival, which will be held from July 14 to 31.
Eats All In Singapore
Now in its 24th year, the Singapore Food Festival 2017 pays tribute to all things Singaporean.
With the theme "Savour Singapore in Every Bite," the much-awaited foodie event not only celebrates heritage and flavors, but also honors the people who work passionately to keep homegrown gastronomic traditions alive.
Its anchor event "StrEAT" features a medley of Singaporean food establishments and pop-up restos.
Malcolm Lee of Michelin-starred Peranakan restaurant Candlenut and Wild Rocket's Willin Low, who is one of the founders of Mod-Sin cuisine, will present contemporary interpretations of local classics through a three-course Mod-Sin and modern Peranakan Tok Panjang menu.
The duo will also work together to select nine stalls, each helmed by young "hawkerpreneurs" and chefs with their own unique spin on local dishes.
But what makes the food festival still interesting after 24 years is this year's unusual food pairings like local kuehs with cocktails, hawker fare with wine, and food with contemporary dance for a unique and interactive dining experience.
Indeed, it's all about keeping things exciting while staying true to tradition.
* * *
The Singapore Food Festival takes place in various locations across Singapore. For event schedules and updates, visit www.singaporefoodfestival.com.