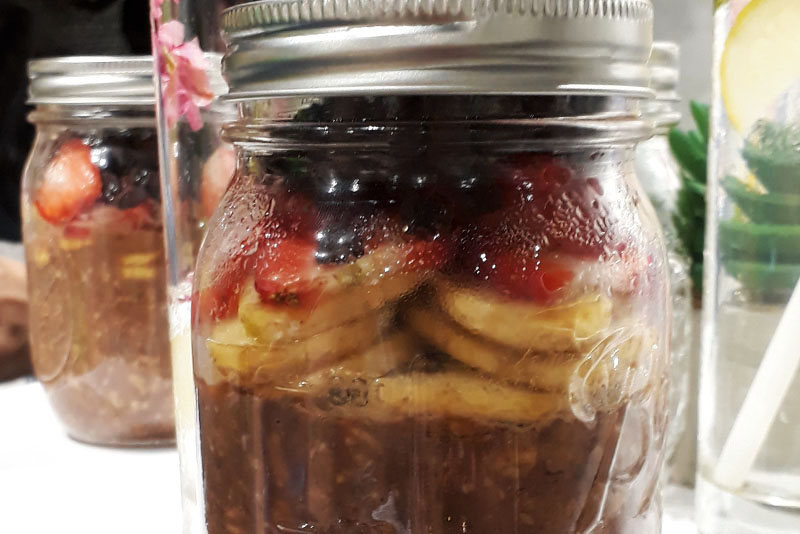 Chocolate Banana Overnight Oats with Strawberries mason jar dessert by celebrity chef Barni
Alejandro-Rennebeck. Philstar.com/Deni Rose M. Afinidad-Bernardo
Chef Barni Alejandro's mason jar recipes for weight loss
MANILA, Philippines — Want to eat healthy but too busy to cook?
Barni Alejandro-Rennebeck, celebrity chef, TV host and cookbook author, recently introduced two no-cook recipes that can fit into mason jars, which you can bring as a full meal, snack or "baon" for school or office.
During a demo for the launch of Watsons Get Active, Chef Barni said these recipes only take five minutes to prepare but they can be stored in the refrigerator for three days.
Greek Salad with Lemon Vinaigrette
Ingredients:
For the lemon vinaigrette:
Two tablespoons of olive oil
Two teaspoons of lemon or calamansi juice
1/2 teaspoon of yellow mustard
1/2 teaspoon of honey
1/8 teaspoon of salt
Small pinch of ground black pepper
One teaspoon of parsley, chopped
Procedure:
In a small bowl, whisk together the olive oil, lemon juice, mustard, honey, salt, pepper and parsley.
Pour the dressing at the bottom of a 16-ounce mason jar then begin to layer your salad.
Start layering with chickpeas, violet cabbage, cucumber, romaine lettuce, cherry tomatoes, black olives and feta cheese. Alternatively, you can use singkamas, carrots, or use leftover veggies on the fridge.
Place the lid on the mason jar. Shake and eat immediately.
Chocolate Banana Overnight Oats with Strawberries
Ingredients:
1/2 cup rolled oats
One tablespoon of chia seeds
1/2 cup of low-fat milk
1/4 cup of canned coconut milk
1/2 tablespoon of cocoa powder
Procedure:
In a 16-ounce mason jar, combine the rolled oats and chia seeds.
Pour in the low-fat milk, coconut milk, cocoa powder, cinnamon, and peanut butter.
Put in two tablespoons of honey plus raisins, cranberries, mashed banana and dates. This concoction is sweet enough, so it is good for those avoiding sugar.
Though a dessert, Chef Barni called this recipe "fat-fighting" because of its ingredients like the superfood chia seeds, which prevent bloating and lower bad cholesterol.
Like her, she hopes that through these recipes, you too could find healthy food sexy.