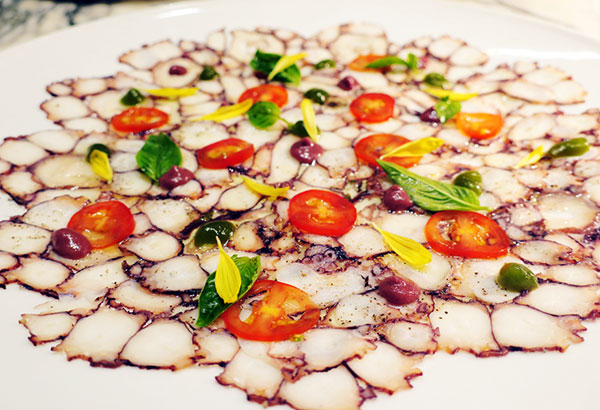 Beautifully plated octopus carpaccio with sliced cherry tomatoes and jelly-like sauces of basil and Kalamata olives
Bringing classic Italian dishes (and tableside service) back
MILLIE: It's back to reality after our leisurely trip! With piles of work waiting for attention, Karla and I enrolled in yoga classes plus, while she goes swimming, I do my daily walk, as we both need to shed pounds. Although we try to go on a diet, oftentimes we can't turn down an occasional lunch or dinner invitation.
We were invited to sample the new culinary creations of Finestra's new Italian chef, Alan Marchetti, and we were both awed.
KARLA: We started off with an assortment of freshly baked breads served in a basket and a choice of balsamic vinaigrettes to dip them in. I must have had three pieces of bread because their Parmesan bread was just so good. I could have had more, but thankfully the appetizers started to arrive at our table.
For starters we had the octopus carpaccio, which was beautifully plated. Mom and I rarely have octopus, but we both agreed that this was an exceptional dish. It was served with sliced cherry tomatoes and jelly-like sauces of basil and Kalamata olives.
We also got to try the Burrata Caprese with plum and cherry tomatoes with basil and balsamic vinaigrette. The burrata was excellent. It was soft and creamy on the inside and I honestly could not stop eating. The best part is that it is fresh and locally sourced. Then we were served a prosciutto pizza from Finestra's brick oven, topped with arugula and Parmesan cheese shavings.
MILLIE: It seems they are bringing back classic dishes and gueridon, or tableside service. Chef Alan prepared the steak tartare at our tableside with fresh, chilled raw USDA beef gently mixed with olive oil, hot sauce, Worcestershire sauce, capers, chopped onions, Dijon mustard, chopped parsley, spices and an egg yolk. It is eaten with crostinis, or freshly baked bread.
KARLA: Ever since I was a little girl, open kitchens and tableside service have always entertained me. I didn't mind standing up frequently to take photos by the kitchen because it gave me the opportunity to talk to the chef and ask questions. So when chef Alan came out with his steak tartare cart, I was too excited to take his photo. After our round of appetizers, we were able to try the chef's version of agnolotti carbonara. It was ravioli stuffed with cheese and sprinkled with bacon bits and chopped parsley.
MILLIE: Three selections of beef were specially prepared and served at our table. We tried the USDA Omaha Angus beef tenderloin, which is known for its finely marbled and tender meat, Snake River Farms Wagyu top blade and the internationally acclaimed Australian Blackmore Wagyu striploin, all lightly seasoned and grilled to perfection with a choice of Bearnaise sauce and wild mushroom gravy.
What was exceptional was the meal-ender, an avalanche of desserts! Executive pastry chef Roberto Molleman prepared these spectacular and mouthwatering desserts. The chocolate bowl was actually a ball, which, when warm, dark chocolate fondue was poured over it, revealed a warm chocolate tart, ice cream, hazelnuts, banana slices and caramel popcorn. The classic tiramisu was topped with milk chocolate shavings and my all-time favorite, the lemon dessert was a meringue-covered lemon tart served with lemon sorbet.
Dessert was followed by a treasure chest of mouthwatering pralines and truffles that elicited oohs and ahs! What a perfect ending!
* * *
Finestra is located on the G/F of Solaire Resort & Casino, 1 Asean Avenue, Entertainment City, Tambo, Parañaque City. For reservations and inquiries, call 888-8888 or email reservations@solaireresort.com.
* * *
Send email to milliereyes.foodforthought@gmail.com and quichethecook.ph@gmail.com. Find us on Facebook: Food for Thought by Millie & Karla Reyes.