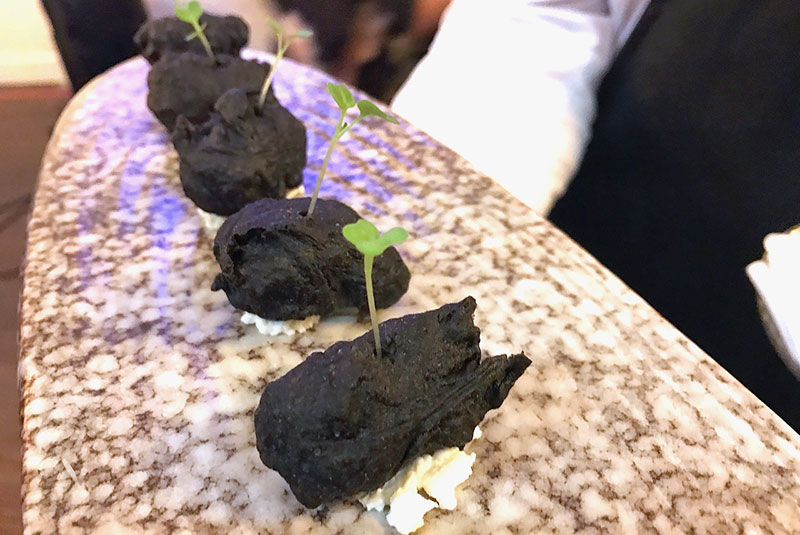 Junior Master Chef Louise Mabulo's amuse bouche Lava Rocks uses squid ink with santol and balaw (small shrimp) to mimic the rocks and plants growing around Mayon Volcano.
What's hot, what's best in Bicol
Six years ago we went to Naga and met a lovely couple, Carlo and Rica Buenaflor. I remember Carlo as one of Rustan's Young VIP models in the '90s and I was so happy to see him happily married with five kids! (He hates it when I tell this story but I love it, ha-ha!)
Carlo is the owner of Bigg's Diner, which has 14 branches in Bicol. Rica, on the other hand, is the distributor of Havaianas for Southern Luzon.
Five years later, they have settled down in Manila and are now bringing their province closer to us in Manila and hopefully globally.
"It started out during business week," Rica says. "The main idea was to promote business in Bicol. But during that time when we were getting to know Bicol more, we realized there were so many crafts, so many artists in Bicol. So that's how it started."
Carlo adds, "We found multidisciplinary talents surfacing in social media and other mediums. But all scattered, often confusing and disorganized. There was a boost in tourism-related industries such as restaurants, hotels and the like, but the true gems remain in obscurity. There was a need to present a singular character for Bicol, a need to show the true beauty of the province. That gave birth to 'I am the Best of Bicol,' a non-profit movement whose essential thrust is to bring the best of the region to the world stage."
Our country has so many talented artisans and, thanks to people with big hearts and big dreams like Carlo and Rica, whose efforts and initiative promote and support the province of Bicol, more people can appreciate the work that they do.
The Best of Bicol movement promotes the slow-food movement together with Junior Master Chef Louise Mabulo, Rudy Espiritu, Jet Sumayaw and Rica Buenaflor. Rica is currently taking courses at Le Cordon Bleu Paris to enhance her culinary skills. It also promotes the preservation of heritage crafts such as Helen Alegre, who works with a community from Camarines Norte doing filigree from Spanish times, Bernadette Delos Santos, aka Bidie Bidie, who is trying to revive the craft of embroidery together with the wives of farmers from Baao, Camarines Sur and Karaw Crafts Ventures by Paul Arbieda. All this will provide a livelihood to talented Bicolanos.
On my way out of the Best of Bicol event, I met furniture designer Milo Naval, who has a hotel in Sorsogon. He said there are many nice things to see in Sorsogon, which is an hour or two away from his resort. I checked his website at www.siamahotel.com/discover-sorsogon/ and there are truly so many beautiful things to discover there.
My favorite goal of the "I am The Best of Bicol" movement is social entrepreneurship. We all are busy with our day-to-day lives and yet there are people who give their time and passion to help their country and their fellowmen at no cost. They prove that not everything in this world is measured by money or profits. From the people behind the movement to the artisans that produce to the consumers that buy and support, it's all out of love.
* * *
For more information, contact Rica Buenaflor at ricabellefleur@me.com or mobile number 0917-504-7422.