Crab crazy in San Francisco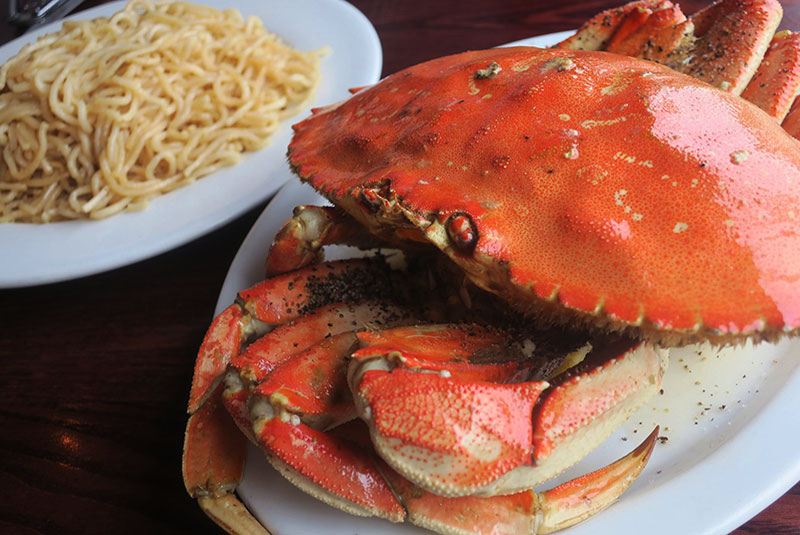 MILLIE: I cannot think of a single restaurant in San Francisco that can whet my appetite more than Thanh Long, the world-famous 46-year-old Vietnamese restaurant on Judah Street famous for its Dungeness crabs roasted in secret spices.
So when my goddaughter Cara Canlas, who lives in San Fo, offered to take me out to dinner and asked what I wanted to eat, I suggested Thanh Long. I was surprised she hadn't heard about it. I thought every Filipino knew.
In fact, I cannot recall a trip to San Fo that I did not dine at this restaurant. Once I went to Crustacean on Polk Street, owned by the same group but somehow, Thanh Long seemed better. I can eat a whole crab by myself and didn't mind having to shell the meat from the crab with my bare hands, hardly using the cocktail fork and using only the crab cracker to crack the claws.
My dad used to put rice in the crab shell and pour the butter on the rice, sprinkle morsels of crabmeat as a topping and eat from there. Ahhhh!
KARLA: Ever since I was a kid, I would always hear about this place. My mom and grandparents were crab fans and would talk about Thanh Long all the time. I only started to eat crab in recent years and could not share their enthusiasm every time they craved crabs or talked about it. In fact, whenever we went out to have crabs, I wouldn't enjoy. Mom had this rule that as long as she was eating crabs I was not allowed to bother her. So before she dove into a crab, she would first ask me if I needed to go to the restroom or if I needed anything else. If I had to go to the restroom while she was eating, then either I'd have to hold it in till she was done or she'd find someone else to go with me.
Finally it was my turn to dine at Thanh Long, this restaurant I'd been hearing about all my life. The restaurant was full, considering it was quite a drive from the city. As soon as you walk in, you'll know immediately what their specialty is because you can see crab on every single table. I was already salivating by the time we got to our table. Based on all the tables we passed and what they had ordered, I had already made up my mind what I wanted to order. We ordered the roast crab, which was a whole Dungeness crab roasted with An's garlic sauce and secret spices. This was perfect with an order of garlic noodles. We also ordered the drunken crab, which was simmered in chardonnay, sake and brandy and seasoned with scallions, chives and cracked black pepper. We also got an order of chicken and shrimp fried rice. We ate with gusto and barely talked the entire time except to ask someone to pass something. Even the table next to us enjoyed eating so much that it was only after their meal that we realized they were Filipino. They, too, apparently were not talking to each other during the meal. Haha! I enjoyed it so much that when Cara and my mom gave up eating, I transferred the fried rice onto the plate of crab where all the butter garlic sauce was and ate from there.
MILLIE: In my experience, it is best to eat the Thanh Long crabs before the butter-garlic sauce solidifies. The crabmeat is quite easy to shell out as the crabs are not overcooked and there is no struggle to shell it. Some people have tried to replicate the way it is roasted but somehow, it doesn't taste the same. I guess it's the secret spices that add to that special flavor and taste that have kept Thanh Long alive for 46 years and kept satisfied patrons like myself coming back.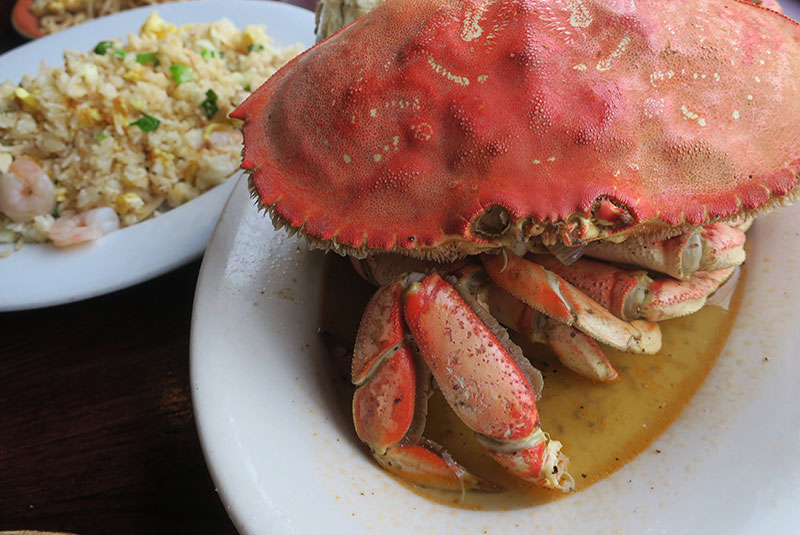 The drunken crab, Dungeness crab simmered in Chardonnay, sake and brandy and seasoned with scallions, chives and cracked black pepper and an order of chicken and shrimp fried rice.
* * *
Thanh Long Restaurant is located at 4101 Judah St., San Francisco, California, USA.
* * *
Send email to milliereyes.foodforthought@gmail.com and quichethecook.ph@gmail.com. Find us on Facebook: Food for Thought by Millie & Karla Reyes.