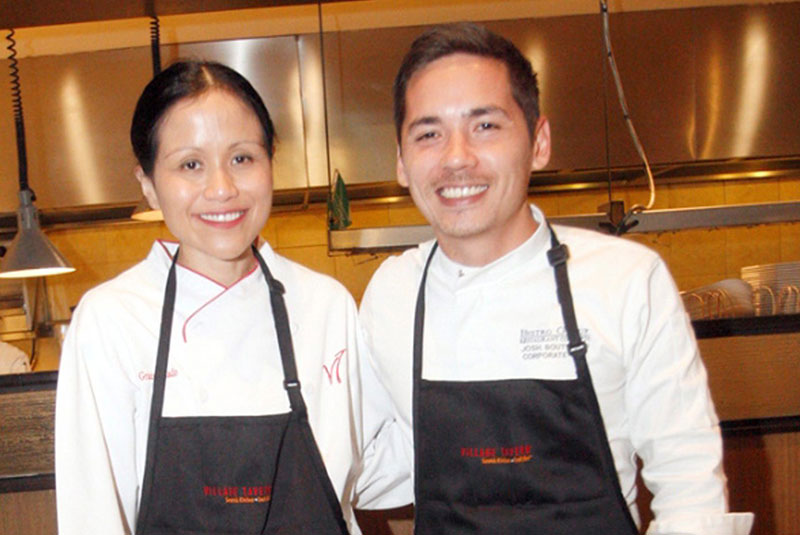 Commander in chefs: Village Tavern US corporate chef Grace Viado and Bistro Group executive chef Josh Boutwood
It takes grits to make Village Tavern's new menu
When two talented chefs collaborate, you know you're in for something new and delicious!
Village Tavern was transformed into a MasterChef kitchen as its
US-based corporate chef, Grace Viado, and The Bistro Group executive
Chef, Josh Boutwood, conducted a "masterclass" to introduce some of the new dishes on the menu in celebration of the tavern's fifth anniversary.
Not only did we have a chance to witness how chef Josh "molested" the
whole chicken with his bare hands, and observe chef Grace as she took
Brie to a whole new level, we also got to see their culinary delights — Thyme-Roasted Chicken with Sweet Corn and Popcorn and Baked — come to life in the tasting session that followed.
Over delicious Shrimp and Grits, the rock-star chefs walked our taste buds through the menu with made-from-scratch American fare using the finest and freshest ingredients.
"It's all about nostalgia and bringing the southern roots of the brand to the Philippines," enthuses chef Grace, who flew in recently from the US just for the momentous event. "There's something old, something new. Shrimp and Grits is one of Village Tavern's signature dishes in the US. But it's the first time we're serving this Carolina classic here."
The stone-ground grits are flavored with bacon, mushroom, green onions and gruyere cheese, topped with plump shrimps that are cooked to perfection.
Freshness on a plate is what diners get when they order the Chicken and Mango Salad, romaine lettuce tossed with fried chicken breast, fresh ripe mangoes, grape tomatoes, onions, and feta cheese crumbles topped with croutons in a mango-cilantro dressing.
If it's pasta you're craving for, choose between the Baked Cannelloni pasta stuffed with Bolognese meat sauce, béchamel sauce and fresh cherry tomatoes; or the Seafood Pasta that's loaded with clams, mussels and shrimp. If you have a big appetite or are dining with a group, try both.
The other #bestwhenshared dishes include the High Street Platter (three pieces of porchetta, Monterey chicken, and crispy fish tacos with roasted potatoes topped with cheese sauce), and Main Street Platter (Texan pork chops, classic fried chicken and wrapped mani salad served with roasted potatoes topped with cheese sauce).
"Chef Josh and I had a long-distance collaboration on the menu," shares the lady chef. "I would send him recipes with pictures and he'd email back his own take on the dishes. Well, I trust him with all my heart."
According to chef Josh, there's diversity in the new menu: "There's a little bit of Asian going on in there; Italian dishes as well. We have this really eclectic selection. There's absolutely something for everybody — even your evil twin will definitely find something he likes here," he says with a hearty laugh.
Amazing grace
Village Tavern is a US-based restaurant franchise owned by the Bistro Group whose top chef is a source of Filipino pride.
Born and raised in the Philippines, chef Grace grew up in Manila and graduated cum laude with a degree in Hotel and Restaurant Administration from the University of the Philippines in 1995.
At 20, she started her culinary career at Italianni's Philippines as one of its restaurant managers. After a few years, she was promoted to kitchen manager, and then later to corporate chef when she was 23.
"I took a sabbatical from Bistro. I went to New York, studied at the Culinary Institute of America in Hyde Park. While studying, I interned at the Four Seasons Hotel where I met my beloved mentors: chef Brooke Vosika, chef Kevin Hickey and chef Robert Gerstenecker," she recalls.
When asked how she felt when the news of Bistro's intent to franchise the popular bar reached her, she says: "I was happy because Tony Santarelli was the vice president of TGIFridays and Italianni's at that time when I was an assistant kitchen manager in Italianni's Greenbelt."
A natural achiever, chef Grace graduated with highest honors on top of her many awards and scholarships such as the James Beard Foundation Scholarship, Culinary Institute of America Service Award, Culinary Institute of America President's Scholarship, Guest Services Endowed Scholarship, Katharine Angell Scholastic Achievement Award and International Student Scholarship.
As corporate chef of Village Tavern US, chef Grace grabbed the opportunity to go back to her home country, not just to introduce the restaurant's anniversary dishes, but also to reconnect with her Bistro family.
"It's like a homecoming of sorts," she says. "I enjoyed working with chef Josh, arguably one of the most talented chefs in the country today."
Chef Josh has recently opened The Test Kitchen, a by-reservation-only restaurant that is his culinary playground, impressing gourmands with his highly creative and amazingly sumptuous dishes made from scratch. On top of this, he is at the helm of The Bistro Group's 15 restaurant concepts.
Well, it's amazing how five years have passed like a blur. And in those five years, Village Tavern has remained true to its original mission: serving made-from-scratch signature dishes that reflect the very best of classic American cuisine and more.
And with chef Grace and chef Josh at the helm, Village Tavern has morphed into a flavor palace of sensory delights.
* * *
Village Tavern is located on the 2nd level of Bonifacio High Street Central. For reservations, call 621-3245 or SMS 0977-801-3624.