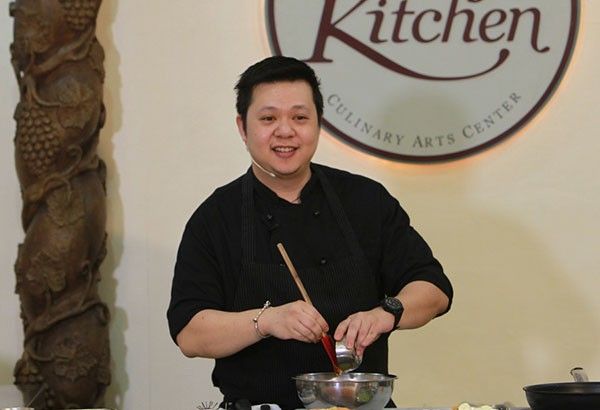 The chef is in: Discovery Primea executive chef Luis Chikiamco brings inspired Mediterranean cooking to life at The Maya Culinary Elite Series.
Photos by WALTER BOLLOZOS??
Tapenade-inspired dishes for the home cook
With a culinary career that spans over a decade, chef Luis Chikiamco has traveled and savored the world, so to speak. But if there's one dish that left a lasting mark on his palate, it's good, old scrambled eggs, which his dad Carlos prepared for him when he was a kid.?When asked what makes the egg dish special, he hastily replied, "So much love went into that dish. I think the secret recipe to a delicious dish is the love for the person you're preparing it for. My dad's scrambled eggs may be simple, but it tasted like a million bucks."??
Getting To Know The Commander-In-Chef?
Holding a degree in Culinary Arts and Hotel Management from L'Institut Paul Bocuse in Lyon, France, chef Luis would later apprentice at the Auberge at Clos de Cimes, a three-star Michelin Guide establishment also in Lyon.?
From then on, he continued to hone his culinary knowledge and skills with a stint at the Intercontinental Hotel, Soleil Moderne Cafe, Crowne Plaza Galleria Manila, Illustrate Restaurant, as well as being chef instructor at the Heny Sison and CCA Manila Culinary Schools.?
Chef Luis has been the executive chef of Discovery Primea since 2014. With his extensive culinary background, he interprets Primea's cuisine in a contemporary and refined way.?
As executive chef, he developed the popular Mediterranean menu of Primea's Restaurant Tapenade. Showcasing the bold flavors of the Mediterranean region — Spain, Italy, France, Greece, Turkey and Morocco — Restaurant Tapenade attracts diners with its range of flavors and dishes, from handmade pizzas to lamb kebabs, rib-eye steaks to tagines, and more.??
Book The Cook?
Chef Luis shared the Tapenade philosophy of bringing inspired Mediterranean cooking to life at as the featured chef of The Maya Kitchen Culinary Elite Series held last March 25 at The Maya Kitchen Culinary Center, Liberty Bldg., in Makati City.?For the cooking demo, chef Luis prepared four Mediterranean dishes that aren't too complicated to prepare.?
"Cooking gourmet meals shouldn't be too intimidating," he said. "A cookbook gives you tips and techniques, but when you try it out, it doesn't always come out the same way. So I highly recommend budding home cooks to sign up for cooking demos, because when you see for yourself how the dish is prepared, you'll understand the techniques more."?
Businessman Renato Apacible loves to entertain friends at his farm in Alfonso, Cavite. So when he learned that chef Luis would be the featured chef of The Maya Kitchen Culinary Elite Series, he signed up for the class right away, even bringing along his balikbayan siblings.?
"We just dined at Tapenade Restaurant and fell in love with the delicious Mediterranean fare, not to mention the Salad Room," said Renato, who drove all the way from his farm in Alfonso the night before the event so he could make it on time. "So when I learned about chef Luis's cooking demo, I knew that we were in for a treat."?
And boy, chef Luis didn't disappoint. For the cooking demo, he prepared four dishes: Melon & Mozzarella Salad, a nice and refreshing salad that's perfect for summer; Arroz Caldoso, a brothy paella with prawns, clams, mussels and jamon stock; Spaghetti all Gricia, the oh, so flavorful pasta dish with guanciale (cured jowl); and delicious Ribeye Steak "Tagliata" with fresh greens, sharing tips on where to source the not-so-hard-to-find ingredients and proper food handling in between.?
The Maya Kitchen makes home cooking fun and easy for everyone in the family. With the Culinary Elite Series, the Maya Kitchen opens up an excellent opportunity for everyone to learn from the best chefs and restaurateurs in the country.?
"Everyone can cook well as long as you put your heart into it," shared chef Luis, who brought his expertise and passion for good food to the Maya Kitchen Culinary Elite Series. "And cook with love — always."?
* * *
For inquiries, call 892-1185, visit www.themayakitchen.com or visit The Maya Kitchen Culinary Center, Liberty Bldg., Arnaiz Ave., Makati City.?Like and follow Maya Kitchen on Facebook and Instagram @TheMayaKitchen1 and follow @TheMayaKitchen on Twitter.