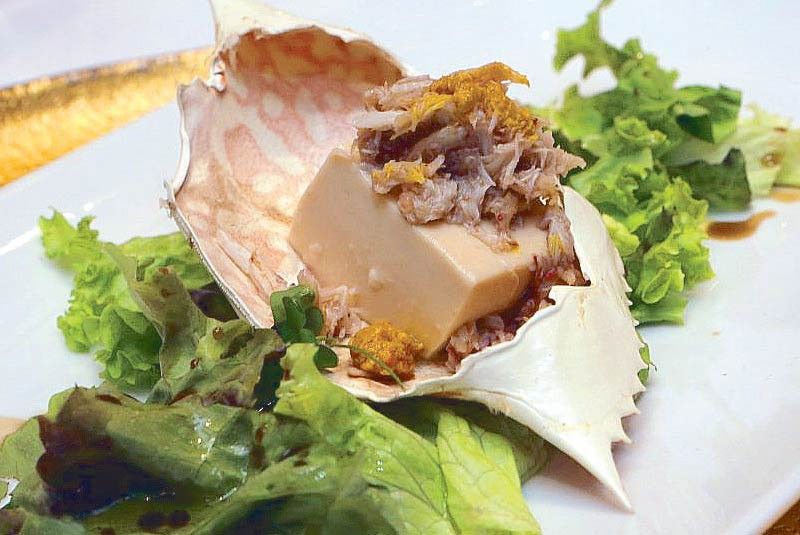 Crab a bite: Crab Trio Sformato with Chinese black vinegar and Nergos muscovado glaze by chef Gaita Fores (Photo by ERNIE PENAREDONDO)
Chef Margarita Fores: 'The exciting culinary scene in Hong Kong brought about my passion for cooking'
Did you know that Asia's Best Female Chef for 2016 has a degree in accounting and worked in an investment firm in Hong Kong, where her interest in cooking started?
"Most of you might not know, but I lived in a small apartment in Hong Kong for two years — from 1982 to 1983 — before going to Italy where my culinary style evolved," shared chef Margarita "Gaita" Fores, the first Filipino chef to win the award.
She is the woman behind casual-dining chain Cibo, contemporary restaurant Lusso, Cafe Bola, farm-to-table resto Grace Park and hotel restaurant Alta at Ascott BGC.
Known for fusing her Italian culinary background with Filipino cooking and ingredients, I was surprised that it was actually Hong Kong that tickled her palate first.
"Like most Filipinos, Hong Kong was actually my first overseas trip," related chef Gaita. "I was only eight years old when my parents took me there for a vacation and I fell in love right away."
Hong Kong, just like New York, where the amiable chef grew up, is a diverse and dynamic city with a rich culinary culture.
"The exciting culinary scene in Hong Kong brought about my passion for cooking," she added. "Every corner is packed with eateries, snack stalls, bars, fine-dining restaurants, cafés and more. Even their street food is Michelin-recognized."
And since the groceries in Hong Kong were open till late, chef Gaita would drop by after work, grab some supplies and just enjoy cooking for herself.
"I started off by cooking simple dishes," she said. And before she knew it, chef Gaita was already whipping up her own version of Wu Kong's famous Shanghainese hairy-crab dish.
"That's the reason why I keep coming back to Hong Kong," she enthused. "It's a place where you never run out of delicious dishes to try. Filipinos share such a special bond with Hong Kong because the city also takes a lot of pride in its food."
Best Of All, It's In Hong Kong
Chef Gaita's love for Hong Kong and how Asia's World City inspires her landed a spot in Hong Kong Tourism Board's (HKTB) new marketing campaign "Best of All, It's in Hong Kong," which was launched recently at Ascott BGC.
"We invited chef Margarita to be part of our campaign as her love for Hong Kong runs deep since her childhood days and we feel she truly represents the dynamic culinary scene," said Becky Ip, deputy executive director of the Hong Kong Tourism Board.
Through four distinct videos, viewers can see what Hong Kong has to offer through the eyes of locals, including three-star Michelin chef Umberto Bombana; fashion designer Anais Mak, pilot Michael Wong and his model wife Janet Ma, and movie star Sean Lau, who know the city best.
"These new TVCs will introduce viewers to all the wonderful things Hong Kong has to offer, like the beaches and nature and the great outdoors, which many of you aren't familiar with yet," Becky said. "We do have beautiful beaches in Hong Kong."
For her part, Gaita said, "I am equally honored to be part of HKTB's new campaign and to be able to marry two of my favorite things: Hong Kong and my passion for cooking."
A Taste Of Hong Kong
For the launch, chef Gaita served specially created dishes inspired by one of her favorite cities.
For starters, we enjoyed the delicate yet delicious Crab Trio Sformato salad, which took reference from her favorite Shanghainese hairy crab dish from Wu Kong's restaurant and The Chairman.
"There are many Shanghainese restaurants in Hong Kong that serve hairy crabs," noted Gaita. "I think that the fat of the male crab is one of the most exciting, delicious ingredients in the world. So by mid-September, my family actually plans a trip to Hong Kong because the season for Shanghainese hairy crab is very short. It actually coincides with the white truffle season in Italy."
Using some of the best crabs from the Philippines — blue crabs from Negros (Gaita's hometown), mud crabs from Quezon, and the beautiful taba ng talangka (the closest we could get to Shanghainese hairy crab) — she used the crab essence to make a flan that she served on a crab shell alongside fresh greens with black vinegar salad glaze topped with crabmeat.
"When I prepare anything or when I put a concept together, I like to highlight the best of the Philippines with the best of the world. For this event, the guests would savor the best of the Philippines and Hong Kong," Gaita said.
A Gaita feast is never complete without pasta. So the chef treated us to Handmade Egg Taglierini (Asian Bolognese) with minced pork and cured goose-liver sausage ragu and organic peanut.
"I got the cured goose-liver sausage from Yung Kee that I put in my luggage from my holiday trip to Hong Kong," Gaita revealed. "For this pasta dish, I've cut the tomato sauce a little bit and put some Asian condiments like oyster sauce and a little bit of plum sauce and peanut."
For the main entrees, we indulged in Spotted Philippine Garoupa in Cartoccio and Spiced US Angus Short Rib Adobo.
The lapu-lapu was served in a parchment box with black rice (from Cordillera) flavored with cured meats, preserved duck and a bit of smoked pork belly as well.
"The parchment box seals in the flavors, much in the same way you would seal in the flavors of a clay-pot rice," Gaita said. "This winter dish is my absolute favorite."
She revealed that the secret to a flavorful clay-pot rice is to slightly burn the rice at the bottom of the pot. "The tutong gives that smoky, winter flavor to the rest of the clay-pot dish," she said.
As for the adobo, the short ribs were braised with Chinese black vinegar and plum sauce. Chef Gaita also flavored it with Chinese five-spice, Davao chocolate and a little bit of wild cinnamon from Negros.
She capped the delicious feast with Salted Egg Panna Cotta and Red Bean Ensaimada, which were inspired by the salted-egg dishes, mango sago and almond milk Hong Kong nationals love.
"I hope you enjoy your meal and feel like you're transported to that familiar feeling of traveling to the bustling city with every bite."
* * *
For inquiries, visit discoverHongKong.com/best.