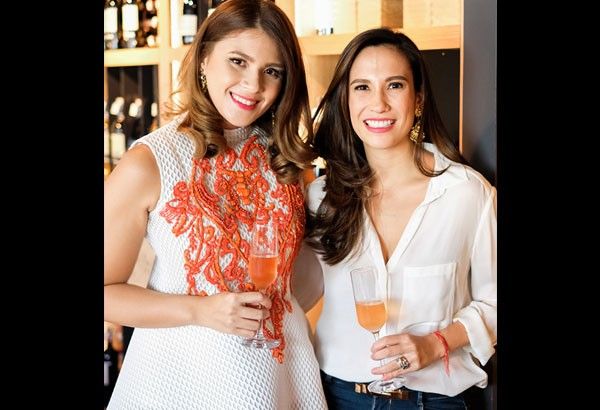 STAR Lifestyle columnist/TV host Stephanie Zubiri-Crespi (right) and writer/editor Juana Manahan-Yupangco tackle all things wine in their new blog Wine Lips.
Photo by ERNIE PENAREDONDO
The chic girls' guide to wine
For most women, wine is an intimidating — if intoxicating — subject. We like it well enough, and want to join our husbands in their appreciation of it, but don't know how to express our feelings beyond emoticons such as "like," "love," "dislike," "hate" and "wow!"
We want to be the perfect hostess and know which wines to serve our guests, but also don't want those wines to break the bank.
Or maybe we just want a bit of knowledge for ourselves: how to approach wine not (just) to get drunk, but with curiosity, intelligence, and a willingness to learn. After all, wine connotes class, right? And we all want to be perceived as classy and elegant.
Luckily for us, STAR Lifestyle columnist, food and wine expert Stephanie Zubiri-Crespi and editor and writer Juana Manahan-Yupangco have taken it upon themselves to represent the fairer sex, put up a blog called Wine Lips, and throw the cellar doors wide open.
"We feel in general the wine industry here is quite male, and there's nothing wrong with that," Stephanie says. "We thought it would be fun to do the feminine side and be unabashed about it, because there are a lot of women into wine now and learning about it, and when you do research locally, it's very academic or straightforward, so we just want it to be fun."
Juana adds, "Wine Lips is for people who don't normally drink wine but they like it, and I feel like we're the entry point into that. We'll hold your hand and it's not scary."
Over a delicious, boozy brunch at Txanton — an apt venue because it specializes in fine wines — the two ladies discussed their raison d'être: "It's really funny how this site came about," recalls Stephanie. "It's because we'd always have wine, and we'd share these funny stories or she'd message me and say, 'You know, Steph, I'm thinking of writing this wine blog.'"
We keep journals and blogs for every little thing we eat or purchase. Why not devote some online ink space to the subtle pleasures of wine?
"My husband, Rick, is a wine drinker, so I'd been keeping track of all the bottles that I drink," affirms Juana. "I always tell Steph, 'Once you finish a bottle of wine, that's it. It's done; it becomes expensive wee-wee. There's so much love, so much work put into a bottle of wine, so why not write about it? I would keep a journal and have notes when I taste, but I have no background in wine, I don't have the vocabulary. We opened a really expensive bottle together recently and I was like, 'Steph! This smells like (Pizza Hut) Super Supreme!"
Far from an off-the-wall comment, Steph welcomed this kind of subjective feedback: the more original, the better. "Cabernet sauvignon, if it's still a bit fresh, it's got green bell pepper, which Super Supreme has, so I said, 'Yes, your thoughts are valid!'"
Meanwhile, Stephanie, who's studied wine, is waiting for the results of her Wine and Spirit Education Trust (WSET) Level 3 exams, and often writes about the subject for the STAR, is fond of comparing vintages to people and characters. Pinot noir, for example, is like "that guy in college or high school that all the mommies and titas love: so guapo, so perfectly smart, buena familia, good on paper, and then he takes you out on a date and you're like, 'I want to love you, but it's not happening.' In general, I want someone to knock my socks off."
For Wine Lips, Steph has contributed not only her more classic articles from the STAR, there are also new stories, like about an infamous bottle of Jacob's Creek she paid an arm and a leg for in India, or Juana's charming reviews of a "Smurfy" Chateauneuf du Pape, and how she had to put on "something decent" to drink a $200 Caymus with her husband.
Steph notes the name of the blog came from "the wine lips we get when we drink red wine. It's just a really fun project."
Not only is the blog fun, with a wine quiz you can take at the outset, it's also feminine and relatable, with the needs of women in mind. "I have a lot of friends, housewives who throw parties, and they'll be like, 'I'm serving Pinoy food to my expat friends tonight but they drink wine. What'll I buy?'" Juana says. "Or 'I'm throwing a party for 40 people but I don't want expensive, and I don't want to be embarrassed. What's good?'"
So both women have kept lists over the years, and share them in Wine Lips' "Bang for Your Buck" section, featuring respectable bottles you can buy for P1,500 and below.
The blog isn't limited to wine. Like all connoisseurs of the finer things in life, Steph and Juana dip into other tipples like Champagne, whisky, and I'm sure more liquors will be forthcoming.
"Our husbands are convinced we're just doing this just so we can drink," laughs Stephanie. "And we're open to contributors. No bayad, just booze. We want it to eventually be a community."
Juana notes that the deeper she's gotten into wine, it's become, not just a fascinating but also a pricey hobby. "Steph told me, 'When you start buying more expensive bottles, you're dead. You're never going to go back. The P800, P900 wines that you liked before? Wala na iyan.' She was right."
And what do you do if, despite all your efforts, you somehow get ahold of a bad wine?
"Chill it till you kill it!" the girls chorus.
* * *
For honest reviews, real experiences and personal stories about wine, visit Wine-lips.com.
* * *
Follow me on Facebook (Therese Jamora-Garceau), Twitter @tjgarceau and Instagram @tj108_drummergirl.