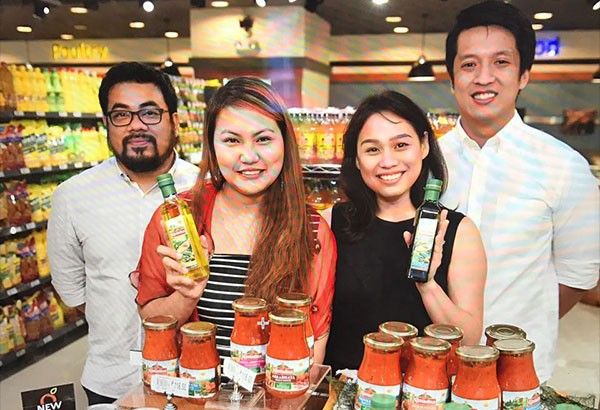 At the Contadina event are Alain Atanacio, Del Monte group customer development manager; Mylene Adorna, Robinsons Selection McKinley store manager; Justine Ferrer, Del Monte Philippines group product manager Mark Tan, Del Monte customer development manager and Ysabelle Canon, Del Monte IMC supervisor
Channeling Nigella: Linguine with shrimp, spinach and lemon
I rarely go to press events because, a) I'm a snail who likes staying put in my shell, and b) I'm really busy making my own stuff for my food business. But when Contadina invited me to their supermarket raid event, I couldn't resist.
For those unfamiliar with the brand, Contadina is a line of premium products known for its authentic Mediterranean heritage. Contadina, which incidentally means "woman of the fields" in Italian, takes pride in their painstakingly sourced ingredients: olive oils made with handpicked Hojiblanca olives from Andalucia, canned tomatoes made with Roma tomatoes from California, pasta made with 100-percent-Canadian durum wheat semolina known for its fine texture and creamy color, and pasta sauces using authentic Grana Padano cheese and Italian herbs.
Hey, if they're good enough for Contadina endorser and idol/girl crush Nigella Lawson, they're good enough for me.
The rules were simple. Buy ingredients to make dinner that night. Fortunately for me, I had a lot of leftover produce in my fridge, so after a little splurge on my protein of choice (spoiler: it was shrimp!) I spent the rest of my stash stocking up on their lovely olive oils, pastas and tomatoes.
As I stared at my fridge and tried to decide what to make, some friends called to say they were in the neighborhood and to see if I'd like to come out and play. I asked myself WWND (What Would Nigella Do?) and impulsively invited them over for drinks and a casual dinner.
I gasped as I stared at my Contadina stash. What sorcery was this? Were the Contadina products actually helping me channel my inner Nigella? She was always inviting people over after work, claiming a passion for food and excellent ingredients were all you needed to pull off a great meal.
Could I possibly be transforming into — wait for it — PINAYgella? Could I be the type of person to suddenly pull off impromptu dinner parties in an hour? What was next? My skin turning to poreless alabaster? A long, lustrous cascade of ebony hair tumbling around my shoulders? My eyes becoming impossibly large and bottomless pools of dark chocolate?
Okay, maybe not. But I did manage to pull off a great pasta dish in less than an hour that made them and me very happy. Besides, who knows? It could happen. Just think: I haven't even gotten to the Contadina tomatoes yet.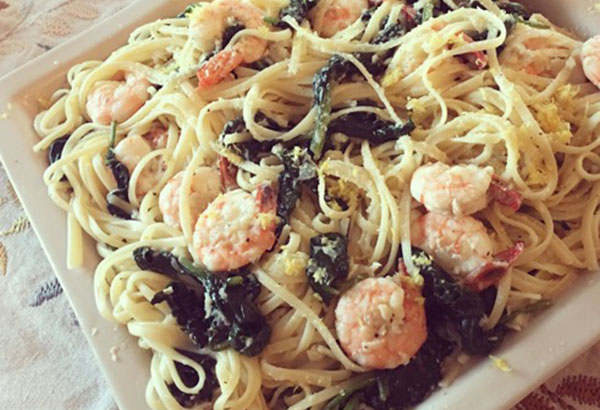 Recipe File: Linguine With Shrimp, Spinach And Lemon
(Serves 4)
Ingredients:
8 ounces Contadina linguine
3 tablespoons Contadina olive oil
Juice of 1 whole lemon
1/2 cup minced onion
1 tablespoon minced garlic
500 grams large shrimp, peeled and deveined
250 grams spinach leaves
3 tablespoons Contadina extra virgin olive oil, or to taste
Freshly grated Parmesan cheese to taste (Optional. Nigella would never put cheese on a seafood pasta, but we just won't tell her.)
Zest of 1 whole lemon (To zest a lemon, grate the lemon peel, making sure not to include the pith or bitter white part)
Salt and freshly cracked pepper to taste
1. Boil water for the pasta. When the water reaches a rolling boil, add salt. Your pasta water should be as salty as the sea. Add linguine and cover, stirring occasionally to keep your pasta from sticking.
2. Add olive oil to a large skillet and heat on medium-high. Add onions and cook until lightly browned (around 5-7 minutes).
3. Add garlic and cook for another minute or until fragrant.
4. Add shrimp and cook until just pink on both sides.
5. Add spinach and lemon and cook until wilted.
6. Drain pasta and toss with shrimp and spinach mixture along with 1/2 cup of the pasta water mixture.
7. Remove from heat and toss with 3 tablespoons of extra virgin olive oil.
8. Sprinkle with lemon zest. Add Parmesan cheese (if using), salt and pepper to taste.captions: