Truffle Mushroom Cannelloni of Gourmet Corner by Bettina Osmeña
Party platters by Bettina Osmeña, Tippi & Triccie Tambunting and more
Nowadays people love to entertain and have gatherings at home and the best, worry-free option is to order party platters. Party platters are not just for the Christmas season anymore but have become part of our lifestyle. I have featured several in my blog (http://heart-2-heart-online.com). My favorite ones are the small home businesses that are not commercialized and made with love.
I put together my favorite homemakers and caterers (in no particular order). Since each of us has our own personal tastes and preferences, I included the bestsellers that are already "no-brainers" and that the majority of your guests will like. I hope you will enjoy them, too. Paella seems to be a very popular dish, so you will see it as a top seller in more than one provider.
I used to dine at Tita Bettina Osmeña's house and every time I would go, I looked forward to trying her homemade dishes. She is also very generous in sharing her recipes. I am so glad she decided to offer them for more people to enjoy! Other popular dishes are the lamb curry, beef belly and lechon belly.
Contact mobile 0998-569-6849.
* * *
Pria Solon Chiongbian has been very busy ever since she started Pria's Kitchen. Her party platters are so popular, not only because they taste good but they are good value for money. She is a family favorite. We love her Italian sausage paella, braised pot roast with gravy and mash (make sure to put a lot of gravy), roast herbed pork, Pria's Salad, roast turkey, 50-clove chicken, garlic cheesy prawns and cream salmon.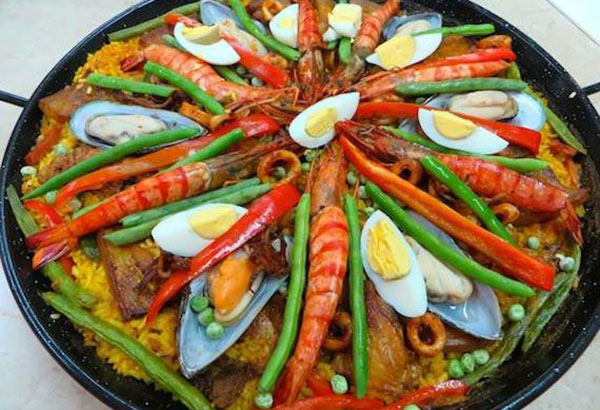 Paella Valenciana of Pria's Kitchen ala Carte on Demand by Pria Solon Chiongbian
Contact 0936-921-9758, landline 817-9271 or 889-9265.
* * *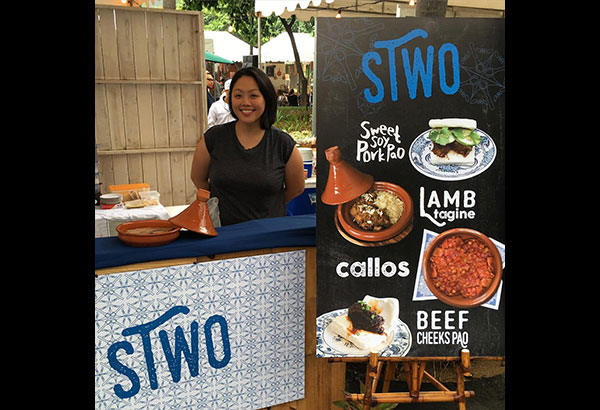 Lamb Tagine of sTwo by Tippi
sTwo was started in December 2015 by chef Tippi Tambunting and sister Triccie. All the stews of sTwo are good, but the most popular is the Lamb Tagine, which is also my favorite. The beauty of a stew is that it tastes better as it gets older, so it is easy to just heat when it gets to your home and if there are any leftovers, it will still taste good days after. Other offerings are Sweet Soy Pork and callos.
Contact mobile 0977-722-8224.
* * *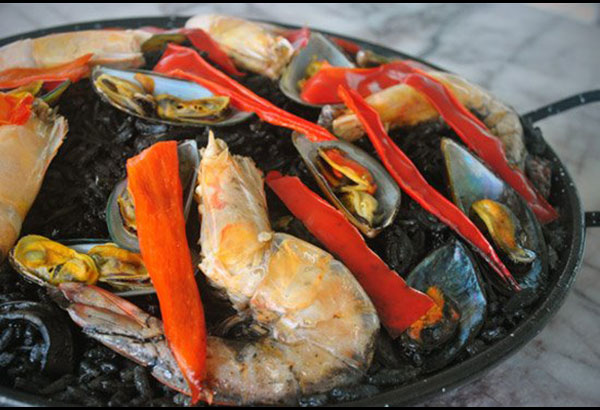 Paella Negra of Margarita's Paella by Margarita " Margie" Dizon Sy
When asked what her bestseller is, Margarita " Margie" Dizon Sy of Margarita's Paella will say, "Everything!" She is the funniest. You will catch her in Salcedo Market once in a while when she is manning her booth. One of the first things she told me when I met her was that her Paella Negra is made with real black squid ink imported from Spain.
Contact her through email: mds1@pacific.net.ph or mobile 0918-945-8845 and landline 892-3105 or 840-5240.
* * *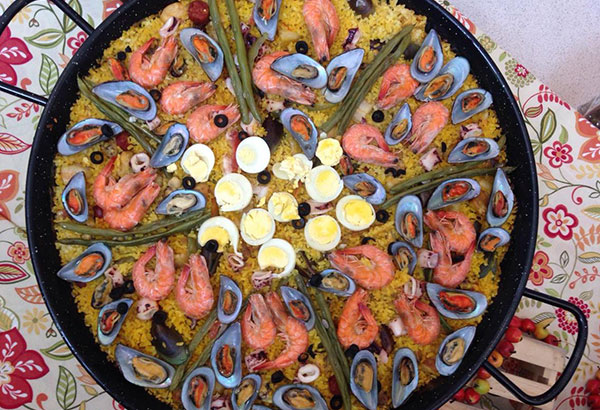 Paella Valenciana of Rosita's Kitchen by Ning Ning Tordesillas
Ning Ning Tordesillas used to have a restaurant, Bistro 110, for 12 years but it closed five years ago. Now she's back with party platters since friends have been looking for her food. She started last year and her 16-year-old son, Jose, helps her in the business.
Contact mobile 0917-507-6330 or 0917-501-0035 or email rositaskitchenph@gmail.com.
* * *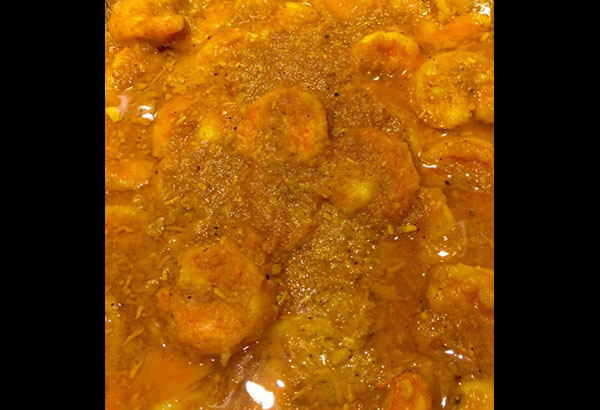 Hiplog (hipon + itlog or shrimp with salted egg sauce) of Pepita's Kitchen by Dedet Dela Fuente-Santos
Aside from her bestselling lechons with rice stuffing, Dedet Dela Fuente-Santos of Pepita's Kitchen also has party platters. Long before the salted-egg craze, Dedet was offering her Hiplog (a combination of hipon [shrimp] and itlog [egg]), which was part of her degustation and party-platter list. Recently, Adam Richman of Man vs. Food came to the Philippines and loved this dish. Adam told Dedet to enter her Hiplog recipe in a cooking contest and for sure it will win.
Contact landline 425-4605, mobile 0917-866-0662 or email pepitaskitchen@gmail.com.
* * *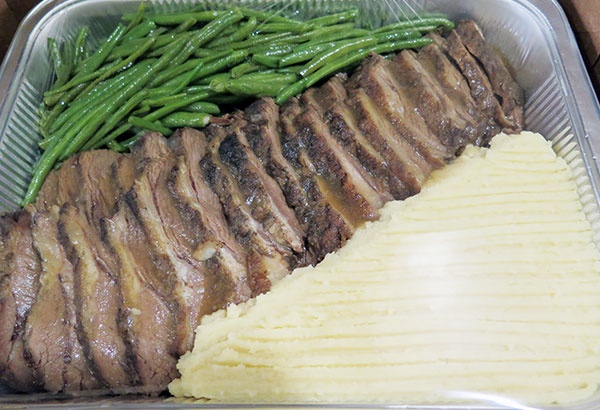 Tapadera by Vargas Kitchen
Vargas Kitchen not only makes delicious pastries like butter cake, Brazo de Mercedes and Ice Box cake, they also make delicious party platters. Another of our favorites is the fettuccine with bacon and the lengua.
Contact the landline: 810-7529 or mobile: 0917-811-0712.
Moroccan Angus Meatballs of The Cookery by Michelle Dinglasan Tomacruz
For authentic Moroccan food and many other dishes, The Cookery by Michelle Dinglasan Tomacruz is one of my best finds. We recently had a lunch of six of her dishes and it came out to around P8,000 for everything. That is great value for money and we enjoyed every dish. Michelle is such a wonderful person and I instantly loved her as soon as I met her. She is not only a chef but a movie producer too! Together with Rissa Oreta (Skinny People) she produced Apocalypse Child, which won the QCinema awards for Best Director, Best Picture, Best Editing, and Best Supporting Actress. Michelle has been doing this since 1996. She worked at Citibank for three years and decided to pursue her passion and went to Peter Kump's New York Cooking School (now called the Institute of Culinary Education) "We come from a family of foodies and cooks, so some recipes are from my mom and her family, a few from my brother, who's a chef in the States, and most of the recipes are from me, from cooking school and my travels abroad. I take courses everywhere I go — Bangkok, Malaysia , Indonesia, Spain — and then a few years ago a real kitchen in Morocco.
Call and ask for her pricelist — there's so many to choose from. Contact landline 631-0541, 635-0351 or mobile 0917-812-2354.
* * *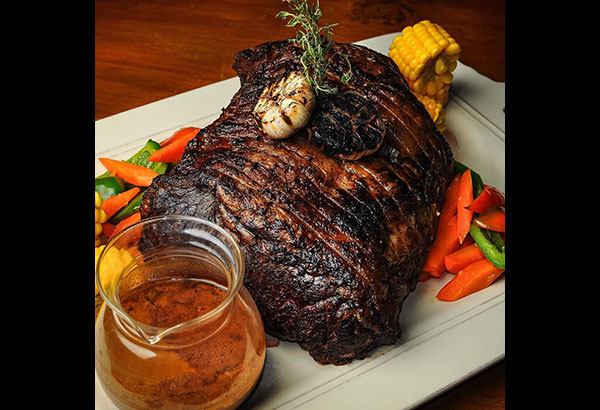 Roast Prime Rib Eye by Abuelita's Kitchen
Abuelita's Kitchen offers favorite family dishes from the recipes of Eduarda Cuyugan Lacson, whom her grandchildren called "Abuelita." Her food is still being celebrated by her granddaughter Marianne Campillo-Legasto and chef Marco Legasto.
Slow-roasted US Angus Beef is marinated in wine, spices and their mixture of herbs seared in a woodchip grill and finished off in the oven and served on a platter with your choice of sauces. It serves 10 to 12 for P 6,000. You even get to keep the platter it comes in. Make sure to order the bone marrow with mushroom rice.
Contact 0916-475-3547 or email abuelitamanila@gmail.com.
* * *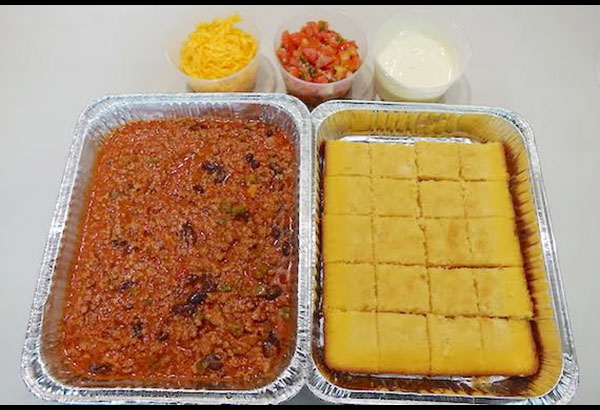 Chili Con Carne of The Bandana Baker by Victoria Carlos
Bandana Baker Victoria Carlos really bakes but she has a chili con carne that is so delicious. And because she is a baker, the corn bread that comes with the chili con carne is amazing. While you are ordering the chili, order baked goodies like Pavlovas and Cathedral Window for dessert .
Contact mobile 0917-810-1580.
* * *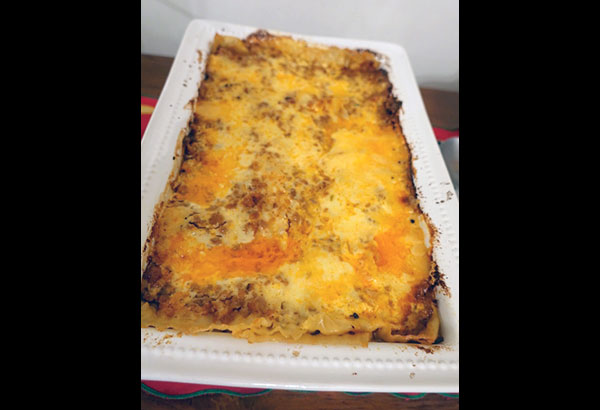 Creamy and so yummy: Lasagna by Anto
There are many lasagnas out there but I love Anto Moreno's lasagna because it's creamy and so yummy and it is homemade by Anto, who's a dear friend. She only sells one thing and this is it. I am convincing her to offer her beef with olives.
Contact Anto Moreno at her Valenzuela landline: 218-3814 or mobile 0905-321-4041.
* * *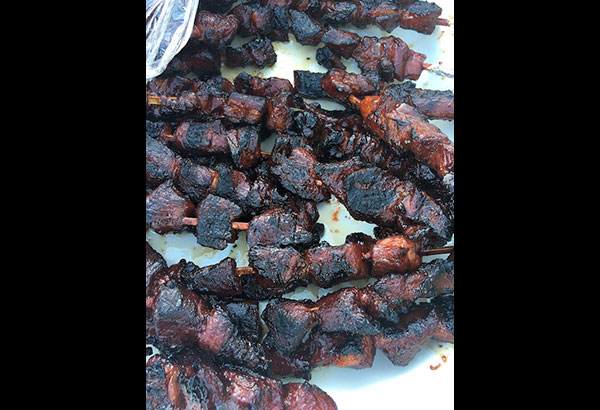 Chiggy's Original BBQ by Chukri Prieto
Chiggy's Original BBQ is the best pork BBQ ever! Sweet, sticky, fatty and yummy! Chiggy's is owned by Chukri Prieto, who is the president and managing director of Shakey's, Racks, Tenya and Dunkin Donuts. They come frozen and packed so you can just cook them when you are ready to eat them. They deliver for a minimum.
Contact Arlene at landline 838-3234 or 519-9301.
* * *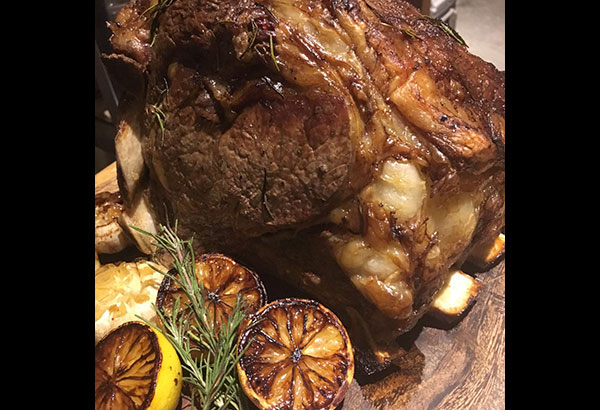 Prime Rib Roast of nawwTy's Kitchen by Trish Panlilio
NawwTy's Kitchen's sexy chef, Trish Panlilio, cooks many delicious dishes. She not only has party platters but can cater as well. She has also been very busy the past year because she started the Gourmand Market, which has become a very popular weekend food market at BGC.
Contact mobile 0918-936-9854, 0920-907-9122 or email nawwtyskitchen@gmail.com.
* * *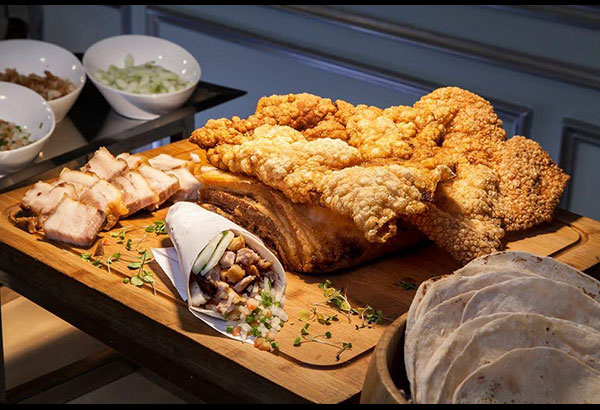 The Slow Roast Pork with Crackling Skin of Gourmet Garage by Chef Booj
Gourmet Garage is my most favorite, not only because it is owned by my mom, but because chef Booj is really amazing. He can make and offer a wide variety of dishes and they are very good. When I first met chef Booj and he was partners with the late chef Ed Quimson, they were already making crispy pork dishes that were always very popular. And to this day, chef Booj continues to innovate variations of this dish and it is always a favorite. He has many other good dishes, whether it is in his catering menu or party platter menu. I also think the Baked Salmon with Garlic Cheese Aioli is a sure hit if you serve it in your meals.
Contact Corie L. Rivera via email: corie@gourmetgarageph.com, mobile 0918-495-2999 or landline 551-6005.
* * *
For more, visit http://heart-2-heart-online.com.