Dangerously delicious at the World Street Food Congress
Just how successful was the World Street Food Congress in the Philippines?
At half past six on the first day of the Congress, the organizers had to temporarily stop people from entering the venue because the food area had reached full capacity. The queue that formed outside the Congress stretched out over three blocks.
And, for filling our bellies with satay beehon from Singapore to martabak from Indonesia to assam laksa from Malaysia and to (of course) truffled lechon from the Philippines, our taste buds have to thank the organizer of the World Street Food Congress, photojournalist, entrepreneur and street-food champion KF Seetoh. Hailed by CNN as the "guru of grub," Seetoh is the founder of Makansutra, a company that celebrates and promotes food culture. Aside from Makansutra street food market in Gluttons Bay, Seetoh is also helping curate purveyors at the upcoming Bourdain market (yes, that Bourdain) in New York City. Seetoh shared me with me his perspective on the evolution of street food, his candid thoughts on Filipino street-food cuisine and his suggestions on how Pinoy food can "level up" to a global culinary stage.
PHILIPPINE STAR: Seetoh, is there a secret origin for how street foods developed around the world? And just what makes street food so deliciously dangerous?
KF SEETOH: Street food came about because people had no choice. This was about "desperation food." For the Chinese, it is demeaning to sell food on the streets. Food is so sacred it is to be enjoyed as it bonds the family in the kitchen. Then (imagine) that you have to hawk your family heritage recipe — that one flavor and culture that brings the family together — on the street, it's like selling yourself. But many years ago, people had no choice. (For example) Chinese migrants that came to Singapore for work realized that at the end of the day, nobody was selling them food. So some of those male migrant workers back in the day told themselves, "This is an opportunity!" Some sold their heritage dishes while others made creative recipes. This eventually evolved over the years so that in modern-day Singapore we have this street food culture that is quite similar in origin to other counties that also boast a (thriving) street food culture as well.
We've had speakers in the congress talk about street food as "food of the working class," while others talked about it as "comfort food" or "heritage food" or "soul food." What exactly do we mean when we say "street food"?
All those terms that are used to express street food are all true. For example, New York did not have a rich street food culture for many, many years. But the food truck culture in New York exploded after the (economic) meltdown of 2008 because people had to go out to the streets and sell food. So for New Yorkers, you can't quite use the term "heritage food" for "street food." And, if you think about it, just what does "heritage" or "authentic" mean? It is an expression of your culinary culture. There are no real rules to "authenticity." In countries like India and Indonesia, they are rich with heritage food because it's comfort food. There's no distinction between street food and restaurant food because the restaurant sells street food too. You can have a nice Dosa Masala (a fermented crepe made from rice batter and black lentils that is popular in India and in other countries like Sri Lanka, Malaysia and Singapore), because it is good heritage food.
With an appreciation of the encompassing nature of street food, what are your thoughts about Filipino food? Especially since you've sampled the gamut of our cuisine, from street food vendors to Jollijeeps to food markets to fine dining restaurants.
I've got good friends from the Philippines who take me around (to try out the food) and I think (they) are to shy to express what true Filipino food culture is. (For me) there's no street food culture except in malls where there are food stalls that sell "neither here nor there" kind of food. But if you ask the Chinese people, "What is Chinese food?" they'll say Chinese food is a diaspora of flavors from Northern to Southern China, and there is even "foreign" Chinese food! While Filipino food has had influences from Spain, China, America and other parts of the world, I don't think (Filipino cuisine) has taken full advantage of this culinary gift to (further) evolve (the cuisine). (If you look at Singaporean cuisine), it melded together flavors (from different cultural influences) about 40 to 50 years ago to give us iconic Singapore flavors that are neither Malay, Chinese, Indian, Peranakan (the term used for the descendants of the 15th- to 17th-century Chinese immigrants to Malaysia and Singapore), English or Portuguese (with all these ethnicities being the migrant forefathers of Singapore). Take the Indian dish in Singapore called "Rojak salad" (assorted fritters in a pink sweet, spicy and savory potato sauce), you cant find that (in India) or anywhere around the world. It was (born from) the ingenuity of the locals, (where the dish) came from flavors they recognized from other cultures to create a (uniquely Singaporean dish). Although our (Singaporean) dishes might not be authentic to India or to China, they are authentic to Singapore.
Given your extensive knowledge of world street cuisine, how unique is Filipino street food in the global food scene?
My graphic interpretation of Filipino (street) food is something they roast or grill on the street, like lechon or pulutan. Although the food is cheap, friendly and everybody can cook it, I think that (at this particular time) there is an opportunity to evolve (the cuisine). The food is delicious, but (it needs to develop more) character. It is time to move away from adobos as there are expressions of adobos in Indonesia, China and Spain. Your lechon is good, damn good. But there are (versions of lechon) all around the world. Having said that, this is the best time to re-express the Filipino soul of flavors.
We've heard food critics like Andrew Zimmern (host of Travel Channel's Bizarre Foods show) proclaim that Filipino food is the next big thing. Do you agree or not with that statement? And what do you think we need to do to propel Filipino food to the global stage?
Physically, I don't think the Philippines (is quite there yet). But you know why I feel it has (the opportunity to be the next big thing)? It's because of the people who are reinventing Filipino food. The food itself is all there, but ("the stakeholders" have to do something about evolving the food). If suddenly (the chefs) are empowered, it will revolutionize Filipino flavor. (If you want to take Filipino food to the international stage), you've got to flash your new stars! Who are they? There are chefs like JP Anglo (of Sarsa Restaurant) and there are bloggers like Anton Diaz who are creating platforms for chefs like JP (to be showcased). That will excite more (chefs) to enter the Filipino food scene.
This is the first time that you're holding the World Street Food Congress outside of Singapore. Why did you think Manila would be a good place to hold the congress?
Firstly, it's a hundred million people who love food! Filipinos not only travel around the world but they are also all over the world as well. They are familiar with food. So if you introduce the (world street food) culture and (the idea of re-expressing/evolving evolving your local street food), they will love it!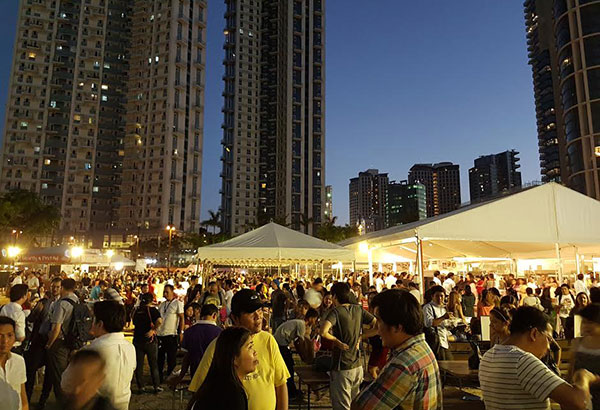 Just how successful was the World Street Food Congress in the Philippines? At half past six on the first day of the Congress, the organizers had to temporarily stop people from entering the venue because the food area had reached full capacity. The queue that formed outside the Congress stretched out over three blocks.
* * *
For comments or suggestions, please visit www.rjledesma.com or email ledesma.rj@gmail.com Follow @rjled on Twitter and @rjled610 on Instagram.