How boys' little game became a booming Kapitolyo burger joint
MANILA, Philippines — Burgers have long captured the Filipino palate, but how often do we actually explore and try out new flavors of the all-American comfort food?
Rather than dining in the same burger house week after week, let's do a favor to ourselves this 2016 by eating the kind of burgers we have never tried before. And we can start the flavor search with Charlie's Grind & Grill's new burgers.
With Charlie's Grind & Grill's Angus burger, the little burger place that started behind a gas station became one of the oft-visited dining stops.
Since being established in Kapitolyo on 2008, the burger place has been known for its handcrafted burgers served in generous sizes and appeal to Filipino taste buds. Jhun Pandile, who has taken over the business since 2013, recalls during an interview with Philstar.com that it was Chef Rob Goco who suggested putting up a burger joint.
"It all started as a game, katuwaan lang ng mga boys. Like they have to have a place where they can eat while our cars are being washed. Actually dapat nga 'yan is local cuisine, La Paz Bachoy ganyan, barbecue, but it's very common na. So, Chef Rob Goco said let's do a burger joint instead."
Seven years after opening a gastronomic avenue in Kapitolyo, Charlie's Grind and Grill has been continuing to cater to the ever burger-loving palate of the Filipinos, by keeping the grill alive.
Thanks to Chef Grace Go, something new and special have been to its ever-growing selection of burgers.
When Chef Grace Go came on board, she had a vision of adding more that would make the burger more gourmet. So, for this year, flavors are added to its generous 1/3 pound patties, and the results would give other burger joints a run for their money.
"Since there is already an existing menu when I came, what we did lang is we added Chicken Charlie, the thigh fillet. Then we took out the Angus cheese steak, and we made it Wagyu naman, because not everyone is doing Wagyu burgers. We just want to be something different, something more gourmet," Chef Go explained.
Charlie's new Foie Gras Burger brings the irresistible taste of fattened duck liver into the fore, with a generous slather of truffle mayo, a sliver of Gouda cheese, and toppings of caramelized onions, arugula, and tomato on a buttery brioche bun. A bite off this luxurious burger surely gives one a taste of pure burger bliss.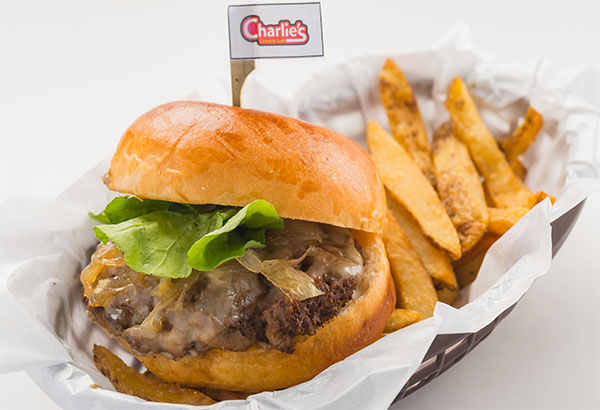 Charlie's new Foie Gras Burger
Remixing its classic cheeseburger with, not one, but five supreme quality cheeses, the new Charlie's Grind & Grill Five Cheese Burger brings a healthy dose of mozzarella, gouda, cheddar, blue cheese and its classic cheese sauce as topping for its 1/3 pound Angus or Wagyu beef patties meant to sate any cheese addiction.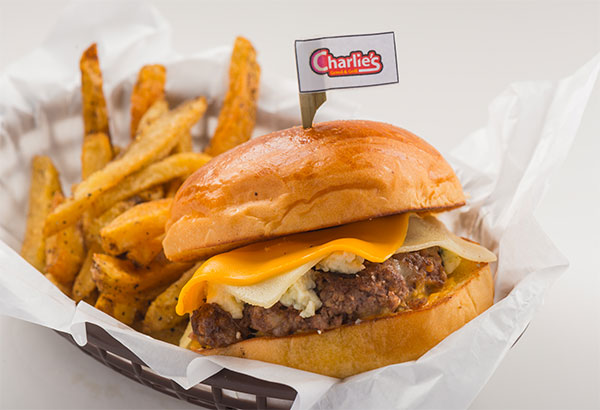 Charlie's Grind & Grill Five Cheese Burger
And finally, understanding that sometimes the best burgers can the grubby-looking ones, Charlie's introduces its version of the Sloppy Burger. Adding a bit of spice and a lot more zest to its Angus or Wagyu beef patties are dots of jalapeno and onions, a hearty slice of cheddar cheese, a dose of tangy sour cream, and a runny sunny-side egg to seal the deal.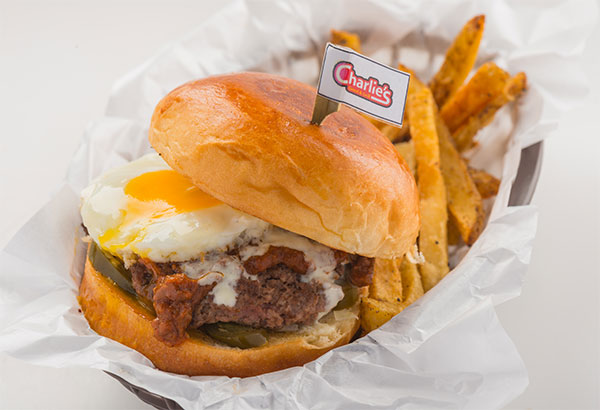 Charlie's Grind & Grill Sloppy Burger
Charlie's Grind & Grill reminds its patrons of how it still is and remains to be a pioneer in this all-American comfort food served the Filipino way.