Celebrity chefs explore the flavors of Indonesia on AFC?
If your vocabulary of Indonesian food is limited to nasi goreng (fried rice), beef rendang (slow-cooked beef in a rich lemongrass and coconut milk sauce), gado gado (vegetable salad with sweet peanut dressing) and babi guling (roast pork), then you're missing out on a lot.
It's time to explore the "land of varied flavors" further to keep your taste buds on fire.?Skip the tourist traps in Bali and Jakarta. Instead, dive into some of the most remote regions of Indonesia to discover the intricacies of local food.
No travel documents are required as the Asian Food Channel (AFC) grants you an all-access pass to Wonderful Indonesia Flavours, a food and travel show that takes viewers on an immersive food tour across Indonesia.
Let chefs Tobie Puttock, Darren Robertson and Rinrin Marinka show you around.?These celebrity chefs went on a culinary quest across eight incredible destinations —Tomohon, Solo, Makassar, Batam, Malang, Bandung, Banyuwangi and Raja Ampat — to discover for themselves and share with us just how vast and diverse Indonesian culture and cuisine really is... amid a 6.8-magnitude earthquake.??
It took chefs Rinrin, Tobie and the crew several hours of road and boat travel to reach Raja Ampat, a beautiful island paradise located off the northwest tip of Bird's Head Peninsula on the island of New Guinea in Indonesia.?
"It was quite a long day, but the sublime scenery was enough to soothe our tired muscles," enthused chef?Rinrin in a one-on-one interview at Bebek Tepi Sawah Restaurant at Chijmes, Singapore, where the launch of the re-run of Wonderful Indonesia Flavours was held. Her co-host, chef Tobie Puttock, joined her. Unfortunately, chef Darren Robertson couldn't make it at the launch because his wife was about to give birth in Australia.
"No wonder local and international divers love Raja Ampat," chef Rinrin added.
Tired and exhausted, the entire crew went to bed early. But they were jolted from their sleep by a strong earthquake.?
"We got scared because we were in the middle of an island," recalled chef Rinrin. "We would all be washed out if there was a tsunami. In fact, a crew member was injured."??
But, as they say, the show must go on. The following day, the team began their culinary journey.??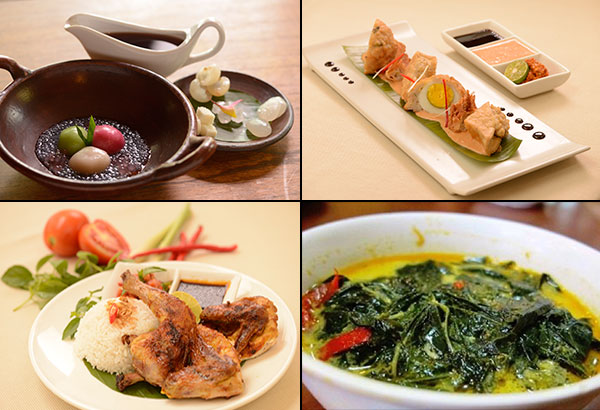 A taste of Indonesia: (Clockwise, from above) Wedang Ronde, Batagor, Gulai Singkong and Ayam Bumbu Gurih
"Raja Ampat is raw and really untouched," shared chef Tobie of Australia. It has such a natural beauty. It boasts amazing seafood. We tried many food items there that I hadn't tried before, like the curry worms."?
"Worm curry is probably one of the most exotic dishes I've tried," added chef Rinrin. "There's some chewiness to it. It's an acquired taste."
While both aren't fond of worms, chefs Tobie and Rinrin swear by the deliciousness of kuah kuning, a spicy fish curry.?"It's so good I've made my own version of this dish probably eight times since I went back to Australia," noted chef Tobie.??
Chefs Tobie, Rinrin and Darren go on to explore the organic farms and traditional markets in Tomohon through the exquisite simplicity of Minahasa cuisine, to immersing themselves with the Osing people in Banyuwangi, and unraveling the intricacies of Solo's Dutch and Javanese-inspired culture.??
Each episode of Wonderful Indonesian Flavours ends with a delicious cooking demonstration set against the mountainous backdrop of Indonesia, featuring dishes that were inspired by the hosts' travels.??
During the show's launch at Bebek Tepi Sawah, a popular Indonesian restaurant in Singapore, chefs Tobie and Rinrin recreated some of the dishes featured in the show for our dining pleasure. For starters, we had batagcor, deep-fried tofu stuffed with fish fillet and chicken eggs. This Indonesian street food is best enjoyed with peanut sauce and lime.
It was followed by Batam fish soup, flavorful snapper fillets with an aromatic broth, to cleanse the palate.??
The ayam bumbu gurih, grilled chicken marinated with a hint of lemongrass, looked as simple as chicken inasal, but is packed with so much flavor, probably because it was prepared by chef Tobie with so much love and passion, not to mention the secret spices he rubbed into it. It went well with steamed rice, spicy white fish in turmeric gravy, the fragrant bamboo-steamed chicken and cassava leaves in coconut milk.??
For dessert, chefs Rinrin and Tobie prepared wedang ronde, Indonesian glutinous rice balls in ginger syrup, right in front of us.?"Indonesian dishes have so many levels of flavor," shared chef Tobie. "There might be two to three different flavor combinations mixed to get to somewhere. And quite often, a dish that I would think was easy to replicate actually had a lot of steps involved. Well, it all boils down to the incredible use of local ingredients."??
Get to know the commander in chefs
Chef Rinrin Marinka is an Indonesian chef who is passionate about sharing Indonesian food, culture and arts with the world. She fell in love with cooking at a young age. "I was only seven years old when I made my first bolu kukus, or Indonesian steam cake," she shared.??
After putting her studies in visual communications on hold, she moved to study French Cuisine and Patisserie at the renowned Le Cordon Bleu, Sydney.?After graduating, she returned to Indonesia where she freelanced as a cooking instructor and also appeared in numerous commercials and cooking shows on local Indonesian channels. Her biggest break on TV was being one of the judges of Iron Chef Indonesia.??
Chef Tobie, on the other hand, was an accidental chef. "To be honest, snowboarding inspired me to be a chef," he admitted. "I needed money to go snowboarding."
When Tobie told his dad that he wanted to be a professional snowboarder someday, the latter advised him to get a job, save up and move somewhere with snow for six months.??"We live in Australia, not in the Swiss Alps. And so I went to a snowboard shop to apply for a job. But there was no opening. And then a guy there asked me if I wanted to work in the kitchen instead. This was way before cooking was cool."??
Tobie began his culinary career working in Melbourne's Caffe e Cucina before traveling to Lake Como in Italy to work at Hotel Florence. After many years of perfecting the Italian language and his culinary skills, Tobie found himself on English shores, where he began working at the world-famous River Cafe. It was here he worked with and became good friends with celebrity chef Jamie Oliver.??
Just recently, Tobie has taken a break from the demands of restaurant life to focus on writing for Australian titles such as Good Taste magazine, Delicious and Sunday Life, and, yes, snowboarding.??
Catch chefs Rinrin, Tobie and Darren as they go on an immersive food tour across Indonesia showcasing the unique regional variations of cooking styles, dishes and traditions.
Wonderful Indonesian Flavours is sponsored by Wonderful Indonesia.??
* * *?
Presented by the Asian Food Channel and Travel Channel, Wonderful Indonesian Flavours will air in Manila every Tuesday at 11 a.m. on AFC starting Jan. 7, 2016.