5 hassle-free, healthy recipes for busy mornings
(Philstar.com) - November 22, 2015 - 9:32pm
MANILA, Philippines - Breakfast is important, yet it is a meal that is often overlooked, especially by those who are always in a rush to attend to their daily tasks.
Working individuals are always pressed for time. Thus, preparing a nutritious breakfast is often a hurried affair. Since we spend the entire day hustling from place to place, most of us prefer to get more sleep than get up early to prepare and eat our first meal.
In an initiative to encourage a good breakfast habit and make the first meal of the day exciting, below are some easy-to-cook meals for people who are always on the go.
Smoked Salmon and Avocado Toast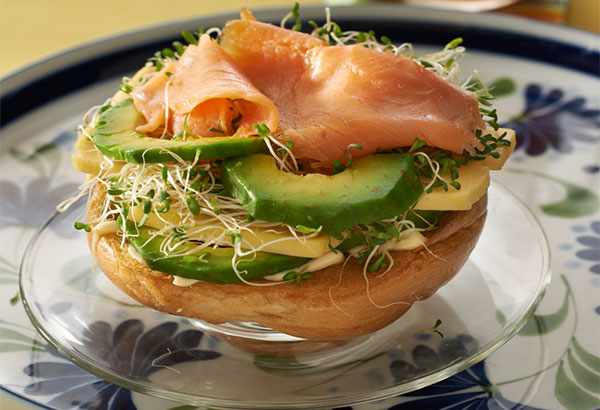 Smoked Salmon and Avocado Toast by Chef Tess Sutilo
Ingredients:
1/4 cup mayonnaise
1 ripe avocado, sliced
cheddar cheese slices
1/4 kg smoked salmon
sliced gherkins or cucumber
alfalfa sprouts

Procedure:
1. Spread toast with mayonnaise. Top with avocado then cheddar cheese.
2. Layer with smoked salmon and gherkins. Put some alfalfa sprouts on top.
Tropical Fruit Soup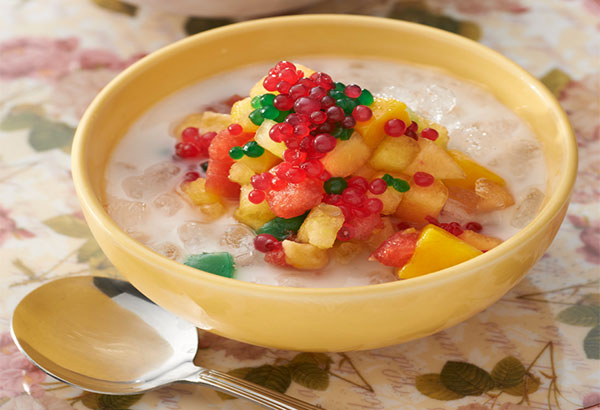 Tropical Fruit Soup by Chef Tess Sutilo
Ingredients:
1 cup seedless watermelon, chopped
1 mango, chopped
1/2 cup chopped melon
1 kiwi, cubed
1 banana lakatan, chopped
1/2 cup small colorful sago
1/2 cup green nata de coco
1/4-1/2 cup fresh milk
1-2 cups shaved ice
Preparations:
1. Mix all fruits, sago and nata de coco in a bowl. Drizzle with fresh milk on top.
2. Add shaved ice and serve immediately.
Nutty Curried Salad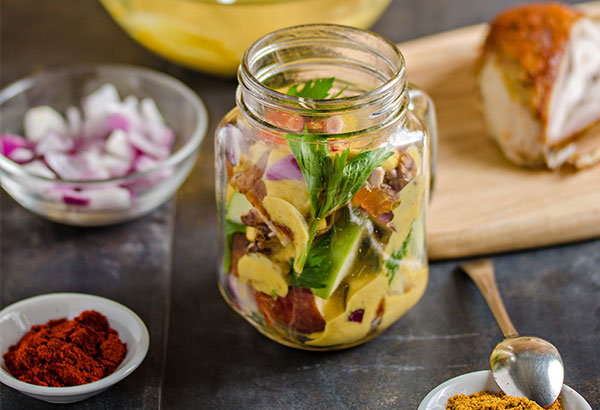 Nutty Curried Salad by Chef Tess Sutilo
Ingredients:
1 125g Yogurt
2 tsp curry powder (add more or less depending on taste)
a pinch of magic sarap, sugar and pepper
1/4 cup toasted walnut, chopped
1 cup cubed roast chicken breast
1/4 cup chopped celery
1 apple, cubed
1 red onion, chopped
6 pieces dried fruit (raisin, apricot, berries), chopped
Preparations:
1. In a bowl, mix yogurt and curry powder. Season with magic sarap, sugar and pepper. Set aside.
2. Combine walnut, chicken, celery, apple, onion and dried fruit in a separate bowl. Toss together prepared yogurt-curry dressing with the salad ingredients. Chill before serving.
Cream Cheese and Dried Fruit Squares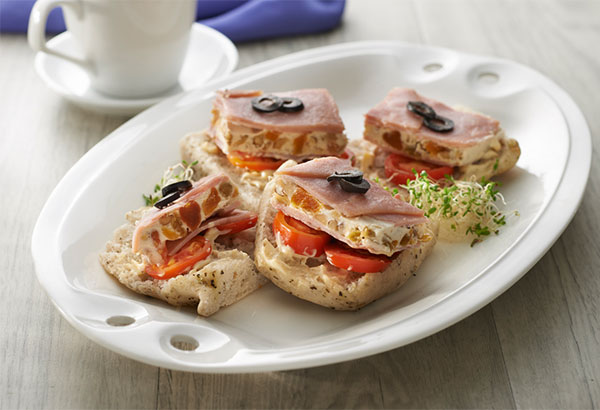 Cream Cheese and Dried Fruits Squares by Chef Tess Sutilo
Ingredients:
1/2 cup cream cheese
1/2 cup All Purpose Cream
1 tbsp clear gelatin bloomed in
1/4 cup of water
1/4 cup dried apricot
1/4 cup raisins hydrated in water and drained
1/4 cup coarsely chopped walnuts
1 tsp magic sarap, sugar to taste
4-6pieces cooked ham crusty bread slices
Preparations:
1. Mix cream cheese All Purpose Cream and gelatin in a blender jar.
2. Process in the blender for 1 minute to combine. Stir in dried fruits and nuts.
3. Season with magic sarap and sugar. Set aside.
4. Prepare the ham by lining a square pan with cover and aluminum foil with cooked ham.
5. Spread ham with prepared cheese-cream mixture. Top with another piece of ham. Cover pan with foil and keep in the freezer for 2 hours.
6. When about to use, remove from the freezer and thaw for at least 30 minutes. Slice into squares and place on top of toast.
Chicken Apple Arugula Salad with Goat Cheese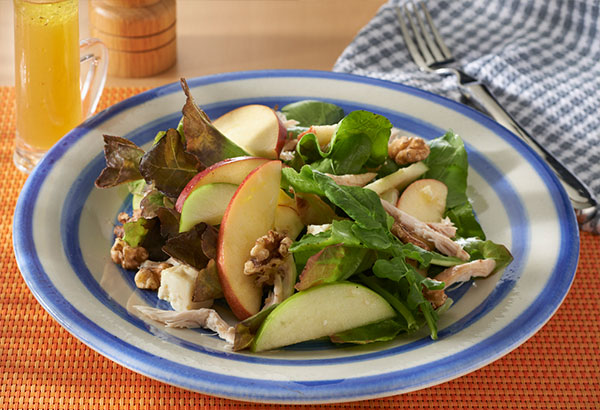 Smoked Salmon and Avocado Toast by Chef Tess Sutilo
Ingredients:
1 cup roast chicken, cubed
1 green apple, sliced
1 red apple, sliced
1/2 cup goat cheese or cubed
feta cheese
3 cups mixed greens and arugula
1/4 cup toasted walnuts
Apple Vinaigrette: Whisk together:
1/2 cup olive oil
1/3 cups apple cider vinegar , magic sarap
1/2 cup store bought apple sauce
Preparations:
1. Combine ingredients for salad and put in the refrigerator to keep fresh and chilled.
2. Prepare apple vinaigrette by whisking all ingredients together until combined.
3. Drizzle salad ingredients with apple vinaigrette and serve immediately.
I Can't Believe It's Breakfast! is available exclusively to members of the Nestlé Club. For more information on the Nestlé Club and how to get a copy of the recipe book, visit https://www.nestleclub.com.ph