Chef Jessie presents world-renowned Filipino master carver of finest Iberico ham
October 14, 2015 | 10:00am
MILLIE: Whenever I learn of Filipinos who make it good outside the country, I feel a sense of pride. One such man is Michael Teves Lopez, originally from Marikina, who migrated to Madrid, Spain, when he was only 17 years old. Although his father was a shoemaker, Michael dreamt of being in the field of electronics because he loved to tinker with electronic stuff. But, as fate had it, his parents decided to migrate to Spain and from then on, his path changed.
He knew not a word of Spanish but learned it fast as he worked as a pizza delivery boy. In 2000, he worked as a waiter at Cinco Jotas, a big restaurant chain in Spain renowned for its jamon Iberico de Bellota Cinco Jotas, where he learned to carve this special ham. Michael is now a maestro cortador or master carver, a skill he perfected through the years.
KARLA: His dedication and passion to his craft has led him to become a world-renowned master ham carver. He is supported and sponsored by the two big giants when it comes to jamon, Cinco Jotas and Arcos for his knives. Upon his demonstration of his ham carving, you will see that it really is a skill that has been intricately studied and practiced in order to fully master.
Michael explains how each carver has his own carving style or technique. The only way I can describe Michael's carving technique is that he is very graceful. I've seen others carve jamons before, both in Spain and here in Manila. After talking to Michael, I've gained a new appreciation for ham carvers and the art of it. He mentions that this is also why he was singled out for special training as a carver while working at Cinco Jotas. They saw that he had potential in the way he handled the ham and knives.
Upon meeting Michael, he brought out his board with several knives and so I asked him what were the uses of each. Apparently, there is a special knife for deboning or separating the meat from the bone so that when you carve, the carving knife will not hit the bone.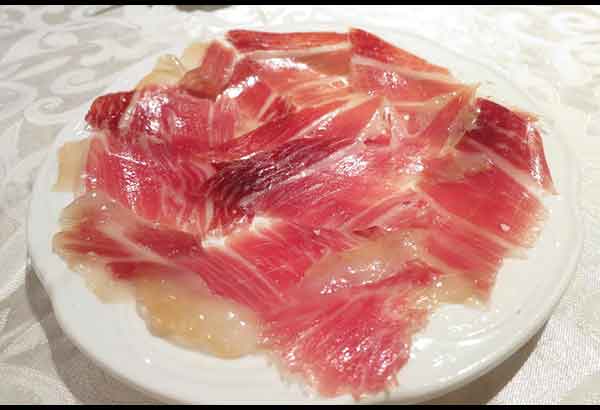 You'll know jamon slices are perfect when they are thin and transparent.
For removing the rind, they use a thicker knife since the dry skin is hard — the knife can move freely. Next is the ham-carving knife, which is long, and flexible to help get thin slices of ham. He always carries around two just in case. And, of course, the honing steel or sharpening rod to make sure that all his knives are sharp and blades in proper condition. Arcos carries the best knives for ham carving and even for other uses, comparable to knives made in Germany and Japan.
As soon as Michael displayed the ham, I noticed several tags attached to the leg. One of them says that it is indeed the Cinco Jotas brand; the other a control tag saying it has been verified that the ham is Iberian ham and the other tag indicates that it is from Michael's private collection. Working at Cinco Jotas gives him first dibs on choosing the hams in his collection. So I asked him, how does he pick the hams for his collection?
First he needs to see that the hoof is stubby. This indicates that the pig has been running, which is a good thing. The shank should be thin and straight to indicate that it is indeed a pure-breed pata negra. The whole leg should be a long, elegant shape and the fat should have a yellowish golden color. He can also tell the quality of the ham by its smell as a whole, and he inserts an instrument into three different spots of the leg to check for the quality of the jamon.
MILLIE: The jamon Iberico de Bellota Cinco Jotas is probably the most expensive leg of ham, selling at 600 euros a leg. The pigs are acorn-fed, free-range and are sometimes called pata negra. Upon slaughter, the fresh pork legs are dry-cured as they are covered in sea salt from the Atlantic Ocean for 10 days and subsequently hung and air-dried for three to four years or more. The result is a very fine and smooth texture, its taste nutty, cheesy, not too salty and simply divine.
The first Filipino maestro cortador, Michael Lopez, will be at Chef Jessie at Rockwell from Oct. 15 to 30 and diners can watch him skillfully carve the delicious jamon Iberico de Bellota Cinco Jotas for tapas.
A special Spanish menu prepared for the two-week promotion includes setas a la plancha con taquitos de jamon, tortilla Española con pimientos rojos y jamon, pardelle de crema jamon y trufa, and salmorejo con picadillo de huevo duro y jamon, to name a few.
***
For reservations call Chef Jessie at Rockwell Club at 450-2993 or 450-2995.
* * *
Send e-mail to [email protected] and [email protected]. Find us on Facebook: Food for Thought by Millie and Karla Reyes.