KidZania for the little Juans
MANILA, Philippines - Perhaps the first, and maybe ultimate, fantasy of any child is to fly. And most of them will never outgrow it.
"My first real memory of travel was when I was seven. My parents used to take us to Hong Kong. My main takeaway then was there was so much more to see and experience, and I haven't stopped traveling since," Lance Gokongwei shared with us. Hearing it from Cebu Pacific's president and CEO, whose airline now proudly flies to over 62 key destinations in the country and across Asia-Pacific, with a total fleet size of 44 aircraft carriers, perhaps it is wise not to outgrow this lofty dream.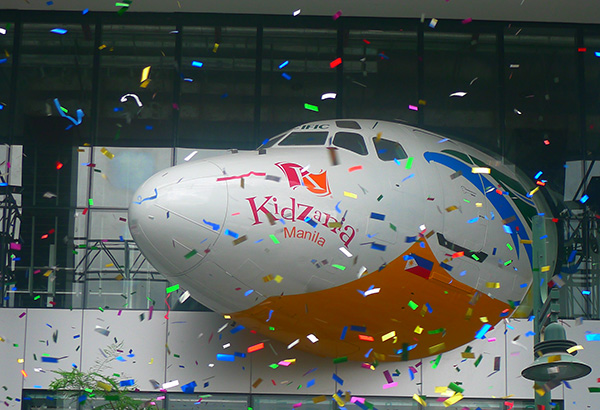 In plane sight: The Cebu Pacific Airplane which offers a full-on flight simulation for KidZania becomes the most prominent feature of the play city's exciting façade.
"A flight means many things to many people," continued Gokongwei. "It can be an escape from the rigors of work or the doldrums of everyday life. It can be a vehicle to achieve a certain purpose like a new job or an emotional visit. It can be an avenue for learning, about ourselves or the world around us. Opening our eyes to adventure, things can happen, opportunities can open up, and discoveries can be made."
This is why the country's second flag carrier recently launched its newest destination for next year: making regular trips to KidZania Manila.
"KidZania is a nation ruled by children," explained KidZania Manila governor and Play Innovations, Inc. president and CEO Maricel Pangilinan-Arenas. First opened in 1997 in Mexico City, KidZania is a revolutionary play city for children ages three to 14, where kids are encouraged to try out over a hundred different job roles, ranging from menial tasks to more challenging professions.
"We want to empower children to discover their different areas of interests and giftedness. We believe that the only way that we can have a better world is to have better communities, where citizens love what they do and do it well. That's what we hope to inspire children to be and to do at KidZania," explained Pangilinan-Arenas.
With each of KidZania's 160 facilities all over the world attracting some one million visitors yearly, the Manila outlet, spanning an 8,000 square meter space in Bonifacio Global City, is set to open in the first quarter of next year, where the same innovative systems and technology found among its international centers will be in place.
"One of the first attractions that you see when you go to a KidZania anywhere in the world is the aviation academy," disclosed Play Innovations, Inc. and ABS-CBN chairman Eugenio "Gabby" Lopez III. "When we were first talking about this particular venture, we were struggling at finding the right partner. But lo and behold, when we talked to Lance (Gokongwei), he immediately signed up. Both of us share the same values of what kind of world we can build for children," Lopez shared.
So it was decided that the first key installed features of KidZania Manila will be the Cebu Pacific aircraft, where kids are encouraged to delve into the world of aviation.
"Children with dreams of becoming pilots can now experience taking off safely and landing in various destinations. Kids who aspire to be flight attendants can also be acquainted with the in-flight cabin crew experience. And being Cebu Pacific, we hope to introduce them to the world of fun games and the airline's fun culture. They will have the opportunity to understand that flying is really a very important job. Rigorous, but there is a fun service aspect to it as well," said Gokongwei.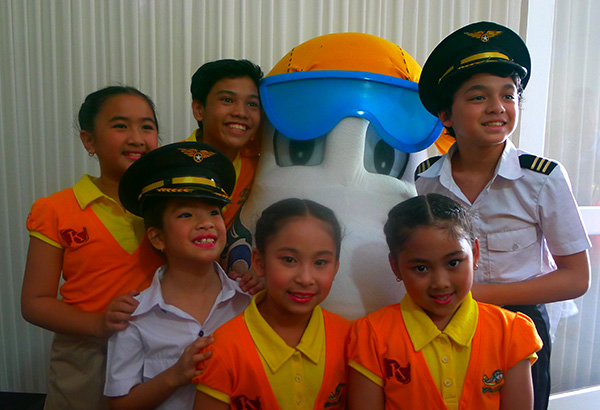 Frequent flyer smiles: The pint-sized aviation professionals of KidZania wearing their flight attendant and pilot uniforms proud pose with Cebu Pacific's mascot "Ceb."
"Aside from the aviation academy, we have a TV station, a small stadium, an art academy, a hospital. So whatever your children's interests are, they will have an opportunity to try it out and pretend to be what they want to be. We make sure that the propping, the themes, are very real to the child. It is play at a totally different level, and the level of reality is going to surprise," enthused Pangilinan-Arenas.
With hospitals fully equipped with heart monitors, operating tables and anatomically correct dummies awaiting heart transplants, or functioning restaurants built with hands-on culinary know-how and food service crash courses, KidZania makes playtime real again in the digital age — and this time, even more rewarding.
"More and more studies have shown that there is great power in play," said Pangilinan-Arenas. "This is a place where children can be able to apply the different theories they learn in class. For instance, in the Culinary Academy, fractions come alive with recipes and measurements. When they go to the Aviation Academy, there will be factors on wind speed and velocity, which has a lot to do with physics. Suddenly, the theories that they learn in the classrooms, they see and understand their values in real life."
But more than its groundbreaking brand of "edutainment" for kids, it is KidZania's rich supply of life skills that attracted Cebu Pacific in setting up its child-sized shop. "We were very eager to partner with KidZania because of the values-formation part of it. It teaches you the value of work and that part of success is working hard for it. And, of course, above all is the fun aspect, which is a shared value for both of us," said Gokongwei.
"We do recognize the responsibility here, that once we launch KidZania, every Filipino child will want to come to KidZania," added Pangilinan-Arenas. "So, it's part of our program to create the means to realize that aspiration. At the end of the day, it is our mission to serve Filipino children. So we plan to have corporate sponsorships that will allow companies to bring in underprivileged children at special prices. We also have different pricing for public school groups as well," she affirmed, making KidZania Manila an expected stopover for up to 600,000 young visitors annually.
With career coaching and life skills development finding their way into child's play, KidZania is bound to inspire real-life responsibilities while keeping it enjoyable, early on in life. And with two of the country's most thriving industry titans working hand in hand at it, perhaps KidZania will hold the key to fulfilling every Filipino child's future dreams.
"We have been taught in our family the importance of diligence, and how work can be fun if you enjoy what you do. Having more kids aware of this will definitely contribute to a better world for everyone," shared Gokongwei. While for Gabby Lopez, "We think that this is a very important stage in creating an environment where kids can learn. Hopefully, KidZania will play a role in defining a better Filipino youth."
And it all starts with a dream come true.
* * *
KidZania Manila will soon open its doors at Park Triangle 3245 North 11th Avenue, Bonifacio Global City. For more information, visit their website at www.manila.KidZania.com, or their social media account @KidZaniaManila for Twitter and Instagram.