The tender passion of Mr. Cochinillo
A TASTE OF LIFE
-
Heny Sison
(The Philippine Star) - November 20, 2014 - 12:00am
From the nonstop beats of Manila's hottest scenes, to capturing life's moments through his lens, Tinee de Guzman has seen and done it all and is now embarking on an adventure that is more gastronomic in nature.
From an accidental photo shoot order to literally being the hottest new trend in comfort food, Tinee has brought the everyday cochinillo to a higher level of gourmet distinction. Coming from a family that enjoyed traditional get-togethers and celebrated them with the best recipes cooked by his grandparents, he took his love for food and pursued it with a passion.
It all begins with the right kind of pig — and not just any pig, mind you, but a free-range, newly weaned piglet — and Tinee has an eye for spotting the best. Working behind the lens for eight years as a professional food photographer has served Tinee well, giving him an ability to assess the quality that will make his gourmet cochinillo stand out from the pack.
After choosing the best pig, he goes to work concocting a very special marinade, his very own recipe. Made with distinctive flavors that infuse the taste of the suckling pig from its own natural juices, the marinade complements the natural flavor without overwhelming it with various spices.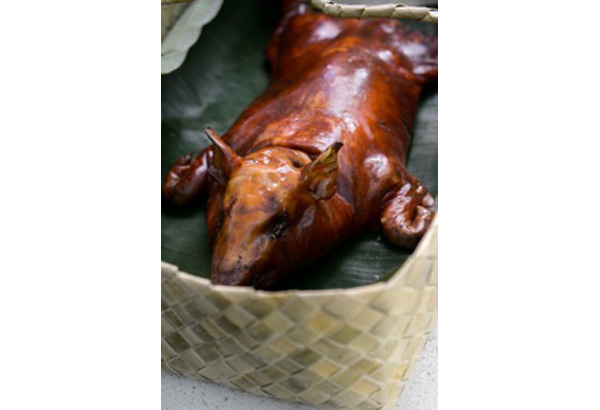 Mr. Cochinillo orders come in a customized tampipi with a platito that is traditionally used to chop up the cochinillo, a testament to its tender meat.
Tinee employs a slow-flavoring cooking process. His cochinillo is not merely roasted over quickly and then delivered; instead, it's cooked in a brick oven, where he listens for the sizzle and crackle of the pig skin to ensure that his flavorful masterpiece is cooking at the right pace, exquisitely unhurried.
"Healthy" would not be the first word that comes to mind when thinking about lechon, but ideally, with the reduced fat content in a suckling pig compared to a full-grown pig, the cochinillo is a healthy alternative to a Filipino party classic.
This masterpiece of culinary delight is available by special order and is either delivered or picked up according to the customer's preference. It comes in a customized tampipi with a platito that is traditionally used to chop up the cochinillo, a testament to its tender meat. To accompany your order of cochinillo del cielo, Mr. Cochinillo also offers its own take on the traditional seafood fideuà topped with fresh mussels, shrimps, and squid. Almost like the classic paella, the fideuà uses noodles instead of rice. Mr. Cochinillo gives you an extravagant foodie experience and spares no expense in giving you the best.
For more information on this festive fare contact 633-0043 and 0999-8810810; e-mail cochinillodelcielo@gmail.com; add and like on Facebook Cochinillo Del Cielo.