El Nido Resorts attract a new crop of travelers
October 9, 2014 | 12:00am
MANILA, Philippines - On top of the myriad natural attractions of Bacuit Bay, Palawan, where three of the four El Nido Resorts (ENR) are located, the organic gardens, the desalination plant that services the island resorts, community-based projects and other eco-friendly amenities now also figure in the itinerary of a number of guests.
Mostly in their 20s and 30s, they ask to see the lettuce and tomato gardens fertilized by compost from kitchen waste and the plant where fresh water is extracted from seawater. Some do so out of curiosity, according to Joey Bernardino, director of sales and marketing, others to validate the resorts' claims.
He says, "These types of travelers don't go for grand lobbies and high-end shopping. They now equate luxury with destinations that allow them to keenly appreciate nature and to highly participate in conservation and environmental projects, as well as to experience and respect local culture."
Contiki, a popular worldwide touring company that focuses on this niche, enjoins the traveler to "help sustain the natural and cultural beauty of a destination by leaving it untouched and by reducing your use and waste of precious resources such as water, food and energy."
Established in 1982 by the Ten Knots Group, the first El Nido Resort at Miniloc Island has been for decades a haven for sustainable travelers. Miniloc and the other EL Nido island resorts that followed — namely, Lagen, Apulit and Pangulasian — were envisioned to "promote harmony between nature and local communities." Because of this very early start, the resorts have collectively become a national model for sustainable tourism, points out Ten Knots president Laurent Lamasuta. By constantly benchmarking itself through the years against the best local and international environmental practices, the resorts evolved a training program nicknamed Be GREEN — to Guard, Respect, and Educate the El Nido community on environmental conservation.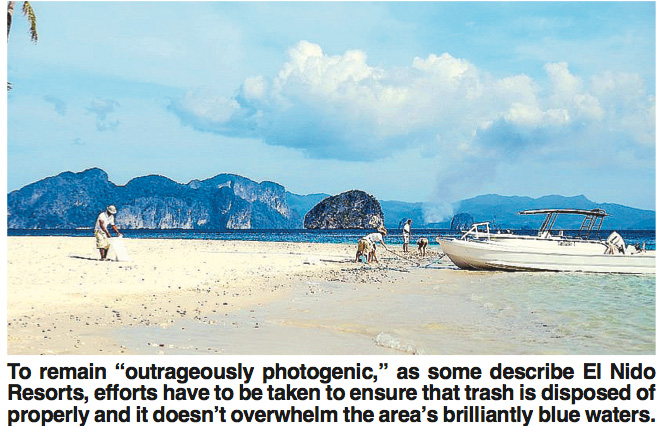 Every El Nido Resort employee goes through the program and regular training in environmentally friendly modules that cover food service, housekeeping and nature guiding. The program has trained bellhops who, on the way to your room, quickly point out a Palawan Hornbill, with its black plumes and white casque. It also has produced maintenance men who figured out that they could replace the Styrofoam component inside the resort kayaks with more eco-friendly used water bottles to keep the boats afloat.
Responsible travelers don't choose a resort primarily because it is eco-friendly, points out Bernardino. Like most other tourists, they seek out a destination chiefly for its sites, activities and other traditional attractions. But it still works for El Nido Resorts to remain sustainable "because we thrive on our natural attractions that can only be maintained through conservation efforts."
To remain "outrageously photogenic," as some guests have described El Nido Resorts, efforts have to be taken to ensure that trash and waste are disposed of consistently and properly so they don't overwhelm the brilliantly blue waters, ancient limestone cliffs and diverse wildlife of the area. Moreover, the local community needs to share the vision of keeping Bacuit Bay, the base of the resorts, a nature paradise.
Thus, El Nido Resorts' environmental conservation program has also been rolled out to local elementary and high school students who learn to take pride in the exceptional beauty of their surroundings. Because of the early exposure to Ten Knots' environmental thrust and the company's policy of hiring locals whenever possible, many of the students are eventually hired by the resorts.
Currently, 90 percent of El Nido Resorts employees are from the surrounding municipalities. This fact is also significant for today's new crop of travelers, who are also committed to uphold local culture, says Bernardino.
"It is truly gratifying that eco-resorts like ours are now being actively supported by travelers who understand that it takes extraordinary effort to maintain our unique natural environment. Better yet, they do what they can to keep it that way," he says.