Yes, party food can be quick and healthy
Many Pinoys love entertaining but when it comes to party time, rely on store-bought or takeout food. After all, unless you have an army helping you in the kitchen, who has time to prepare the many dishes required to fill a decent party buffet, right?
The party food you take home from your suppliers is probably less than healthy, however. When the number-one requirement is taste, purveyors won't care how much salt, sugar, oil or MSG they put in their food so long as the desired flavor profile is achieved.
So we've come to equate party food with being delicious but unhealthy. That equation can change, however, with the right tools to make your job easier in the kitchen.
In line with Nutrition Month, appliance maker Philips, together with celebrity chef Nancy Reyes-Lumen, held "Philips Kulinarya" to prove that — instead of relying on outside suppliers — you can easily prepare healthy and delectable party food yourself using Philips' range of kitchen appliances.
"The kitchen is no longer the domain of housewives now that their husbands are foodies," said Pia Umayam, business development manager for Philips Consumer Lifestyle. "For those who like entertaining or parties, you can prepare your own party with Philips kitchen appliances."
"Adobo Queen" Lumen demonstrated exactly how by cooking a full party menu of soup, salad, mains, dessert and drinks with the help of Philips' Airfryer, food processor, Sensor Touch rice cooker and slow juicer.
"It's practical and doable with appliances like the food processor, which can do all the prep work like cutting," said Bessie Arciga, Philips corporate communications manager. "You don't even need a knife!"
For those who think "eating healthy" means they can't have foods like lechon, one of the main dishes was lechon kawali, which Lumen cooked in its own oil in the Airfryer. "You don't even need to boil it first," she marveled. Lumen just scored three slabs of pork and seasoned them with salt and pepper. She preheated the Airfryer for three minutes at 160C and cooked the pork for 10 minutes, before raising the temperature to 180C and leaving it another 15 minutes to get that golden, delicious, crackly skin — minus the layer of fat underneath. "The oil just falls into the lower tray, and you can even save it for other dishes if you wish," Lumen said.
To accompany the lechon kawali, Lumen made cucumber-mango juice with apples and ampalaya, which took mere minutes with Philips' fast centrifugal juicer. The company's latest model is a slow juicer made for pressing leafy vegetables and herbs, resulting in juice with the same healthy benefits. Lumen, who bought fresh kale, parsley, wan soy, and tarragon to make herbal shots, suggested adding these herbs to vodka and watermelon juice to make it a surefire party pleaser.
After preparing a quick salad in Philips' salad maker/food processor, another ingenious tip she gave was making salad dressing from the pulp left in the turbo juicer. She put the pulp in Philips' blender plus olive oil, sugar syrup, salt, pepper, lemon and lime, and blended it, saying you can dilute the dressing with fresh juice if you want a creamier, almost mayonnaise-like texture.
Then it was time to prep the main dish, Hainanese chicken rice using Philips' electric pressure cooker. "For slow food, it saves time and keeps in a lot of the flavor," Lumen said, cooking the chicken thigh fillets for 15 minutes. "The pressure cooker is childproof with a safety cover that they can't open," she noted while letting some steam out.
To make that thick, sweetish soy sauce for Hainanese chicken, Lumen added one part sugar to one part soy sauce and cooked them together over a low flame, leaving a ladle across the top of the saucepan so that when the mixture bubbled up it didn't overflow.
For the ginger-garlic sauce, Lumen observed that the way the Chinese do it is to cook everything separately and quickly so that the flavors remain bright and sharp, before combining the ingredients. Taking that cue, she minced the garlic first in the food processor until very fine, and heated the oil before adding the ginger and garlic. She even heated the sesame oil separately.
She demonstrated the many uses of the Philips rice cooker, in which she cooked not only the chicken rice but also the soup and slow food like fish quenelles, poaching them in the boiling chicken broth. "The Chinese use chicken broth for everything, even fish," she observed. "To them it's a superior broth."
As an alternative cooking method she suggested baking the quenelles in the pressure cooker, highlighting the multi-functional nature of Philips kitchen appliances.
For her final dish she baked chocolate-anise cookies in Philips' Airfryer — a process that took a mere eight minutes before we were munching on this dessert.
"My favorite appliance is Philips' Airfryer, because of its versatility," Lumen admitted. "But my dream kitchen would have all the Philips appliances in it."
* * *
Philips kitchen appliances are available at appliance stores nationwide. For more information about the products, visit www.philips.com.ph, the Facebook page at www.facebook.com/PhilipsPhilippines, call the customer hotline at 667-9000 within Metro Manila or 1-800-10-744-5477 outside Metro Manila.
Recipe Files
LECHON WITHOUT THE K (KAWALI)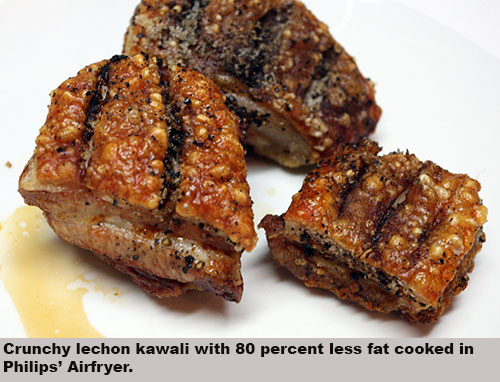 Ingredients:
1 whole 500g slab of pork belly/liempo, skin on (fresh, not frozen)
Rock salt and cracked peppercorns
Procedure:
With a sharp knife, score the skin (skin-deep only) about 1/2 inch apart.
Rub with salt and pepper.
Preheat Philips Airfryer at 160C for 3 minutes.
Place liempo inside Airfryer.
Air-fry for 10 minutes on 160C, then 10-15 minutes on 180C.
When skin starts to crackle, air-fry on 200C for another 10 minutes.
Rest the lechon for 5 minutes before slicing and serving.
* * *
HAINANESE CHICKEN RICE
Hainanese Boneless Chicken
Ingredients:
1 kilo chicken thigh fillet
salt and pepper
3 T chicken powder
2-3 stalks leeks, cut into 2 inches
1 finger ginger, crushed and minced
sesame oil
water to cover (plus 4 inches more)
Procedure:
Season chicken pieces with salt and pepper.
Put all ingredients in the Philips Electric Pressure Cooker. Cook for 10 minutes.
When chicken is done, drain and cool, set aside.
While cooling, brush each chicken piece with sesame oil.
Keep the broth in the rice cooker and keep warm.
Hainanese Chicken Soup with Fish Quenelles
Use the Hainanese chicken soup
1/4 kilo lapu-lapu filet
1 T corn or potato starch
1 T flour
1/4 tsp baking powder
salt and pepper
Use the Philips blender to puree all ingredients.
Chill mixture for easier handling.
Using two spoons, shape into quenelles.
Bring Hainanese chicken soup to a boil again and drop in the quenelles. Drop and cook in small batches.
Serve with Hainanese chicken soup.
Reserve some of the broth for the Hainanese chicken rice.
Hainanese chicken rice
Hainanese chicken broth
1 kilo Japanese rice
Some remaining parts of the leeks, minced
Salt and pepper
Some oil
In Philips rice cooker, heat oil.
Add leeks and sauté till wilted.
Add rice and stir-fry until it turns opaque.
Keep adding broth as the rice cooks and dries up.
Season with salt and pepper.
* * *
CUCUMBER-MANGO JUICE
For every 1 kilo cucumber: 1 ripe mango
Sugar syrup to taste
Pinch of salt, if desired
Starting with the mangos, then the cucumbers, use the Philips slow juicer and collect the juices.
Save the pulp for salad dressing.
Chill juice before serving.
* * *
CUCUMBER-MANGO SALAD DRESSING
Gather the pulp from the cucumber-mango juice.
For every 1 cup, add 1/2 cup olive oil (not extra-virgin), lemon or calamansi juice to taste, sugar syrup, salt and pepper.
Blend all to a fine puree in the Philips blender.
If too thick, add more lemon juice with water.
Chill before use with salads and slaws.