A harvest of medals by Chef Josh Boutwood and The Bistro Group's talented team
August 14, 2014 | 12:00am
Because the Bistro Group's restaurants are popular dining spots, it couldn't be helped that practice sessions for their chefs had to take a back seat to the daily routine of cooking their guests' favorite dishes at the group's multiple outlets. Some Bistro chefs had no choice but to skip scheduled dry-runs because of their assigned restaurant chores. But they still managed to polish their routines during rare lulls when diners weren't rushing their doors. Surely, the perseverance and extra effort paid off. At the Philippine Culinary Cup of the World Food Expo (PCC-Wofex), the Bistro team led by corporate chef Josh Boutwood brought home a total of 16 medals. This is quite an impressive haul, especially when one takes into consideration the fact that a majority of the Bistro chefs had no previous experience in joining culinary competitions.
"Training started a month before the competition dates and we set aside one day a week for it," shares Chef Josh. "But because I worried about the individual members of my team, I actually didn't get to practice myself." However, one of the chef's strong attributes is a keen sense of visualization coupled with detailed planning. "I knew roughly in my head what I was going to be cooking. I practiced in my mind the movements and the flow of the dish." And to prove the verity of 'mind over matter' where what one thinks determines what one is able to achieve, chef Josh Boutwood came home with the Chef of the Year 2014 trophy and a total of 10 medals (5 gold and 5 silver) to his name. While he also won the Chef of the Year award for 2013 with a total of 7 medals (2 gold 5 silver), his medal haul is obviously even more impressive this year.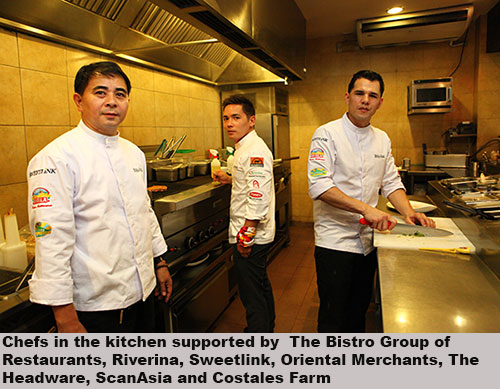 An interesting bit of trivia is that Chef Josh's most recent winning entries are named after his 5-year-old daughter Malaya's favorite rhymes, storybook characters or lines and book titles. For example, the entry in the Australian Lamb category is called "The Wolf in Sheep's Clothing,' the U.S Pork category entry is 'Piglets in Plum Trees' and the entry for Local Fish was called 'The Curse of the Black Pearl.' While we are unfamiliar with the spell "Hocus pocus tumber magnatum," it must have worked its magic because it earned a gold medal in the Pasta Category. Chef Josh opted to work alone in the Sous Vide category instead of working with a teammate, so he got two silver medals when he won. The lucky little girl gets the extra medal for being her father's muse. The chef admits, however, that the pressure to do well in 2014 was greater for him personally, "To defend the title was my biggest challenge this year."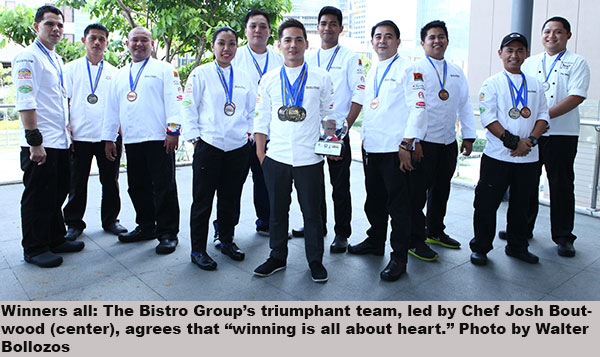 What kind of training does it take to win culinary competitions? "The difficult thing for me was establishing how different it was going to be between our regular lifestyle of cooking and the competition lifestyle of cooking. There is no manuscript that will tell the team what it was going to be like," reveals chef Josh.
Chef Dan Lachica, for example, was given very short notice (2 days) that he would be competing. "But when the whistle goes, you focus and get to work," he says. He won a silver medal in the US Pork category. The willingness to venture into unfamiliar ground is also best expressed by Chef Philip Dizon, the R&D chef assigned to Fish and Co. He won a bronze medal for his 'Slamb Dunk' dish in the Australian Lamb category even if lamb is not part of his usual repertoire.
"It's not just about winning, the overall journey is even more important," says Chef Greg Natividad (Amuse Bouche gold medal winner with chef Josh). He attributes their success to teamwork and passionate commitment to quality within the group.
Chef Werlito Ragot, meanwhile, believes that creativity and attention to details are a must. He won the bronze medal for Philippine Cuisine Challenge with teammates chefs Rosh Nuarin and Roger Hernandez. "Presence of mind and confidence are important," says Chef Rosh (US Pork silver) and Chef Ron Ramirez (bronze medal winner, US Beef). "Exposure and experience help a lot," adds Chef Jeffrey Asumen (silver medal Pasta; bronze for US Poultry.
All members of The Bistro Group's triumphant team agree that "winning is all about heart."