The real test of a good olive oil
MANILA, Philippines - My first encounter with real, freshly pressed olive oil decades ago was not very pleasant. After tipping down a sample shot glass of the clear, slightly viscous and greenish liquid, I ended up with a coughing fit. It made me think, "This can't be right!" It was unimaginable that an olive oil that caused the throat to burn could really be the good stuff.
However, I have since learned that coughing is a good reaction when it comes to extra-virgin olive oil (EVOO). Only the best, unadulterated olive oils contain high levels of oleocanthal, an anti-inflammatory compound that causes throat irritation or itching. And since various scientific studies have shown that serious illnesses (such as cancer, heart disease, diseases of the joints and neurodegenerative conditions) have been linked to chronic inflammation, one can only enjoy the health advantages of olive oil if it contains adequate levels of oleocanthal with its attendant anti-inflammatory effects. In other words, perish the thought that all olive oils are the same. Both connoisseurs and health experts will tell you that a one-cough olive oil is good (this is real EVOO), a two-cough olive oil is better (the oleocanthal levels are higher), while a three-cough "peppery" product means you're getting the best, freshly pressed EVOO for maintaining good health. For health enthusiasts who also enjoy good food, the best part is that olive oil enhances the taste of comestibles, whether it is used to cook or finish a dish.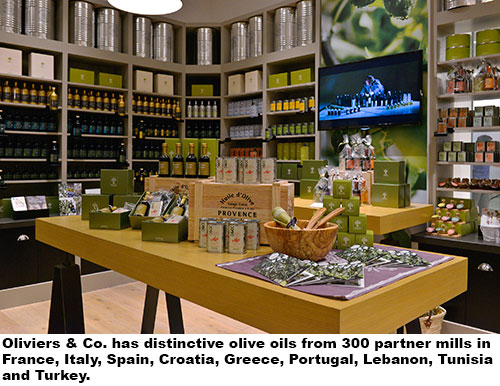 "You can say that the enthusiasm for good oils is similar to the passion of wine connoisseurs for their favorite vintages," says Melanie Costaris, director of international sales of Oliviers & Co., a top purveyor of some of the best olive oils in the world, with main offices in France. Unlike wine that can get even better as they get older, however, she cautions that olive oils should not be stored for extended periods of time. "Aging does not improve the quality of the olive oil. The taste will deteriorate," she says. While unopened bottles of EVOO can last up to three years without affecting quality too much ("Only because our processes are carefully monitored to ensure that our products are very, very, good"), she recommends that they be kept in a cool, dark place. "Olive oils don't like variations in temperature. Once a bottle is opened it is best to use it right away because the olive oil can turn rancid from oxygenation."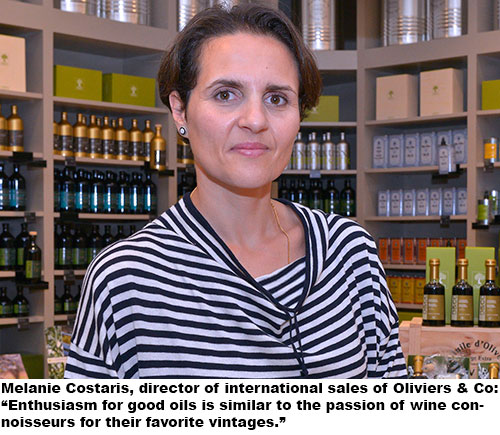 To increase the likelihood that one is really getting the best olive oil, she gives the following tips: "Check the date of harvest and the source. See to it that the oil is light, clear and without impurities. Taste it. Good olive oil can be floral, grassy, fruity or buttery." Practice makes perfect and it becomes easier to distinguish flavor notes as one goes along.
To ensure that the the best olive oils are available to their customers, Oliviers & Co. has about 300 partner mills in France, Italy, Spain, Croatia, Greece, Portugal, and, from time to time, Lebanon, Tunisia and Turkey. Company representatives actively scour the countryside to find families and small cooperatives that grow the best olives and produce the best olive oils. Growers and small producers, too, continuously send them samples in the hopes that they will be discovered. After all, only the best can be considered for inclusion in Oliviers & Co.'s inventory.
"It can happen that there are excellent olive oils with limited production," Costaris reveals. She points out an olive oil sourced from Tuscany, where only a thousand 500-ml. bottles are produced. "My job is to make sure that an allocation is set aside for all our stores worldwide. Everybody has to have a chance to try this unique product."
With the new Oliviers & Co. outlet in Central Square, Bonifacio Global City, Filipino olive oil aficionados have a ready local source for the best olive oils the world has to offer.
* * *
The first Oliviers & Co. outlet in the Philippines is located on the second level of Central Square, Bonifacio Global City.