Making new memories with Baskin-Robbins ice cream
MANILA, Philippines - Baskin-Robbins brings back memories of a happy childhood spent in Baguio City. This was the brand of ice cream sold at the 19th Tee outlet, the Mile-Hi Bowling Center and the ice cream parlor in Scout Hill of the old Camp John Hay. In those simpler, more innocent times when a thick fog swept over pine trees, flower beds and the golfing greens every afternoon even during sunny days, happiness meant ice cream treats at John Hay before going home and winding down for dinner. We had ice cream every day and it didn't matter whether it was a hot day or the weather was chilly. Racing to lick scoops of ice cream that were precariously perched on cones before they melted and the sticky sweet liquid ran down our hands, we had to be quick and careful or else the triple tower of ice cream toppled over.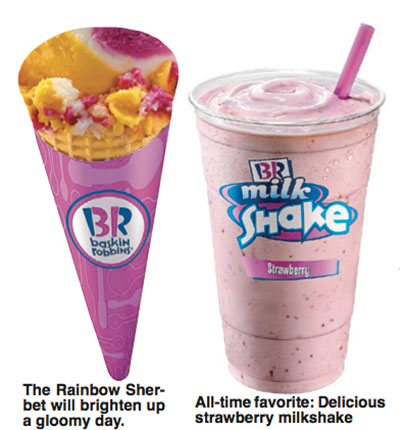 My favorite Baskin-Robbins flavor then was called Apple Pie a la Mode. I grew up at a time when imported goods were rarely available on supermarket shelves, and apples were for sale only in the Base Exchanges of John Hay or Clark, or the black market stores. In the Baguio City of the late 1970s to the mid 1980s, apple pies sold in the city bakeries outside of John Hay were rumored to contain sayote (chayote) that were carefully processed to mimic the consistency and taste of real Granny Smith apples. At Baskin-Robbins, one was certain of getting the real thing.
It should not be surprising that when Baskin-Robbins announced some years ago that it was putting Apple Pie a la Mode "in deep freeze" along with some other old-fashioned flavors that it no longer planned to make (like Caramel Praline Cheesecake, Campfire S'mores, French Vanilla and Superfudge Truffle), certain members of my generation experienced a twinge of regret. By then, the bases had long been closed, and John Hay had morphed into a different entity altogether. Baskin-Robbins was unavailable locally, but at least we knew that those favorite flavors could still be enjoyed abroad.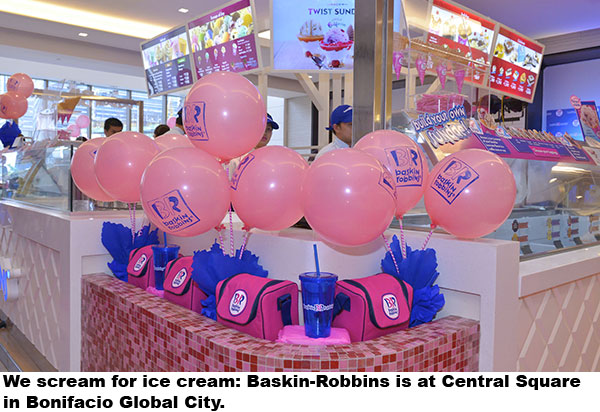 "Do they still have Maple Nut?" my younger brother Paulo eagerly asked when I told him that Baskin-Robbins had opened a local outlet in Bonifacio Global City (BGC) recently. He was a mischievous little boy who remembers the chagrin from an adult's stern glare after he was overheard making fun of the latter's pronunciation of a flavor. ("Ate, she said 'mupple' nut!") But while he was disappointed to learn that Maple Nut was one of the special flavors with a limited run at the store, the good thing is that many of the dependable favorites are still around, including Jamoca Almond Fudge, Old Fashioned Butter Pecan, Mint Chocolate Chip, and others. Until the end of August, the new Baskin-Robbins store at BGC will feature classic ice cream flavors like Very Berry Strawberry, Rainbow Sherbet, World Class Chocolate, Love Potion and Cotton Candy. The best part is that, with at least 31 different ice cream flavors, one can opt for a different flavor every day of the month.
At the launch of the new Baskin-Robbins outlet in the Philippines, Jeff Miller, executive chef and vice president of Product Innovation for Dunkin' Brands, said, "We think guests are going to love trying some of Baskin-Robbins' most classic ice cream flavors reimagined in whole new ways, like our Twist Sundaes and Flavor Waves." He continues, "We're proud of our rich flavor heritage and are excited to share our decades of ice cream flavor innovation with our guests in the Philippines." Judging from the long queue of enthusiastic old-time and first-time Baskin-Robbins fans, the ice cream lovers are excited, too.
* * *
Baskin-Robbins is at Central Square in Bonifacio Global City. To learn more about Baskin-Robbins, visit www.baskinrobbins.ph and facebook.com/baskinrobbins.ph.