Sweet grapes grow under the La Union sun
Tucked away in the quiet town of Urayong, Bauang, La Union, was something I could have never imagined growing abundantly on Philippine soil. I was recently invited on a trip to this quiet town, and was pleasantly surprised to find myself in a quaint tropical vineyard. Yes, growing under the scorching tropical sun of the Philippines were grapevines covering hectares and hectares of land, yielding grapes that one could easily mistake for the foreign-grown imported variety. Upon the invitation of Department of Agriculture Undersecretary Berna Romulo-Puyat, a party of well-respected food personalities in the Philippines and I were shuttled to the idyllic, sprawling vineyards of La Union.
Romulo-Puyat has a remarkable passion for her job. Aside from being young and energetic, she remains open to various food-related finds. She suits her position well, and it allowed me to see how the growing agricultural market has become increasingly available for local sourcing of excellent produce.
Our trip revolved around the property of Avelino Lomboy, the retired provincial agriculturist of La Union who is credited with pioneering the propagation of grapes in the province. Called "the father of the farmers," he was the mastermind who thought of growing a vineyard in a tropical country with a variety of table grapes from the United States. Initially I was hesitant, due to my former experience of tasting grapes that were small, mapakla, and at times even sour, but I was pleasantly surprised to find out that these grapes were not only sweet, they were also succulent as they were fully ripened. Letting them hang from the vines for as long as three months before being picked allows the fruit to fully mature on the vine without being rushed, thus making it taste excellent.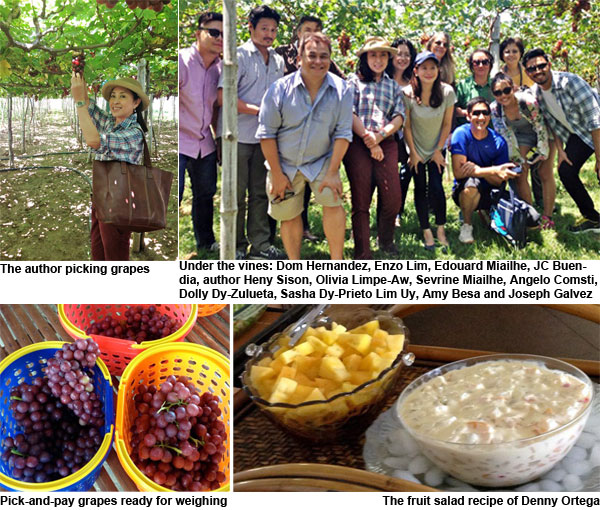 We were even allowed to pick our grapes fresh from the vine, very much like the pick-and-pay scheme in other countries. For P120 per kilo — half of the usual price of imported grapes — you get the unforgettable experience of harvesting grapes right from the vine. It brought back fond memories of growing up in our farms in Bataan, where my mother grew grapes in our backyard, but of course, Lomboy farms is much bigger in scale than what we used to have.
Aside from the enjoying the wonderful produce, I was also blessed to be among a group of very passionate and dedicated foodies. I enjoyed the company of Olivia Limpe-Aw, owner and president of Destileria Limtuaco, Amy Besa, author of Memories of Philippine Kitchens, owner of Purple Yam in Brooklyn, New York City, and soon to open Purple Yam in Malate at their ancestral house. I also came across familiar faces from different places such as Enzo Lim from the Great Googa Mooga Festival in New York, which I covered way back in 2012, when he showcased his restaurant, Maharlika, a modern Filipino resto in New York's East Village, along with the forerunners of Philippine food blogging like designer JC Buendia, and other farmer foodies such as Joe Gapuz, who graciously shared his knowledge of growing grapes along with the gift of a perfectly pruned grape plant, which I can hopefully grow successfully at home. There were also international wine connoisseurs Edouard and Sevrine Miailhe, who grew up on the Miailhe family's wine estate in Bordeaux, France.
We were invited to the governor of La Union's house for an intimate lunch hosted by the lady of the house, the elegant Geraldine Ramos-Ortega. Upon entering their house, one could see the striking difference the touch of a lady can make, from the elegantly designed décor and beautifully arranged furnishings to the starched couches, hospitable, smiling staff and a beautifully presented lunch. Indeed, each dish was lovingly and carefully prepared with the governor's wife's personal touch. The food prepared was locally sourced and cooked in the traditional way; one cannot easily forget the delicious local rice cakes such as the cassava cake and biko served alongside fresh fruit salad made from the best local produce, and cheese pimiento.
During one of our conversations I was told that I actually made the wedding cake of one of her sons and daughter-in-law Nicole. I was even treated to some colored brooms, one fuchsia pink and one rainbow-colored. I was delighted to find out that they were locally produced. I chanced upon them before at the Heritage Village in Vigan, and have been looking for them ever since in the hopes of making it available for sale in Victorino's. I always liked how lively the colors are and how skillful the workmanship is in these brooms.
One can only wish that all politician's wives are as diplomatic and accommodating in promoting their local provinces as Geraldine is, because by opening her house and allowing us to explore and experience the different aspects La Union has to offer, we all realized the great potential that the Philippines has to become self-sustaining, allowing us to regulate importing various products that adversely affect our local producers and businesses. If we could only help each other in promoting the use of local produce, we could make local farms more sustainable and it would allow fresher, better-quality products to be readily available to us.