New-look Gucci goes back to the classics
September 23, 2023 | 9:47am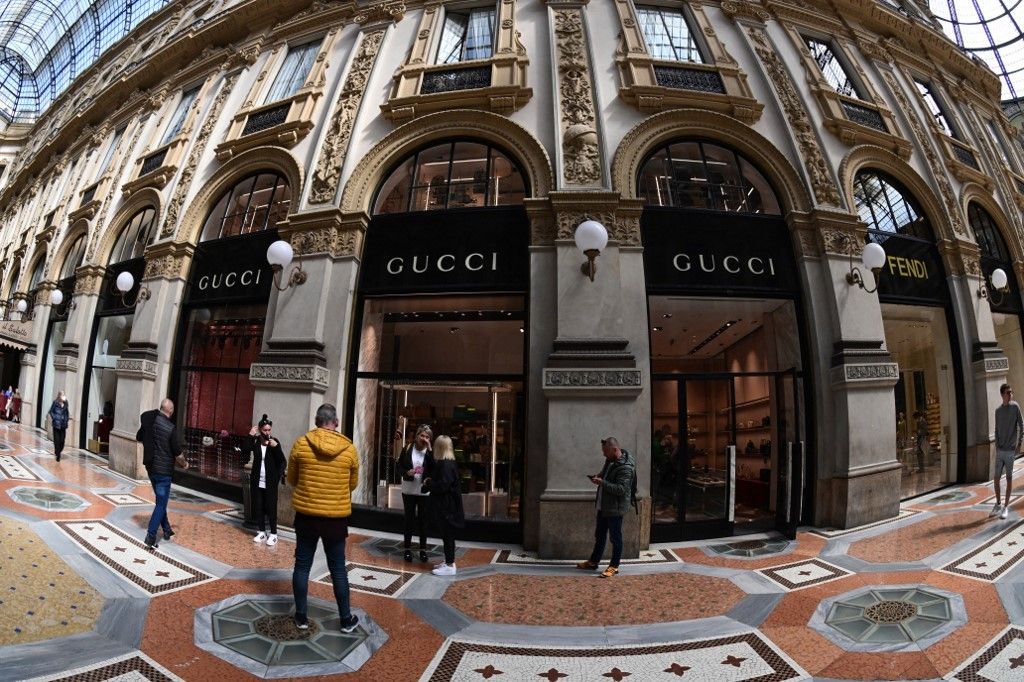 MILAN, Italy — Gucci's new creative director made his long-awaited debut in Milan on Friday, offering a timeless, feminine collection with the aim of relaunching the luxury brand.
French owners Kering brought in Sabato de Sarno in January to replace star designer Alessandro Michele, who transformed Gucci over seven years with his eccentric, gender-fluid designs and offbeat shows.
But while Michele reached out to a younger and more diverse audience, sales lagged behind those of Gucci's rivals.
De Sarno, who spent more than a decade at Valentino, unveiled his first collection in front of an A-list crowd including actors Julia Roberts and Ryan Gosling.
The event got off to a tricky start after the catwalk had to be moved from the streets of Milan to inside Gucci's headquarters due to a forecast of rain.
In the end the setting was starkly minimalist, the models dressed in a palette ranging from grey and navy blue to pistachio and burgundy red walking under a path of lights around a huge, pitch-black space.
There was leather in all its forms, whether slitted knee-high skirts or tiny shorts with low waists, jackets, and bra tops.
Related: Gucci debuts new creative director at Milan Fashion Week
An activist with animal rights group Peta stepped briefly onto the catwalk with a sign saying "Gucci: Ban Exotic Skins."
Coats also took pride of place, including the one that opened the show, with a masculine cut with a slit at the back bordered by Gucci's trademark grosgrain ribbon.
The collection was dubbed "Ancora" ("Again") — "it's a story of everything, again, but this time expressed through joy", De Santo said in the show notes.
New chapter
De Sarno's appointment came as something of a surprise, as the 40-year-old from Naples was largely unknown to the general public. But he is far from a novice.
After stints at Prada and Dolce & Gabbana, he spent 14 years at Valentino, rising to become director of the men and women's collections and right-hand man to creative director Pierpaolo Piccioli.
There has also been a change of management at Gucci this year with the departure of Marco Bizzarri, chief executive since 2015, who formally steps down Friday.
Related: Anne Curtis shares her most prized Gucci possessions
The deputy CEO of Kering, Jean-Francois Palus, a confidant of the company's chief executive and owner Francois-Henri Pinault, will take the reins on a temporary basis.
Alessio Vannetti also returned to Gucci this month after a stint at Valentino to become chief brand officer.
"Many things are happening at the same time at Kering," said Luca Solca, senior analyst in global luxury goods at Bernstein, describing it as akin to "spring cleaning."
"Of course, by far the biggest change is the new creative chapter at Gucci. If this works, Kering works," he continued. "Gucci needs new ideas and a new chapter. Putting them into practice would increase turnover and profits."
But it will take time for De Sarno to have an impact, with Solca pointing to the end of 2024, "There is time."
In July, Kering reported its net profits fell 10 percent in the first half of the year to 1.79 billion euros (P108 billion) blamed on stagnating sales at Gucci.
While Kering's overall revenue rose by two percent to 10.1 billion euros (P612 billion) it dipped by one percent year-on-year at Gucci.