Binibining Pilipinas bares 2023 official lineup
February 7, 2023 | 9:51am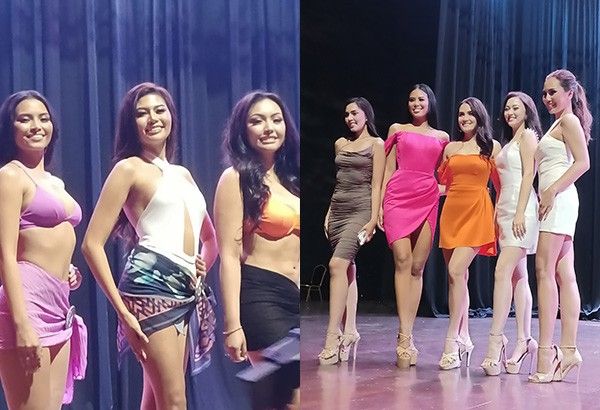 MANILA, Philippines — Seventy seven of the eighty applicants showed up at the final screening of the 2023 Binibining Pilipinas in New Frontier Theater, Quezon City yesterday.
All the hopefuls sashayed before a competent selection panel in a swimwear of their choice.
After the deliberations, 35 ladies were announced in random order. At this point, the Binibining Pilipinas Charities Inc. (BPCI) organizers told media attendees these were the lucky aspirants who made the cut as official candidates. But after a few minutes, they said they have good news. They then named five more entrants who made it to this year's search.
Here are the 40 Binibining Pilipinas 2024 official candidates, according to the order in which they were called out:
1) Kiaragel H. Gregorio
2) Samantha Dana Bug-os
3) Julianne Rose Reyes
4) Pia Isabel M. Duloguin
5) Mary Chiles M. Balan
6) Mirjan Hipolito
7) Mary Joy C. Dacoron
8) Anje Mae E. Manipol
9) Lyra G. Punsalan
10) Andrea Marie Sulangi
11) Paola Allison D. Araño
12) Juvel Cyrene Bea
13) Jeanne Isabelle Bilasano
14) Charismae Almarez
15) Anna Valencia Lakrini
16) Trisha Martinez
17) Katrina Mae Sese
18) Sharmaine S. Magdasoc
19) Vientree Zoe E. Santiago
20) Angelica Lopez
21) Sofia Lopez Galve
22) Elaiza Dee R. Alzona
23) Xena Ramos
24) Ma. Gianna Margarita S. Llanes
25) Rasha Cortez Al Enzi
26) Paulina Labayo
27) Rheema Adakkoden
28) Candy Vollinger
29) Alasha Reign R. Parani
30) Julia Mae Mendoza
31) Bayernh Llong
32) Tracy Lois M. Bedua
33) Lea Macapagal
34) April Angelu G. Barro
35) Zeah Nestle O. Pala
36) Katrina Ann Johnson
37) Allhia Charmaine S. Estores
38) Jessielen Salvador
39) Lorraine Jara
40) Yesley Cabanos
The selection panel was composed of reigning Miss Cosmo World Meiji Cruz, Miss Globe 2021 Maureen Montagne, Binibining Pilipinas 2022 2nd runner-up Stacey Gabriel, Binibining Pilipinas Grand International 2022 Roberta Angela Tamondong, Binibining Pilipinas International 2022 Nicole Borromeo, Binibining Pilipinas Intercontinental 2022 Gabrielle Camille Basiano, Binibining Pilipinas Globe 2022 Chelsea Fernandez, Miss International 2005 Precious Lara Quigaman, BPCI executive committee members Irene Jose and Raymond Villanueva, as well as actor Marco Alcaraz.
The Binibining Pilipinas 2023 coronation is slated to unfold in May. The date will be announced thereafter. Stay tuned!
RELATED: Is the Binibining Pilipinas show crippled this 2023?