Have a Mexican feast
February 16, 2022 | 12:00am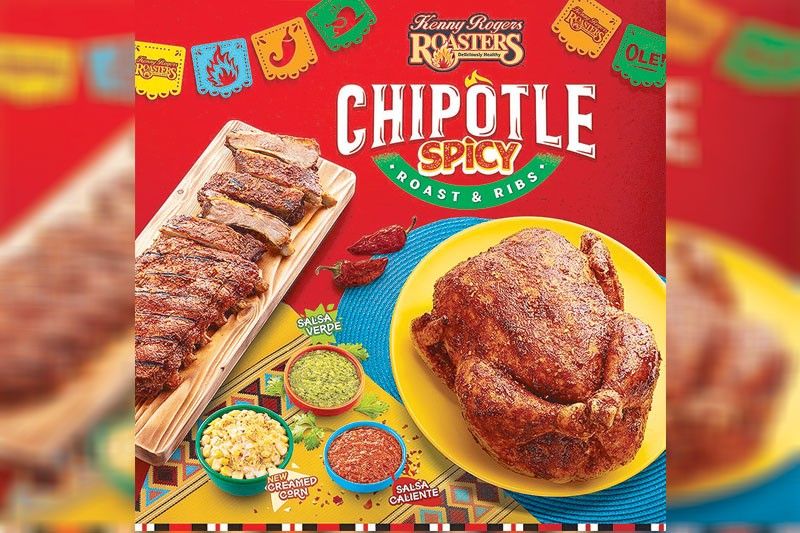 Do you love savory and deliciously healthy Mexican food, palanggas? Kenny Rogers Roasters' Chipotle Spicy Roast and Ribs are making a comeback!
Diners have the option to enjoy and dig into the Chipotle Spicy Roast Solo B Plate, which includes a quarter chicken, or the Chipotle Spicy Ribs. I enjoyed it immensely and got a second serving before I even finished the first serving. That's how good it was.
Solo B Plate comes with half slab rib, two side dishes, java rice, muffin, and two new sauces: the salsa caliente and salsa verde. Now, that's truly a dish like no other with vibrant colors and delicious flavors. So Mexican, dahlings.
Naturellement, these yummy offerings are more fun when shared with the whole family or friends.
Kenny Rogers Roasters will also be offering the Chipotle Spicy Roast Group Meal, which includes a whole roast chicken, and the Chipotle Spicy Ribs Group Meal that comes with a whole slab rib. Both options come with the salsa verde and salsa caliente, java rice, four side dishes and muffins, and 1.5 liters of Coke. Even better, customers can add the new Creamed Corn, a delicious side dish made of corn kernels in creamy white sauces.
To complete the whole Mexican fiesta experience, enjoy it with grilled tortilla as an add-on.
Kenny Rogers Roasters' Chipotle Spicy Roast and Ribs are available nationwide for dine-in, takeout or delivery through the Kenny Rogers Roasters website (www.kennyrogersdelivery.com.ph), at hotline number 8-555-9000, or via Grab Food and Food Panda.