In photos: Miss Universe 2020 National Costumes rich in concepts, surprises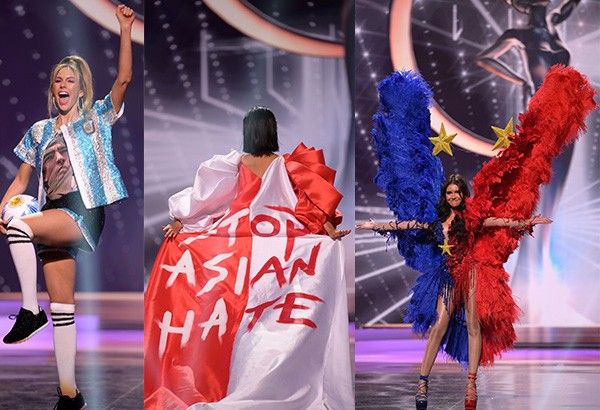 MANILA, Philippines — Miss Universe Philippines 2020 Rabiya Mateo gracefully presented her Victoria's Secret Angel-inspired national costume to the cheers of spectators.
The Rocky Gathercole masterpiece, in collaboration with Manny Halasan, sported all three colors of the Philippine flag. She, however, did not wear her Sun headdress so as not to contravene stipulations under our Flag Law.
Other standouts in the Parade of Nations were Cambodia's goddess of unity from its Myr Temple; Denmark's Little Mermaid-inspired ensemble from the Hans Christian classic; Colombia's goddess of protection outfit; India's sari that reflected the duality of its traditional costume and the lotus flower; Indonesia's ode to the Komodo dragon; Jamaica's colorful take on the national flower from its gum tree; Malaysia's life-sized 'My Village' diorama depicting the rural life of her country; Peru's bird and a flag ensemble that paid tribute to her country's centenary; South Africa's canvas of Covid-19 stories painted by children; Spain's homage to David Velasuez's chef-de-oeuvre "Laos Meninas"; Thailand's fighting fish ensemble in the colors of its flag; and Vietnam's 'Ken Em' cocoon that celebrates her country's silk weaving industry.
Other noteworthy creations included Ukraine's virginal art cuttings; Venezuela's goddess of lightning ensemble; USA' s flaming mockingbird of Mississippi; Puerto Rico's astrology-inspired goddess of identity; Nicaragua's festive outfit in celebration of its December mardi gras for the Blessed Virgin Mary; Iceland's depiction of aurora borealis or the Northern Lights; Honduras' jaguar outfit reflecting the Mayan's depiction of darkness and light; Great Britain's pearl queen of London ensemble; El Salvador's blooming cascade of its national flower; and Cayman Islands' sea and sun depiction of its tourism industry.
Meanwhile, Miss Universe already posted the O Skincare & Medspa video entitled "Skincare TIPS with Philippines and El Salvador." Prior to the national costume competition, Rabiya aced her closed door panel interview wearing a Ram Silva pearl-encrusted, double-breasted suit dress with the world 'Pinay' embroidered in blue and red at the back bodice. She completed the look wearing Pia Wurtzbach's pearl earrings that the latter wore in the competition in 2015.
Hosted by reigning queen Zozibini Tunzi, the fast-paced presentation ended before viewers could decipher where it was shown. Presented by corporate sponsor Lazada, the national costume competition show was beamed live in both Lazada and iQiyi apps, as well as in the live coverage of the Miss Universe channels on Facebook, Instagram, and YouTube.
The swimsuit and evening gown preliminary will unfold tomorrow at 7 am in the same aforementioned platforms. This year, the candidates will be wearing capes in the swimsuit preliminary and sarongs for the finals.
RELATED: #AribaRabiya: Rabiya Mateo rocks in Rocky Gathercole masterpiece at Miss Universe national costume contest